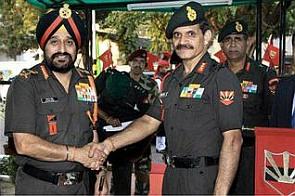 The Election Commission on Monday gave a go-ahead to the defence ministry to initiate the process of appointing the next Army chief, an issue that has got caught in a controversy because of stiff opposition in the matter by the Bharatiya Janata Party.
In a communication sent to the defence ministry on Monday morning, the EC cited its March 27 order which makes it clear that appointments, promotions, tenders and procurements of defence forces are not covered under the Model Code of Conduct in the ongoing elections as well as any other election in the future, sources said.
The incumbent Army chief General Bikram Singh will retire on July 31 and as per tradition, the successor is to be appointed two months ahead of that.
The EC, responding to a reference made by the defence ministry, said if the government wants, it can proceed with the process to appoint the next Chief of Army Staff, sources added.
The poll panel considered the matter in the light of its March 27 order and amid complaints from the BJP that the government was rushing with the appointment of the next Army chief.
In the wake of strong opposition by BJP to the appointment of the next Army chief, the government had last week referred the matter to the Election Commission saying any decision will be taken only after getting its nod.
BJP has been opposing the appointment of the next Army chief by the government, arguing there was no hurry to do so and the matter should be left to the next government.
Army Vice Chief Lt Gen Dalbir Singh Suhag is the frontrunner for the top post, which will fall vacant on July 31 after the retirement of present Army chief Gen Bikram Singh.
Traditionally, the appointment of chief of services is made two months before the retirement of the incumbent. However, in the case of Gen Bikram Singh, the appointment was made three months before the retirement of Gen V K Singh, who was engaged in a long-drawn battle with the government over his age issue.

Image: Army chief Bikram Singh shakes hands with Lt Gen Dalbir Singh Suhag, who is the frontrunner for top post