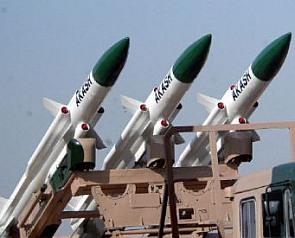 The Defence Research and Development Organisation on Wednesday successfully test-fired the Akash air defence missiles off the coast of Balasore in Odisha.
"Three Akash missiles were launched from the Integrated Test Range (ITR), Balasore, on tow body target of Lakshya pilotless target aircraft moving at low altitude far boundary, and ripple mode missions. The missiles intercepted the fast moving and maneuvering small RCS targets within small interval of five seconds in ripple mode," a DRDO release said.
Want to read more defence stories? Click HERE
The tests were conducted by the Indian Air Force, which will be the first service to induct the Akash missiles in its inventory.
The missiles have been developed by Defence Research and Development Laboratory along with 13 other DRDO labs and manufactured by Bharat Dynamics Limited. The launchers were developed by a DRDO lab and produced by Tata Power and L&T.
DRDO Chief Avinash Chander congratulated all the teams from DRDO, production agencies and the IAF for successfully organisng the event and fulfilling the mission objectives of the evaluation tests on deliverable equipment.
Akash missiles are being developed as part of Integrated Missile Development Programme of the 1980s and are expected to inducted into operational service in near future.