The 7th Pay Commission has recommended more than doubling the 'Military Service Pay' to defence personnel, and suggested that Short Service Commissioned Officers should be allowed to exit the Armed Forces at any point in time between 7 and 10 years of service.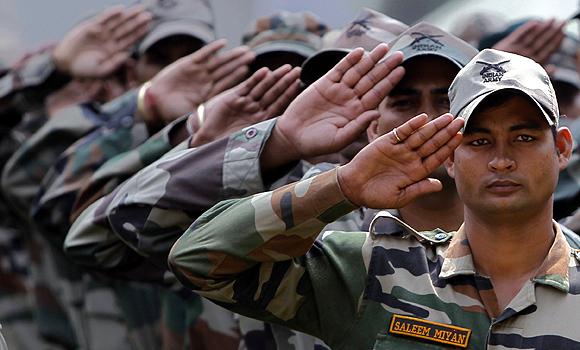 The commission, which submitted its report to Finance Minister Arun Jaitley, also recommended a significant increase in 'Risk and Hardship Allowance'.
"The Military Service Pay, which is a compensation for the various aspects of military service, will be admissible to the Defence forces personnel only. As before, Military Service Pay will be payable to all ranks up to and inclusive of Brigadiers and their equivalents," the report said.
In case of 'Service Officers', the panel recommended to increase the MSP to Rs 15,500 from the present Rs 6,000, and in case of 'Nursing Officers' Rs 10,800 from Rs 4,200.
For JCO/ORs and 'Non Combatants (Enrolled) in the Air Force', the Commission has recommended increase of MSP to Rs 5,200 and Rs 3,600, respectively from the present Rs 2,000 and Rs 1,000.
On Short Service Commissioned Officers, the report said they will be allowed to exit the Armed Forces at any point in time between 7 and 10 years of service, with a terminal gratuity equivalent of 10.5 months of reckonable emoluments.
"They will further be entitled to a fully-funded one year Executive Programme or a M Tech programme at a premier Institute," the report said.
The Commission has recommended abolishing 52 allowances altogether. Another 36 allowances have been abolished as separate identities, but subsumed either in an existing allowance or in newly proposed allowances.
"Allowances relating to Risk and Hardship will be governed by the newly proposed nine-cell Risk and Hardship Matrix, with one extra cell at the top, viz., RH-Max to include Siachen Allowance," the report said.
Siachen Allowance per month for Service Officers has been recommended at Rs 31,500 from the present Rs 21,000 and in case of JCO/ORs the hike proposed is Rs 21,000 from the current Rs 14,000.
The Commission has recommended a revised formulation for lateral entry/resettlement of defence forces personnel which "keeps in view" the specific requirements of organisation to which such personnel will be absorbed.
"For lateral entry into CAPFs an attractive severance package has been recommended," the report said.
It has also recommended parity between field and headquarters staff for similar functionaries e.g Assistants and Stenos.
Further, systemic change in the process of Cadre Review for Group A officers has been recommended.
On House Rent Allowance, the Commission has recommended that HRA be paid at the rate of 24 per cent, 16 per cent and 8 per cent of the new Basic Pay for Class X, Y and Z cities respectively.
The Commission also recommended that the rate of HRA will be revised to 27 per cent, 18 per cent and 9 per cent, respectively when DA crosses 50 per cent, and further revised to 30 per cent, 20 per cent and 10 per cent when DA crosses 100 per cent.
The report also said in the case of PBORs of Defence, CAPFs and Indian Coast Guard compensation for housing is presently limited to the authorised married establishment hence many users are being deprived. The HRA coverage has now been expanded to cover all, said the recommendations.
"Any allowance not mentioned in the report shall cease to exist. Emphasis has been placed on simplifying the process of claiming allowances," the report.
Meanwhile, on advances, the report said that all non-interest bearing Advances have been abolished.
"Regarding interest-bearing Advances, only Personal Computer Advance and House Building Advance (HBA) have been retained. HBA ceiling has been increased to Rs 25 lakhs from the present Rs 7.5 lakhs," it said.
There were few recommendations of the Commission where there was no unanimity of view.
Chairman Justice A K Mathur and Rathin Roy, Member, recommended the age of superannuation for all CAPF personnel should be 60 years uniformly. Vivek Rae, Member, has not agreed with this recommendation and has endorsed the stand of the Ministry of Home Affairs.