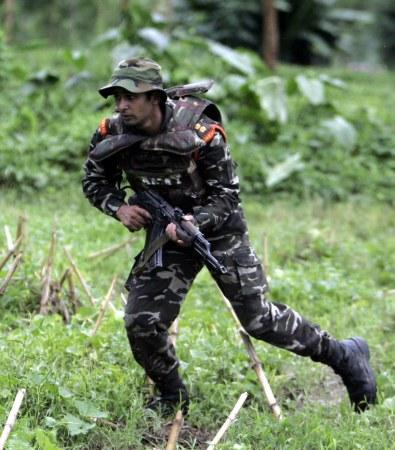 As per the latest reports about the surgical strike carried out by the Indian Army's Special Forces deep inside Myanmar, 38 Northeastern insurgents were killed and seven others were injured.
During the intervening night of Monday and Tuesday, the Special Forces personnel were airdropped deep inside Myanmar territory, closer to the camps of the militants, and the strike started at 3 am.
Sources close to the operation said that the operation was given the go-ahead after Prime Minister Narendra Modi returned from Bangladesh as according to protocol, it is necessary to brief him about all aspects of the operation.
The PM was hence, briefed about the operation on his arrival from Bangladesh on Sunday night and got his final clearance.
Sources also said that initially options of an air strike using Sukhoi and MiG-29 fighters as well as ground strike by special forces of the army was considered, but was ruled out since the possibility of collateral damage was high in an air strike.
MUST READ: Myanmar 'hot pursuit' was planned before Manipur ambush
Meanwhile, Union minister Prakash Javadekar said the special operations will serve as a lesson to those who incite terror.
"The military's action against insurgents with assistance from the Myanmarese government speaks volumes about India's resolve to fight terror. This is a lesson and a message to all the terror groups that India will not hesitate in going beyond its geographical borders to eliminate terrorists," Javadekar said.
While replying to a query, he, however, refused to comment on if India will carry out a similar strike on Pakistan-based groups plotting terror against India.
Prime Minister Narendra Modi has also asked his ministerial colleague Jitendra Singh to go to Manipur to take stock of situation there, a day after army's retaliatory strike in Myanmar that neutralised insurgents believed to be behind the ambush in the state that killed 18 soldiers.
Singh, Minister of State in Prime Minister's Office, will hold interaction with various sections following the PM's directive, official sources said.
He will also visit neighbouring Nagaland and Arunachal Pradesh, they said.
Singh, also MoS for Development of Northeastern Region, will interact with members of the civil society, political parties and security officials, the sources said.
Singh, who will be touring these states for three days, will leave in a day or two, they said.