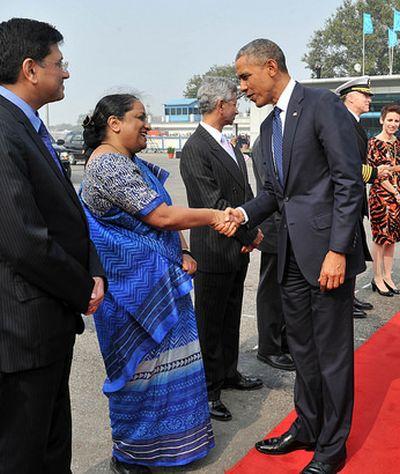 Axed from the post of foreign secretary two days ago, a "deeply pained" Sujatha Singh on Friday hit back saying that stories were being "planted" in the media to tarnish her reputation after having served for 39 years.
"The commentary that I have seen over the past 2 days has pained me deeply. I believe it was not necessary to get low and dirty," she said.
Affirming that she wanted to give her papers and "leave without any ceremony and without any fuss", Singh said, "but unfortunately that has not been the case and I believe that my reputation has been tarnished".
Giving details of the abrupt "curtailment" of her 2-year tenure 7 months before it was to end in August, Singh said External Affairs Minister Sushma Swaraj had telephoned her around 2 pm on Wednesday, telling her she was calling to give "not so good news" and that the prime minister wanted to appoint S Jaishankar as the foreign secretary.
Singh said that she had kept her resignation letter ready but she was told that she would lose her retirement benefits in that case. Therefore, she sent a letter around 7 pm seeking early retirement "as instructed by the prime minister".
Couple of hours later, an official announcement was put on a government website stating that her tenure has been "curtailed" with immediate effect, she told NDTV.
She disclosed that 3 weeks earlier she had been sounded whether she would consider moving out to a tenure post which was not spelt out. In any case, she was never interested in any government assignment including ambassadorship or UPSC membership.
Sacked just after a "successful visit" by President Barack Obama here, Singh said, "It was a decision that had already been taken and nothing I could have done would have made a difference."
Noting that there were "negative comments more frequently than I would care to count" from the Prime Minister's Office on the performance of the External Affairs Ministry, she said she was told not to take it "personally" and that it "happens with other ministries" as well.
She also said it was important to be "intellectually honest" and "to have intellectual integrity to say as it is and make it all about me, I myself."
"Shall I start by claiming credit for working on the nitty-gritty of the recent understandings we arrived at on the civil nuclear deal with the US? The liability and the administrative issues? Believe me, I was fully involved in guiding the discussions, taking decisions on the line to take, on what to do and what not to do. I coordinated very closely with the Prime Minister's Office," she said.
Observing that last 8 months of Modi-government have been full of high-voltage successful diplomatic engagements, she said, "None of this would have happened with the PM (Prime Minister Narendra Modi) or the EAM (External Affairs Minister Sushma Swaraj) operating on their own, in a vacuum."
Asked if her successor has promoted himself, she did not give a direct answer and just said she believed that one has to think about the institution and the ministry.
Image: US President Barack Obama greets former foreign secretary Sujatha Singh after concluding of his State visit to India Photograph: MEA/Flickr
© Copyright 2023 PTI. All rights reserved. Republication or redistribution of PTI content, including by framing or similar means, is expressly prohibited without the prior written consent.