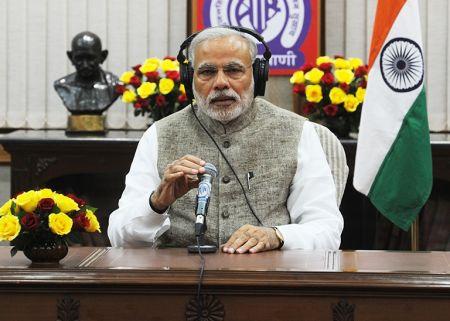 Amid tensions on the border with Pakistan, Prime Minister Narendra Modi on Sunday saluted the valour of the armed forces and lauded their sacrifice while dedicating the festival of Diwali to them.
He hailed the people including celebrities for sending overwhelming messages to his "Sandesh2Soldiers" campaign.
In his monthly "Mann ki Baat" programme on All India Radio, Modi also urged all citizens and state governments to find ways of forging unity across the country and working to defeat separatist tendencies and mentalities.
In the wake of ongoing troubles in the Kashmir Valley, he said, "Unity in diversity is our strength. It is the responsibility of every citizen and all governments to forge unity and curb separatist tendencies to save the country."
In an apparent reference to tension on the Indo-Pak border, Modi credited the soldiers for maintenance of peace and security in the country and called upon everyone to remember their gallantry while celebrating Diwali.
"In the wake of recent events, our soldiers have been sacrificing their everything for the safety and security of the country. Their dedication and labour has overwhelmed me completely. Let us dedicate this Diwali to our armed forces.
"I had invited everyone to participate in the Sandesh2Soldiers campaign and I have been humbled by the response. From students, villagers and traders to political leaders and sports persons, everyone has sent a Diwali message for our soldiers," he said while referring to the jawans who are stationed in deserts and on the icy heights of the Himalayas and security personnel who are guarding our industries and airports.
"Our forces endure grave hardships for our security. Someone is stationed in a desert, someone on the Himalayas, someone is guarding our industrial installations and someone is protecting our airports. Everyone is fulfilling a mighty responsibility. If we remember them while being in a festive mood, our remembrance will give them strength and renewed energy. I thank everyone for responding to Sandesh2Soldiers," Modi said in over an half-an-hour address on the occasion of Diwali.
In a veiled reference to the unrest in Kashmir Valley, the PM also called for forces of unity to be strengthened and those of separatism to be defeated.
"Unity in diversity is the strength of our country. Every citizen and every government must work to find ways of forging unity and defeating separatist mindset and tendencies," he said as he remembered Sardar Patel who strived hard to forge unity in the country and bind it together.
As Modi paid tributes to Sardar Patel whose birth anniversary falls on Monday, he also remembered Indira Gandhi whose death anniversary also falls on the same day. He, however, lamented that on a day we celebrate the birth anniversary of Patel, thousands of Sikhs were killed in 1984 in the wake of the assassination of Gandhi.
Reiterating his message of cleanliness on the occasion of Diwali, Modi said the festival is a marker of "swachhta" with every family taking it upon themselves to clean their house. The PM, however said, "The call of time is to extend this campaign of cleanliness out of one's house to one's surroundings."
The PM also took the occasion to note how the Indian festivals are environment friendly and urged parents to stand with their children as the latter burn crackers on Diwali.
The prime minister also remembered Guru Nanak, the first Sikh Guru, who fought against social evils and discrimination and called for making the society free from any kind of discrimination.
The prime minister also lauded the role played by jawans in natural calamities and said they keep working with patriotic spirit and national interest in mind be it showing courage in fighting the enemy or in bringing the misguided youth back on track or maintaining law and order.
He lauded the efforts taken by Himachal Pradesh in becoming open defecation free and said it is the second state after Sikkim to be so.
Modi said Kerala will become open defecation free on November 1 and said Gujarat and Haryana are also making efforts in this direction and many districts in these states have already achieved the goal.
In making these states defecation free, Modi highlighted the efforts and contribution of many individuals in helping construct toilets.
These included those of an Indo-Tibetan Border Police jawan in Himachal's Sirmour district who donated Rs 57,000 out of his salary to construct toilets in his village and make it open defecation free, besides those of engineering students in Kerala who helped construct a toilet in Edamalakul of the state.
He also praised Haryana, which is celebrating the Golden jubilee of its formation on November 1, for taking upon itself to declare the state Kerosene-free by linking all LPG beneficiaries with Aadhar card.
"Some seven or eight districts have already become kerosene-free in Haryana.
"The way they have taken upon them, I am sure they will succeed and help stop pilferage, save environment and conserve foreign exchange, besides helping the people of the state and putting an end to corruption that middlemen indulged in," he said.
Invoking Mahatma Gandhi, whom he described as a guide, Modi said policies should be evolved in such a manner that the poorest of the poor should be kept in mind as the father of the nation envisioned.
"It is the need of the time to address the problems of the poor.
"We must come out of our orthodox thinking and make society free from any kind of discrimination," he said, while also calling for ending any kind of discrimination towards girls and sought construction of toilets for the girl child too.
Wishing countrymen on Diwali, the prime minister said India is a country of festivals and today these festivals are celebrated across the world.
He highlighted that the US Postal department brought out a postal stamp on this Diwali.
Modi said Deepawali gives the message of darkness to light and this darkness included the darkness of superstition, illiteracy, poverty and social evils which should end too.
He also recalled that people will celebrate "Chhat puja" in a few days and the festival carries the message of worshipping the Sun.