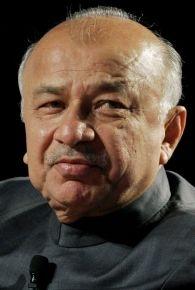 Discussions to evolve a consensus on separate Telangana state is on and the Congress high command will take a final decision on it but it will take time, Home Minister Sushilkumar Shinde said on Tuesday.
Addressing a press conference, Shinde said discussions on Telangana issue were held in the past and such consultations have been continuing even now. "It is still on. The process (of consultation) is continuing. It will take time," he said replying to a question on when a decision on Telangana was expected from the government.
Asked when a decision is expected from the Congress core group on the issue, he said he was not the only person to be the member of the Congress party's key decision-making body. "How can I say on the core group? I am not the lone person to take a decision. There is a high command. The high command will take a decision," he said.
According to reports, the Congress top brass is meeting on Friday to take a final view on the vexed Telangana issue, which has divided all the parties in Andhra Pradesh on regional lines. Congress General Secretary Digvijay Singh, who is in-charge of the party affairs in the state, has already submitted his proposal in this regard to party president Sonia Gandhi as the United Progressive Alliance government weighs options on the demand for separate Telangana.
On the National Counter Terrorism Centre, the home minister virtually admitted that the anti-terror body will not be set up any time soon as some chief ministers continue to oppose it. He said he tried his best to get the consent of the chief ministers to set up the controversial NCTC like his predecessor P Chidambaram did but failed.
"I have removed all operational powers (of NCTC) and thought that there would not be any opposition to it now. But still some chief ministers continue to oppose it," he said when asked about the status of the proposed anti-terror body. "I believe we should remain within our limits. We should not press too much. If they (CMs) do not want, let it be. We should not go ahead without the chief ministers' consent," he said.
Asked whether his comments meant that the NCTC was over forever, Shinde said that he cannot say that but right now there is no movement on it due to the strong opposition of some of the chief ministers.
Those who are opposing a watered-down proposal for NCTC include chief ministers Mamata Banerjee (West Bengal), Nitish Kumar (Bihar), Jayalalithaa (Tamil Nadu), Narendra Modi (Gujarat), Raman Singh (Chhattisgarh) and Shivraj Singh Chouhan (Madhya Pradesh) and Punjab Deputy Chief Minister Sukhbir Singh Badal.
Even Congress chief ministers Prithviraj Chavan (Maharashtra), Siddaramaiah (Karnataka) and Tarun Gogoi (Assam) have expressed reservations to the revised proposal of the NCTC.
Sources said that in his concluding remarks at the June 5 chief ministers' conference on internal security, the home minister had said a decision on setting up the NCTC will be taken only after a full consensus.
A political consensus even on a watered-down proposal for NCTC is unlikely any time soon and the anti-terror hub proposal seems to have gone into deep freeze.