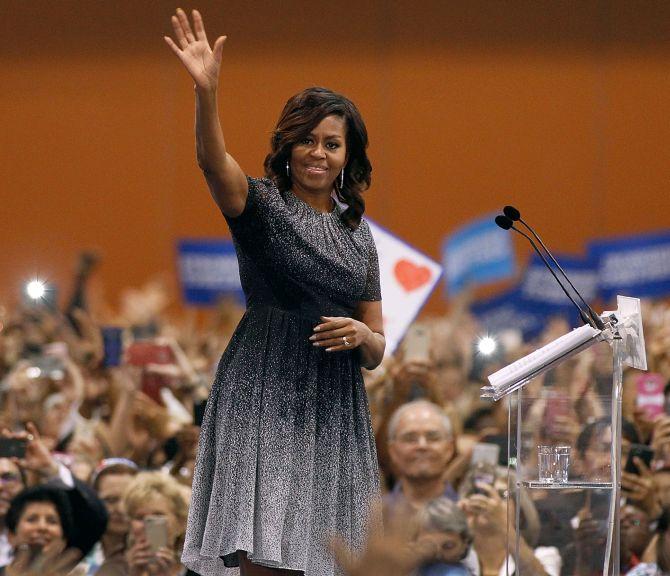 United States First Lady Michelle Obama has taken a dig at Republican presidential nominee Donald Trump, saying decent men do not "demean" women as she appealed to the Americans not to tolerate such kind of behaviour from any man.
Addressing an election rally in Phoenix, Arizona in support of Democratic presidential nominee Hillary Clinton, Michelle contrasted the vision of America that the former secretary of state offered to the reality TV star's vision which was grounded in "hopelessness and despair".
"Men of all backgrounds and walks of life agree that decent men do not demean women and we shouldn't tolerate this behaviour from any man, let alone a man who wants to be the president," Michelle said.
Campaigning in favour of Hillary, the 52-year-old First Lady made a forceful case against Trump at the rally.
"In this race, we have a candidate whose vision for our country is completely and utterly lacking in hope. A candidate who tells us that our country is desperate and weak, that our communities are in chaos; that our fellow citizens are a threat. A candidate who calls on us to turn against each other, to build walls -- to be afraid," she said.
Terming Hillary as a "friend", Michelle said the former secretary of state had a different perspective about the country which had everything to do with upbringing.
"Hillary's mother was an orphan, abandoned by her parents. Hillary's father -- (a) small business owner -- stayed up nights, pouring over his books, working hard to keep their family afloat," she said.
"When you grow up like us -- doing your best to keep it all together -- you come in contact with all kinds of people. And yes, you witness a lot of struggles and hardships. But let me tell you, you also see so many triumph, so much beauty, so much joy. That's my life.
"So you learn empathy. You learn compassion. You learn that folks may not look or think like you, but when it comes to what really matters in life -- our values and our dreams -- we're not all that different," Michelle said.
But Trump comes from a different place, she said.
"Right now, we are at a crossroads, in this election and in this country, where we're being presented with two very, very different visions for how we move forward as a nation.
One candidate is offering a vision that is grounded in "hopelessness and despair" - a vision of a country riven by division and ruled by fear; a country where some folks get all the breaks, and the rest of us are left behind. That's one vision of America, Michelle said.
But, fortunately, another candidate in this race, Hillary, knows that the country is powerful, vibrant and strong, and "big enough to have a place for all of us, and that each of us is a precious part of the great American story", she said.
"Hillary believes in equality; inclusion; liberty and justice for all. That each of us should have the chance to fulfil our potential and build our shared future.
"That is Hillary's vision for America. And Hillary doesn't just have a powerful vision for this country -- she has the policies to actually make that vision a reality. And isn't that what we've been looking for in this election?" she said.
Image: First Lady Michelle Obama waves to the crowd as she speaks at an Arizona rally in support of Democratic presidential nominee Hillary Clinton. Photograph: Ralph Freso/Getty Images