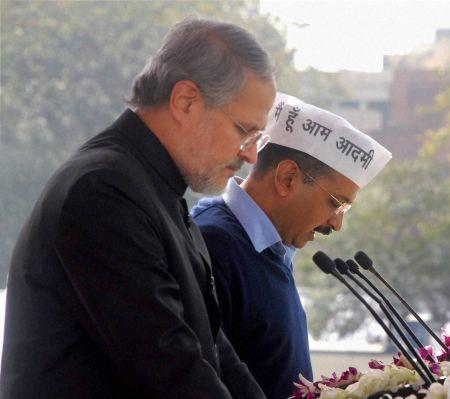 Delhi Chief Minister Arvind Kejriwal on Thursday slammed Lieutenant Governor Najeeb Jung for his assertion that 'government' in Delhi meant the LG, saying it will result in dictatorship and that his stand was not only unconstitutional but "laughable" in a democratic country.
In a terse letter to Jung on the row over appointment of the Delhi Commission for Women chief, Kejriwal said it was not an ego issue and alleged that the LG was acting at the behest of Prime Minister Narendra Modi.
"The LG says he is the government of Delhi. How can it be? How can anyone call himself the government? This will result in dictatorship in Delhi. Nothing can be more laughable than this. India is a democracy. Delhi has an elected government.
"It's but a fact that the meaning of Delhi government is an elected government and not any individual," Kejriwal said in the letter, adding, "But why is the LG making such laughable and unconstitutional statements. The truth is the Lt Governor himself is not doing anything. He is being asked to do things."
Striking down Swati Maliwal's appointment as DCW chief, Jung had in a letter to Kejriwal on Tuesday referred to a home ministry order and said 'government' meant the "Lt Governor of the National Capital Territory of Delhi" appointed by the President and that he was sole authority in deciding on major issues including appointment to top positions.
The CM on Thursday said there was no "ego" issue in sending the file to LG for appointment of Maliwal.
"This is not a battle of ego for us. Respected LG, PM has won, we all have lost. We fold our hands in requesting you to kindly sign the files pertaining to DCW and make it functional. I am sending the file to you," he said in the letter.
The CM also alleged that Jung was working at the behest of Prime Minister Narendra Modi and that he has made the DCW "completely dysfunctional".
"I have come to know that at the behest of Prime Minister Narendra Modi, Jung has made the DCW completely dysfunctional. Before that he had made the Anti-Corruption Branch dysfunctional. I have been told that the files of all the newly appointed members have been forcibly taken from them and nameplates have been removed. This is totally wrong," said Kejriwal.
Kejriwal sent the letter to Jung hours after Delhi government sent a file to the LG seeking his approval on Maliwal's appointment as DCW chief.