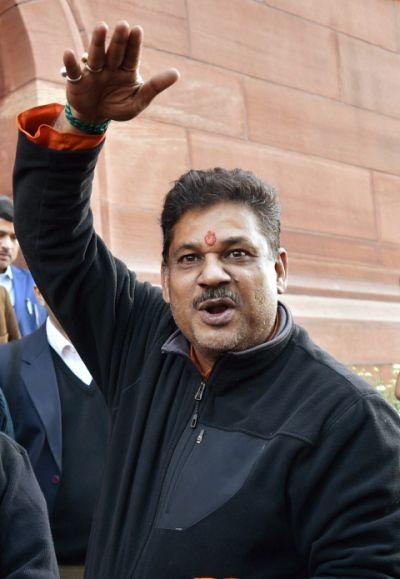 The row over alleged financial bungling in the Delhi and District Cricket Association resonated in Parliament on Monday with Bharatiya Janata Party member Kirti Azad embarrassing the ruling side by demanding a time-bound Special Investigation Team probe.
The Congress staged a walkout in the Lok Sabha and pressed for the resignation of Finance Minister Arun Jaitley, who dismissed charges against him as 'baseless' and 'wrong'.
The Congress' walkout was led by party chief Sonia Gandhi. While the Rajya Sabha was adjourned repeatedly over the issue, in the Lok Sabha, Kirti Azad, a known detractor of Jaitley, egged on the Congress to seek a time-bound SIT probe.
Congress members were already shouting slogans in the well, demanding resignation of Jaitley, who formerly headed the DDCA.
Ruling out Jaitley's resignation, Parliamentary Affairs Minister M Venkaiah Naidu said that the finance minister is known for his 'impeccable character, honesty and maintaining high standards in public life'.
Jaitley, on his part, said, "The charges (against me) are baseless and wrong, this is all I have to say."
The Serious Fraud Investigation Office report did not find any fault with the expenditure and 'accepted' the cost incurred, he said while giving a detailed account of the construction work at Ferozshah Kotla ground which is under scanner.
Kirti Azad was apparently not impressed by Jaitley's defence that the SFIO probe found nothing wrong, saying it had looked only into the civil matters and that, recently, the Central Bureau of Investigation had issued a notice to the DDCA.
The issue was raised in the Lok Sabha by K C Venugopal of the Congress who claimed that there were 'gross irregularities' in the DDCA when Jaitley headed it and alleged his involvement.
He said the construction work at Ferozshah Kotla had cost Rs 114 crore, against the estimate of Rs 24 crore and alleged that it was 'forced escalation' and 'there was no record of tender' in many cases.
"A laptop was hired for Rs 36,000 for a day, printer for Rs 3,000 and a puja ki thali for Rs 5,000 for a day. Moreover, 14 of the companies receiving DDCA money did not exist or information about them was not correct," Venugopal alleged.
Making a reference to Kirti Azad's press conference held on Sunday, he said the BJP MP gave a 'solid evidence' of irregularities in the DDCA.
"He (Jaitley) is also involved in the scam. We demand a Joint Parliamentary Committee probe and resignation of Jaitley," he said.
The finance minister immediately rose to reply and gave a detailed account of the expenditure incurred on the construction work and contrasted it with the much-higher cost of renovating Jawaharlal Nehru Stadium and Dhyanchand National Stadium during the Congress-led United Progressive Alliance's tenure.
While noting that it cost Rs 114 crore to build Kotla stadium, which was merely a 'field' prior to the construction, Jaitley attacked the Congress, saying the Nehru stadium was renovated at a cost of Rs 900 crore and the Dhyanchand stadium for Rs 600 crore.
The Kotla stadium has a seating capacity of 42,000, while that of the the Dhyanchad staidum is 14,000.
As Congress members began their protest in the midst of his reply, an upset Jaitley asked them to sit down, saying, "You should have the courage to listen. Why do you find my reply so inconvenient? It is not a charge against you."
Accusing the Opposition of dragging the finance minister's name for 'short-term politics', Naidu said Jaitley had 'no role' in the alleged irregularities.
Taking a dig at the Congress, he said Jaitley was not a minister in 2013 when the irregularities were found, noting that it was Congress which was in power then.
He said that, on Sunday, several cricketers had 'paid compliments' to Jaitley for the work he has done in promoting the cause of the game.
The Congress staged a walkout, inviting loud boos from the treasury benches.
Jaitley said allegations have been levelled outside the House too and 'I have taken whatever remedies are available to me', an apparent reference to his filing of a defamation case against Delhi Chief Minister Arvind Kejriwal and five other Aam Aadmi Party leaders in the Delhi high court.
Giving a detailed account of the expenditure, he said Delhi did not have a stadium and the DDCA proposed two measures to raise money as the Board of Control for Crikcet in India's infrastructure subsidy was limited to only Rs 4 crore.
The DDCA raised Rs 35 crore by selling advance tickets of corporate boxes and signage, he said, adding that by the time the money was raised, the BCCI also hiked the subsidy to Rs 50 crore as it had begun earning more money.
"So we decided to rebuild the entire stadium," he said amid protests.
He said a public sector undertaking, Engineering Projects India Ltd, carried out the civil works costing around Rs 57-58 crore and 43 other works were given to those who were predominantly their sub-contractors.
"No SFIO probe gave report that the wrong expenditure was made. It accepted the expenditure," Jaitley said.
Kirti Azad, who spoke after Jaitley even when many BJP leaders were seen asking him to sit down, said if everything was alright about the DDCA works, then the CBI would not have given a notice to it on October 23.
The BJP member noted that the Modi government was fighting against corruption but at the same time, said, "They (Congress) should demand a time-bound probe."
Several Union ministers -- including Kalraj Mishra, Narendra Singh Tomar, J P Nadda, Rajiv Pratap Rudy and Jayant Sinha -- were seen protesting against Congress' allegations.
In the Rajya Sabha, soon after listed papers were laid, placard-holding Congress members were up on their feet, shouting slogans and seeking Jaitley's resignation.
Jaitley said he was ready to reply to all charges and urged the Chair to ask Leader of the Opposition Ghulam Nabi Azad to start a discussion immediately.
"I am not going to live by any vague statements," he said, adding, "If they have a single statement, let him (Azad) make it right now. I will answer it right now."
He was responding to Azad's statement that there are many big allegations -- including that of a Rs 150 crore fraud, giving money to 14 bogus companies and conflict of interest at the DDCA -- against him.
"He (Jaitley) can't remain in the position," Azad said.
Deputy Chairman P J Kurien expunged all allegations against the finance minister, saying no allegations can be levelled against any member of the House without a prior notice to the chairman as well as the person concerned.
But Congress members were unrelenting and continued to raise slogans. They held placards that read: 'First resign, then discussion' and 'Caesar's wife should be above suspicion'.
Kurien said Jaitley was ready for a discussion and the Congress should give notice for discussion.
But as Congress members continued to create uproar, Jaitley said, "Sir, do I assume that they have nothing to say except raise slogans?"
In the midst of din, Minister of State for Parliamentary Affairs Mukhtar Abbas Naqvi asserted: "No one will resign over false charges."
After this, the slogan-shouting intensified, forcing Kurien to adjourn the House for 15 minutes. Similar scenes were witnessed when the House reassembled, forcing more adjournments -- till 12 pm, then till 12.30 pm and then 2 pm.