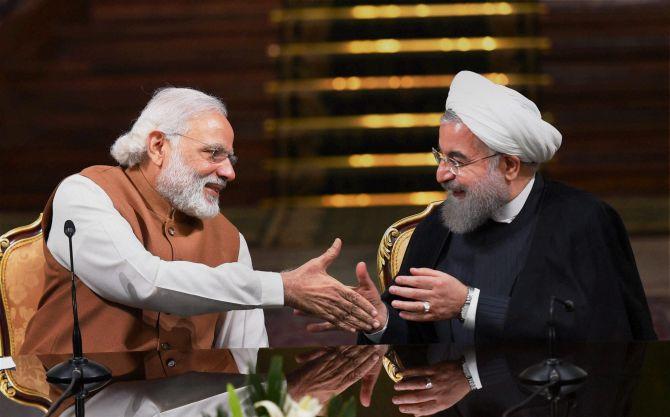 IMAGE: Prime Minister Narendra Modi shakes hands with Iranian President Hassan Rouhan during a joint press conference after their meeting at the Saadabad Palace in Tehran on Monday. Photograph: Shahbaz Khan/PTI Photo

Iranian President Dr. Hassan Rouhani on Monday announced that May 23 will henceforth be called the 'Day of Chabahar' as India, Iran and Afghanistan signed the historic Chabahar Agreement.
'This is a very important day for Iranians and now on it is going to be even more important because today is going to mark the day of cooperation between three of us, Iran, India and Afghanistan and from now on this day can be called the day of Chabahar,' he said at trilateral summit.
Asserting that it was an important day in the history of the relationship between the three countries, Iranian President said that Tehran, Delhi and Kabul would give this message to the region that the path of progress of the countries of the region goes through cooperation and utilization of regional opportunity.
'Of course the symbol of such cooperation is Chahbahar and Bahar means spring and it is a spring for three of us,' he added.
President Rouhani said that with the joint investments in Chahbahar, his country could connect India through reliable route to Afghanistan and also to those countries in central Asia and even to CIS (Commonwealth of Independent States) countries.
'Today's document is not just an economic document. It is actually a political document and a regional one and the message of this document is that countries of this region need to utilise the opportunities provided by the region in order to develop and also expand on the regional cooperation,' he added.
'There is also a room in this trilateral agreement for other countries and for the activities of other countries and in the near future other countries can join this document of cooperation as well,' he said.
President Rouhani pointed that the agreement was not against any other country.
Speaking at the trilateral summit in Tehran, Prime Minister Narendra Modi, quoting Persian poet Hafez, said, "Days of separation are over; night of wait is coming to an end; our friendship will stay forever." He the 'historic' agreement to develop the Chabahar port in Iran will strengthen our ability to stand against those whose only motto is to maim and kill innocents.
"To build bonds of connectivity is the most basic of human urges. Today, we seek to fulfil it," said the prime minister.
"The agenda for economic engagement is a clear priority for us. We stand together in unity of our purpose," he added.
The PM said to carve out new routes of peace and prosperity is the common goal of India, Iran and Afghanistan.
"We want to link with the world. The agreement on establishment of a Trilateral Transport and Transit Corridor signed a while ago can alter the course of history of the region," he added.
He also said that this corridor would spur unhindered flow of commerce throughout the region.
The PM further said the reach of the Chabahar port could extend to the depths of the Central Asian countries.
"Afghanistan will get an assured, effective and a friendlier route to trade with the rest of the world," he added.
He said the watch-words of international ties are trust, not suspicion; cooperation, not dominance and inclusivity, not exclusion.
Reiterating his earlier assertion, Prime Minster Modi said the 'dosti' between India and Iran is as old as history.