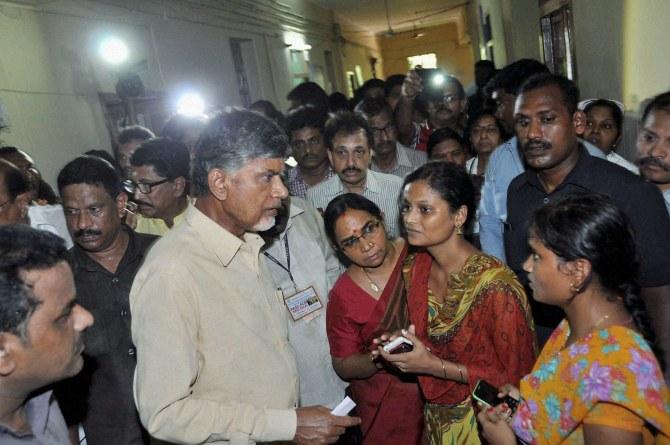 Andhra Pradesh Chief Minister N Chandrababu Naidu meeting with the victims of the Maha Puskharam Mela stampede at the Government General hospital in Rajahmundry. Photograph: PTI Photo
A day after a stampede at the bathing ghat in Rajamundhry in Andhra Pradesh claimed 27 lives, authorities on Wednesday stepped up vigil, diverting pilgrims to various bathing ghats to avoid overcrowding even as the state government ordered a judicial inquiry into the mishap that occurred on the first day of the 'Pushkaram' festival.
Policemen were on their toes as heavy rush was expected on the day of "Aadi Amavasya" on Wednesday, which is considered auspicious to perform rituals, even as pilgrims have been told not to flock to a single ghat.
Chief Minister N Chandrababu Naidu is staying put in Rajamundhry to oversee arrangements for smooth conduct of the mega event, for which 3.5 crore to four crore footfalls are expected.
East Godavari District Collector H Arun Kumar said pilgrims were being "evenly" diverted to various ghats and there is now no pressure at any particular point.
About 275 ghats have been set up by the administration, including 151 in East Godavari district alone, to enable the pilgrims to take holy dip and perform puja during the 12-day religious event.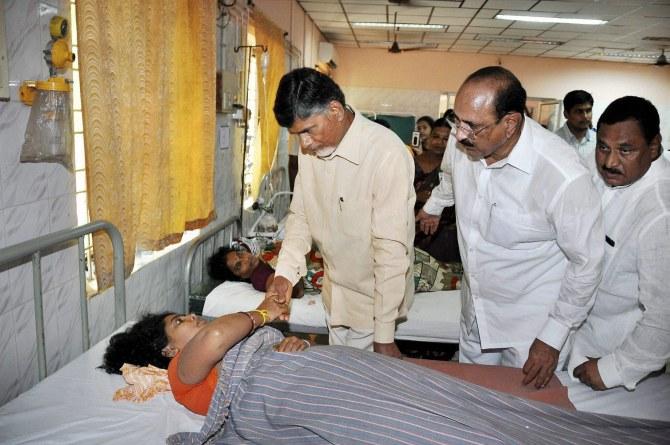 Naidu visits an injured victim of the Maha Puskharam Mela stampede at Government General hospital in Rajahmundry. Photograph: PTI Photo
With focus on Pushkar Ghat No. 1 and the other ones not in limelight, tens of thousands of people had thronged yesterday and once this crowd was let out suddenly after VIPs took holy dip and performed puja, there was a stampede resulting in the tragedy.
Arun Kumar said an estimated 10.2 lakh pilgrims visited the six ghats in Rajahmundry alone on the opening day of the once-in-12-years-event, which is hailed as Maha Pushkaram this year in view of its astronomical significance as it comes only once in 144 years.
Andhra Pradesh Deputy General of Police, J V Ramudu, and senior police officials are monitoring the situation as the number of pilgrims is expected to swell in the coming days.
For orderly turn-out, East Godavari district has introduced queue system at the ghats, where additional police reinforcements have been deployed.
The state government has already ordered a judicial inquiry into the stampede at the Pushkar ghat here. The chief minister said a retired judge would be appointed to conduct he probe and added that strict action would be taken against those responsible.
"I have inspected the ghats along with officials and enquired if there is trouble. We have made necessary arrangements for smooth movement of pilgrims", Naidu said.
"For the last four months we have been taking all necessary measures to prevent any untoward incident, particularly at the time of taking bath and returning from ghats. But it happened and it is unfortunate. Serious action will be taken against officials, responsible for the incident", he said.
Officials said the situation is being monitored from the control room with the help of CCTVs installed at the ghats. Public address systems are also being used now.