Diwali fireworks pushed pollution in Delhi to a dangerous level, the worst in three years, as it turned the air highly toxic due to a deadly cocktail of harmful repairable pollutants and gases, engulfing the city with a cover of thick smog triggering health alarms.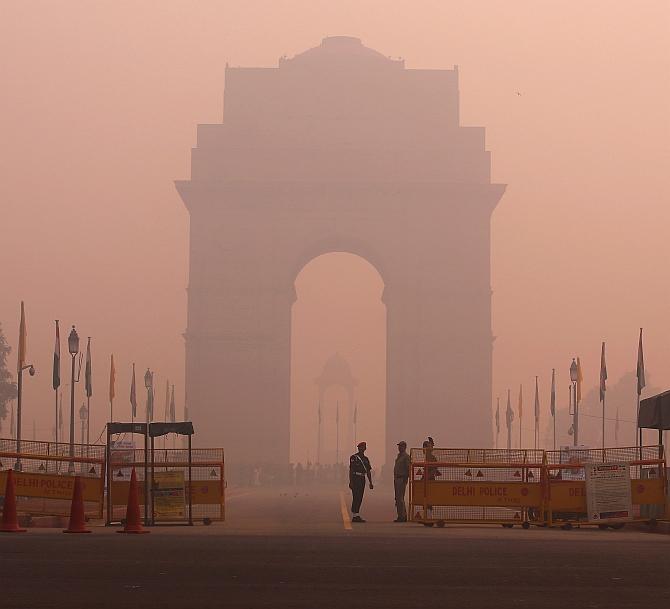 IMAGE: Security personnel stand guard in front of the India Gate amidst the heavy smog in New Delhi. Photograph: Adnan Abidi/Reuters
Various monitoring agencies including Delhi Pollution Control Committee, Central Pollution Control Board, Pune-based SAFAR and Centre for Science and Environment were unanimous about the severity of the air quality in the city.
As per DPCC's real time monitoring mechanism, the ultra pollutant PM 2.5 breached the safe standard by over 14 times at Anand Vihar, Delhi's most polluted area, at 2:30am. Many other areas including densely populated R K Puram had nearly similar readings when pollution peaked past midnight.
Noise pollution, which was monitored at five locations in the city, was marginally higher than last year as it ranged between 66.1 decibel(A) and 75.8 dB(A), while last year, it had varied from 65.9 dB(A) to 74.8 dB(A), according to DPCC findings.
In the morning, the city woke up to the season's worst air quality as smoke from Diwali fireworks, coupled with moisture and nearly stagnant wind movement, shrouded the city in a thick cover of smog. Commuters in several areas found it difficult to find their way as the visibility level plunged to nearly zero in several areas.
SAFAR, an agency of Earth Sciences Ministry, said air quality was not only severe but plunged to its worst in three years during Diwali mainly due to low wind movement and falling boundary layer, that traps pollutants close to the surface. The most critically polluted period was between 11pm on October 30 and 10am on Monday.
The volume of sulphur dioxide (SO2), which can aggravate asthma, also breached the safe standards, indicating that the crackers contained a high level of sulphur. It averaged between 20-131 ug/m3 while it was between 26-64 ug/m3 last year.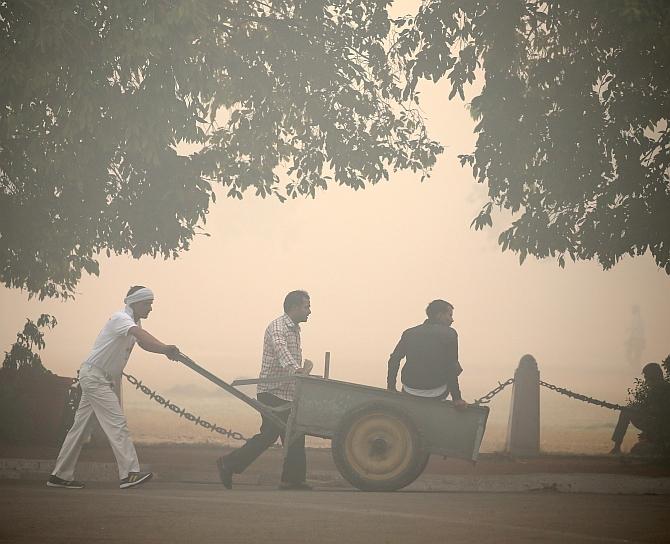 IMAGE: Municipal workers push a cart in a public park on a smoggy morning in New Delhi. Photograph: Cathal McNaughton/Reuters
On Diwali night, PM 10 ranged from 448 (micrograms per cubic metre) µg/m3 to 939 µg/m3 in Delhi as against the national safe standard of 100 µg/m3, DPCC said.
The 24-hour average of PM 2.5, particles that measure less than 2.5 microns in diameter, ranged between 180 µg/m3 and 440 µg/m3. The prescribed standard for it is 60.
Diwali in 2015 saw PM 10 averaging between 296 and 778 µg/m3 while in 2014, the same was recorded between 421 and 790 µg/m3.
In case of PM 2.5, the average concentration recorded in 2015 was between 184 and 369 µg/m3. The data for 2014 was not immediately available.
Prolonged exposure to PM 2.5 and PM 10 beyond the safe limits can harm the respiratory system as the ultra fine particulates can find their way deep into the lungs and also enter the bloodstream.
Even areas like Shanti Path, which record moderate levels of air quality even on the worst of days, had hazardous air, with the US Embassy's pollution monitor recording extremely high levels of PM 2.5, even way beyond the severe category.
Agencies like SAFAR and CPCB advise people not to go outdoors when air quality turns 'severe' as it has adverse effect especially on children, elders and those having heart or lung diseases.
"The ambient air is influenced by plumes of smoke from farm fires in Punjab and Haryana. There is no significant wind movement and the fireworks add to that. So, this is an accumulative effect," a Delhi Environment Department official said.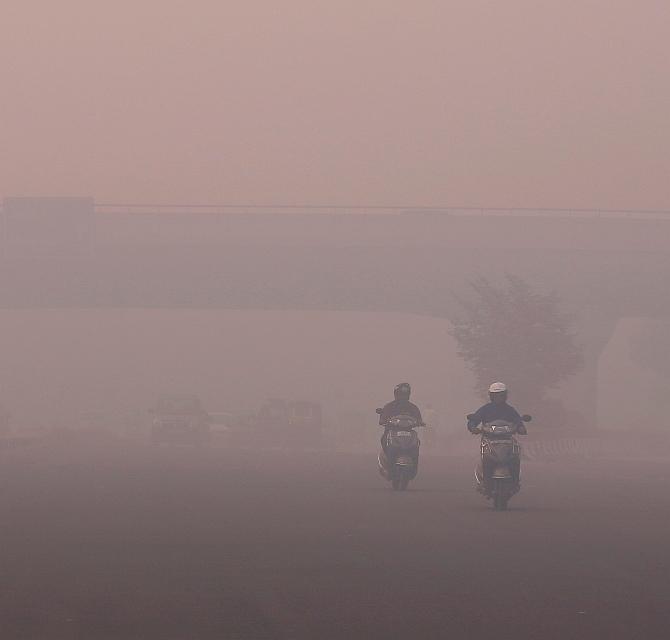 IMAGE: Commuters make their way amidst the heavy smog in New Delhi. Photograph: Adnan Abidi/Reuters
SAFAR said the Delhi University area was the most polluted while Ayanagar was the least polluted. On the other hand, DPCC identified Anand Vihar as the most polluted in terms of both PM 2.5 and PM 10.
Level of pollution, in real-time, peaked at Anand Vihar at 3.30am when it reached a whopping 1,068 ug/m3, violating the safe limit by over 10 times. PM 2.5 peaked at 883 ug/m3 in the same spot at 2.30am, over 14 times above the safe limit of 60.
In its analysis, Central Pollution Control Board (CPCB) said lower wind speed and lower mixing height (vertical mixing of air) came in the way of pollutants getting dispersed and gave rise to smog.
"Wind speed fell from 6km/hr on October 28 to 1 km/hr on October 30 night and remained so till the next morning. Temperature remained low at 15 degrees Celsius on Diwali night.
The boundary layer height (inversion layer) over Delhi fell to 40-60 metres between October 30 midnight till 7am on 31st morning," Gufran Beig, Project Director, SAFAR, said.
In its report, CSE said this year Diwali pollution was not only worse but also more toxic as maximum levels of several gases and particles have gone up from last year.
"Neither policy action nor awareness campaigns could prevent toxic loading of our lungs. This is unacceptable in a city where lung of every third child in impaired. Festival of light cannot turn into scary statistics of illness and deaths Delhi is awaiting yet another deadly winter. Action to control pollution this winter has to gather momentum now," it said.
Delhi Health Minister Satyendar Jain claimed people burnt 40 per cent less crackers this Diwali compared to last year. However, he did not give any details to substantiate his claim.
CSE said the minimum and maximum levels of nitrogen oxide this year was 70-123 microgramme per cubic metre compared to 37-79 microgramme per cubic metre in 2015.
"The maximum levels have increased by nearly 1.5 times. The lower level has doubled," said CSE adding Carbon monoxide in the air has also shot up.
"CO levels, that otherwise is declining in Delhi increased during this year compared to last year. This year CO has ranged between 2000 microgramme per cum and 4200 microgramme per cum as opposed to 1100 microgramme per cum to 4000 microgramme per cum last year. High level of CO can curdle blood and lead to instant deaths," it said.