The death toll in violence during the protests on Monday rose to 11 with two more people succumbing to their injuries.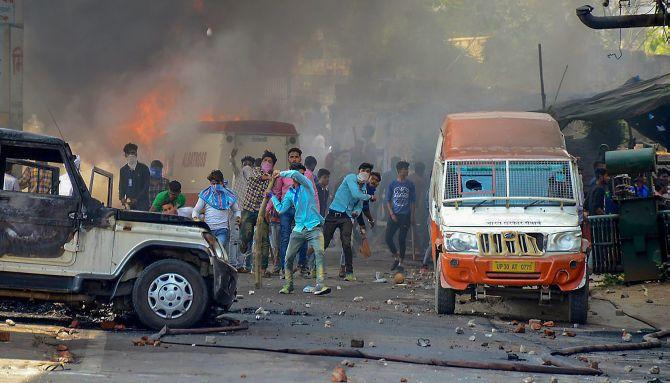 IMAGE: Protesters hurl brickbats as smoke billows out of burning cars during Monday's 'Bharat bandh' in UP's Muzzaffarnagar. Photograph: PTI Photo
Fresh violence broke out in Rajasthan on Tuesday as a 5,000-strong mob set ablaze the houses of a sitting and a former MLA, both Dalits, even as the death toll from Monday's nationwide stir by Dalit groups rose to 11 with two more persons succumbing to their injuries in Madhya Pradesh.
Man seen firing during protests in MP is BJP worker, case booked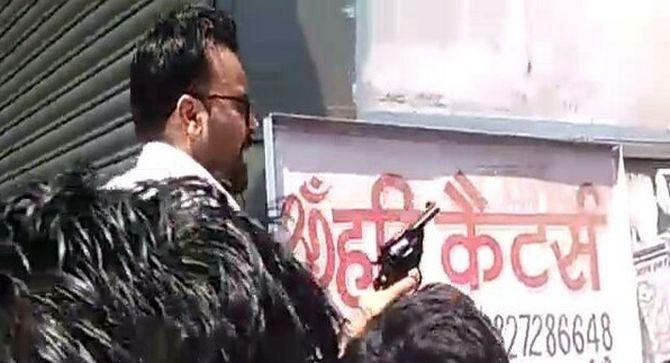 A case was registered against a Bharatiya Janata Party worker Raja Chauhan for firing during the Dalit protests in Madhya Pradesh's Gwalior.
Chauhan was allegedly captured in camera for firing at the people during the protests in Gwalior. -- ANI
While the Supreme Court on Tuesday declined to stay its recent order on the SC/ST Act, which had triggered the bandh call by Dalit organisations that alleged the move diluted their constitutional rights, the government maintained that it was not responsible for any dilution and that it was fully committed to protecting the interests of the backward communities.
Normal life was thrown out of gear in more than 10 states, most of them Bharatiya Janata Party-ruled, with widespread violence during the protests called by Dalit organisations on Monday with poll-bound Madhya Pradesh and Rajasthan bearing the maximum brunt.
Counter-protests were reported on Tuesday from Rajasthan, where traders' groups and members of other castes hit the streets over the damage caused on Monday.
In Alwar district, where a man was killed on Monday, people staged a sit-in protest, refusing to cremate the body of the victim.
The houses of a sitting and a former MLA, both Dalits, were set afire by a violent mob on Tuesday afternoon in Hindaun town in Karauli district of Rajasthan, following which curfew was imposed in the area, a senior official said.
A mob comprising nearly 5,000 people set ablaze the houses of sitting MLA Rajkumari Jatav and former MLA Bharosilal Jatav in Hindaun, District Collector, Karauli, Abhimanyu Kumar told PTI.
While Rajkumari Jatav is from the ruling BJP, Bharosilal Jatav is a former Congress legislator who had also served as a minister in the state.
The agitated members of the traders' associations and upper castes took out a procession in Hindaun on Tuesday and tried to enter the SC/ST-dominated areas, Additional Director General of Police (Law and Order) NRK Reddy said.
"The police lobbed tear gas shells and resorted to cane-charging and firing rubber bullets to disperse the mob," he added.
Superintendent of Police (SP), Karauli, Anil Kayal said after the incidents of arson and violence, nearly 40 people were detained in Hindaun.
According to the police, tension also prevailed in Churu and Gangapur city, where the law-and-order situation remained 'critical'.
Curfew was clamped in Gangapur city on Monday night.
In Madhya Pradesh, the death toll from the violence that broke out during Dalit protests on Monday rose to eight with two more persons succumbing to injuries, officials said.
The police admitted that one person, who died on Monday, had fallen victim to police bullets.
Two policemen were booked in connection with the death of a person in police firing, an official said.
However, Bhind Superintendent of Police (SP) Prashant Khare on Tuesday said Mahavir Rajawat, 40, who died on Monday, fell victim to police bullets.
This has taken the nationwide death toll from the protests to 11, including two in Uttar Pradesh.
A mob tried to storm the residence of minister Lal Singh Arya in Bhind district on Tuesday, police said.
On Monday, a senior police official had claimed that the casualties occurred during clashes between the supporters of the 'Bharat bandh', called by Dalit outfits, and those opposed to it and not due to police firing.
Arya, a Dalit, was not home when the incident took place. The police blamed anti-social elements over the incident. However, the BJP minister accused the Opposition Congress of attempting to attack his house.
"We thwarted a bid by some anti-social elements to enter the residence of Arya in the district's Gohad area," Bhind Superintendent of Police (SP) Prashant Khare told PTI.
"We chased them away at the right time," he added.
The SP declined to comment when asked whether the mob was armed.
"I was not in Gohad, where prohibitory orders are in place. I am in Bhopal," Arya said.
"I have come to know that some Congressmen were behind the incident," Arya, who is the 'Happiness Minister' of the state, claimed.
A press release issued from the police headquarters in Bhopal said 99 people and 54 policemen were injured during the bandh.
The eight deceased in MP included six Dalits and two upper-castes Hindus, police officials said.
Four deaths were reported from Bhind, three from Gwalior and one from Morena district.
Curfew was still in force in some areas of Gwalior, Bhind and Morena districts in view of the violence witnessed during the bandh, which was organised to protest a recent Supreme Court order that allegedly diluted certain provisions of the SC/ST (Prevention of Atrocities) Act, officials said.
Internet services remained suspended in Gwalior, Bhind, Morena and Sagar districts, officials said.
"We have arrested 53 people so far in connection with the violence," Morena SP Aditya Pratap Singh said.
In Haryana, eight civilians and 84 police officials were injured in the violence during the bandh, Haryana police said on Tuesday.
Also, 100 persons have been arrested for attempting to cause damage to public property and indulge in acts of violence in various parts of the state, they said.
Minor damage was caused to 24 government and 60 private vehicles during the protest, Director General of Police, B S Sandhu said.
There were reports of stone-pelting on two trains, he said, adding that six shops suffered minor damage.
Cop who suffered cardiac arrest during tiff with bandh supporters dies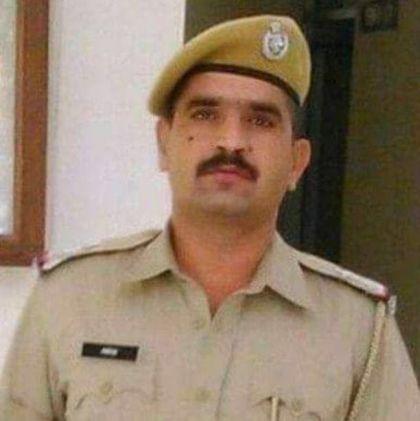 A police officer, who had sustained a severe cardiac arrest in Jodhpur on Monday during a tiff with bandh supporters, died on Tuesday while he was in transit to Ahmedabad for treatment, officials said.
Mahamandir police station SHO Mahendra Choudhary was undergoing treatment at a private hospital in Jodhpur, they said.
His condition started deteriorating on Tuesday following which his family members decided to take him to Ahmedabad for better care.
"But he breathed his last near Mehsana in the ambulance itself," DCP (East) Amandeep Singh Kapoor said, adding that he suffered yet another arrest on the way.
Choudhary was declared 'brought dead' by doctors at a hospital in Ahmedabad, Kapoor said.
Police had cleared a green corridor for his ambulance to pass through the city until the highway, he added.
Choudhary, a resident of Atbara village in Pali district, had joined the Rajasthan Police as a constable.
He became a sub inspector in 2014 and was holding the charge of the SHO of Mahamandir police station in Jodhpur.