Hurling petrol bombs and stones, Gorkhaland supporters on Thursday fought pitched battles with police, who broke up protests, bursting teargas shells and baton-charging violent crowds, plunging Darjeeling hills into deeper turmoil.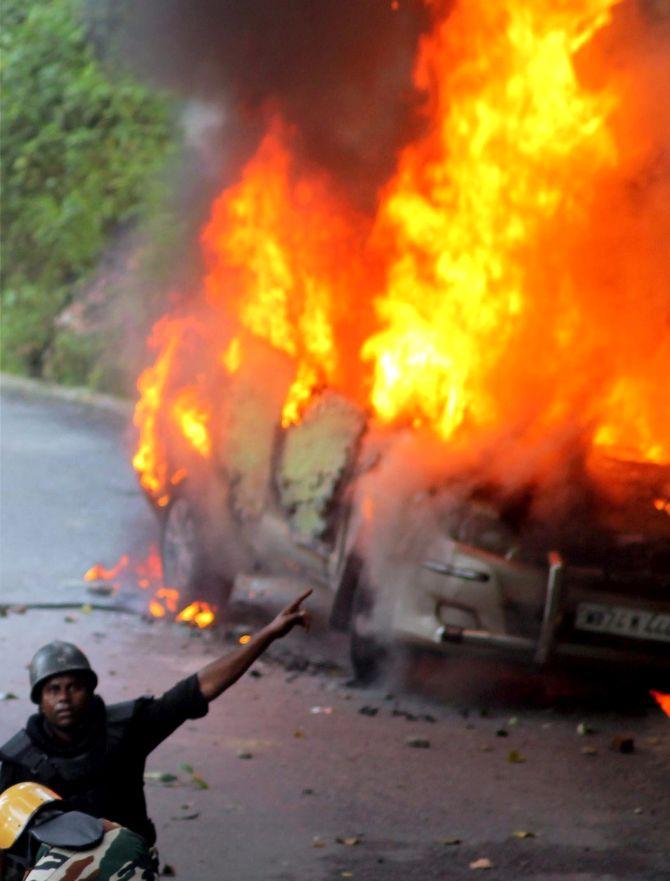 The Gorkha Janmukti Morcha, meanwhile, called an indefinite shutdown after police raided premises connected to its chief Bimal Gurung and some other leaders. The outfit had earlier called a shutdown of the offices of the state government and Gorkhaland Territorial Administration, which its controls.
The Centre on Thursday rushed an additional 400 paramilitary personnel to Darjeeling to help the local administration restore peace. These are in addition to around 1000 personnel, including 200 women, already stationed there, a home ministry official said in New Delhi.
GJM supporters surrounded a police contingent at Patlebas when it was returning after a series of raids on premises connected with Gurung, whose separatist campaign is escalating fast after it joined forces with arch rival Gorkha National Liberation Front two days ago, and attacked them.
GNLF, an ally of the Trinamool Congress, had on Wednesday snapped its ties with West Bengal's ruling party, giving a fillip to the agitation for a separate state of Gorkhaland.
"They (GJM) threw stones, hurled petrol bombs and fired on the police," S N Gupta, an IG rank officer who has been tasked by the state government with handling the volatile situation in Darjeeling, told reporters. Gupta and two other senior West Bengal officers are camping in town to ensure the situation does not spiral out of control.
A media vehicle was also set ablaze by the protesters.
Chief Minister Mamata Banerjee told reporters in Kolkata, "We want peace in the hills. There is peace in Bengal. If anybody violates law, the administration will take action. Law will take its own course".
"There was peace in the hills. A few leaders are doing goondagiri (hooliganism). But one cannot do politics with guns and bombs. We will curb their violent agitation," she later said at a police event in Kolkata.
"We are with the people of the hills. A conspiracy was hatched to disturb peace there. We will not allow this," she said, adding, "We are ready to shed blood, but will not allow peace to be disturbed in the hills."
There were reports of clashes between police and protesters from several places, as they threw stones at each other. Baton-wielding policemen were seen chasing away the agitators and bursting teargas shells to break up protests.
Earlier in the day, police seized more than 300 weapons, including pickaxes, bows and arrows, explosives, night vision binoculars and cash during raids on premises connected with Gurung, sparking a call by the separatist group for an indefinite shutdown in Darjeeling hills at the peak of the tourist season.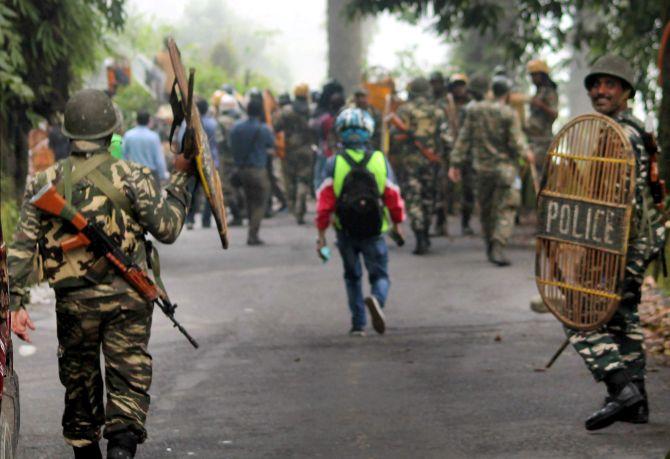 The separatist stir in the hills, known the world over for producing aromatic tea, is fast turning into a major political headache for the Mamata Banerjee government and is likely to cripple the tourism industry, critical to the region's economy.
"The present situation in the hills is created by the state government. They want to suppress us by using huge police force", said GJM general secretary Roshan Giri, who is in the national capital.
The Centre and the state government should resolve the "political problem", he said.
Later in the day, Giri, accompanied by Bharatiya Janata Party MP from Darjeeling S S Ahluwalia, met Union Home Minister Rajnath Singh and sought the Centre's intervention to restore peace in the hill district and "foil" West Bengal government's attempt to make teaching Bengali language mandatory in schools. The GJM is an ally of the Centre's ruling National Democratic Alliance.
"We have apprised the home minister of the prevailing situation in Darjeeling and Mamata Banerjee government's attempts to impose Bengali in schools in Darjeeling. We have urged him for immediate central intervention to bring back peace there," Giri told reporters after meeting Singh.
Giri said the West Bengal government was "conspiring to suppress the democratic movement for Gorkhaland by using force and brutal methods".
"We strongly condemn the raids at our offices in Darjeeling. Whatever the police found in our offices were planted by police themselves," he claimed.
On the recovery of weapons, Giri had earlier said, "What have they found? Khukri is part of our tradition. What is the harm in keeping it? Bows and arrows are traditional weapons. They were meant for students for archery competition."
Giri said Bengali and Nepali, the language spoken in Darjeeling, are in the 8th Schedule of the Constitution and hence equal respect should be shown to both.
"We will not accept imposition of Bengali in Darjeeling," he asserted.
The GJM leader said the home minister assured them that he would speak to Prime Minister Narendra Modi on the issue and try to find a solution.
Ahluwalia demanded that the Mamata Banerjee government issue an official order clarifying that teaching of Bengali language will not be made mandatory in Darjeeling in order to address the concerns of the people in the hills.
Police sources said in Darjeeling that some GJM activists also were arrested during raids at Singmari and Patlebas.
"Some of the premises of Gurung and other GJM activists were raided. We conducted the raids on the basis of concrete information. The raids are still on. We have arrested a few GJM activists," a senior police official said speaking on condition of anonymity.
The police, however, denied that Gurung's residence had been raided.
The developments came a day after Gurung declared the GJM's campaign will not stop until a separate Gorkhaland state has been created. He has asked tourists to avoid
visiting Darjeeling.
© Copyright 2020 PTI. All rights reserved. Republication or redistribution of PTI content, including by framing or similar means, is expressly prohibited without the prior written consent.