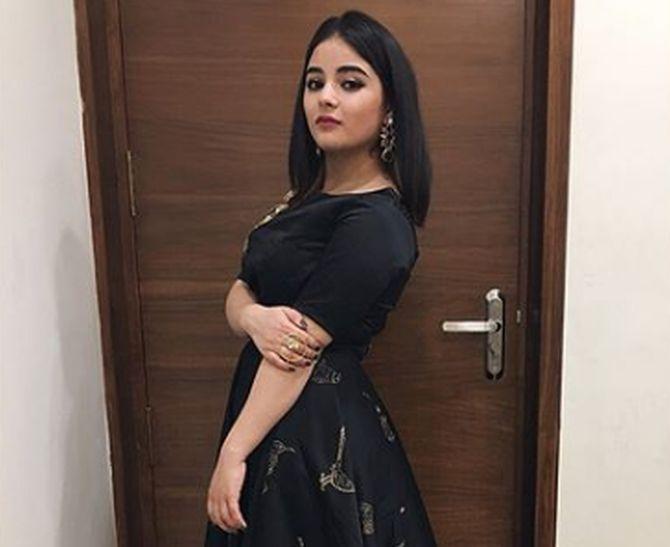 Actor Zaira Wasim has alleged she was molested by a co-passenger on board a Delhi-Mumbai flight, prompting the Maharashtra State Commission for Women to seek an inquiry into the "shameful" incident.
The airline said it has already submitted initial report to the regulator Directorate General of Civil Aviation about the incident which created an uproar and invited all-round condemnation.
The Mumbai police have registered a case against an unknown person in connection with the episode.
Vistara, which is run under a JV between Tata Sons and Singapore Airlines, regretted the "unfortunate experience" and apologised to Wasim.
It also said senior members of the management team have been flown to Mumbai to meet the "Dangal" actor, who narrated her ordeal on Instagram via live video.
Wasim said she was on a Vistara flight on Saturday night from Delhi to Mumbai when a co-passenger sitting behind her put up his feet on her armrest.
"We are deeply concerned and regret the unfortunate experience Zaira Wasim had onboard our flight last night. We continue to give this case our highest attention and are extending our full support to all relevant authorities for the investigations underway," the airline said in a latest statement issued late Sunday evening.
In addition, Vistara has submitted an initial report to the DGCA and also given all necessary details to the police, the airline said.
"Members of our senior management have flown to Mumbai to meet Wasim and assist in the investigation process," it added.
In the video, which Wasim recorded immediately after deboarding the flight, the 17-year-old actor broke down several times.
"So, I was in a flight travelling from Delhi to Mumbai today and right behind me one middle-aged man who made my two-hour journey miserable. I tried to record it on phone to understand it better because the cabin lights were dimmed, I failed to get it" she said.
"The lights were dimmed, so it was even worse. It continued for another five to ten minutes and then I was sure of it. He kept nudging my shoulder and continued to move his foot up and down my back and neck," the Kashmiri teen, who shot to fame for her stellar performance in Aamir Khan's blockbuster "Dangal", said in the post.
"This is not done, I am disturbed... Is this how you're going to take care of girls? This is not the way anybody should be made to feel. This is terrible!" she said.
"No one will help us if we don't decide to help ourselves. And this is the worst thing," she added.
Terming the incident as "shameful", Maharashtra State Commission for Women's chairperson Vijaya Rahatkar said they will seek a detailed inquiry into it from the DGCA.
Rahatkar said there should also be an inquiry into why the cabin crew did not help the actor.
A woman police official was sent to the hotel in Mumbai where the actor is put up to record her statement, a senior police official said.
Based on her statement, a case was registered at Mumbai's Sahar police station against the unknown person under IPC section 354 (assault or criminal force to woman with intent to outrage her modesty) and relevant sections of the Protection of Children from Sexual Offences Act, since the actor is a minor, Sahar's senior police inspector Lata Shirsat said.
"We are enquiring with the airport authorities and the airline concerned to establish the identity of the person," another police official said.
Jammu and Kashmir Chief Minister Mehbooba Mufti said she was "appalled" by the incident and demanded swift action against the culprit.
"Any harassment/crime against women should be dealt with swiftly and effectively. As a mother of two daughters, I am appalled at what happened with @zairawasimz. Hope the relevant authorities take strict action," she tweeted.
Former J-K Chief Minister Omar Abdullah also demanded action against the passenger. "The passenger should be identified to the police by @airvistara and a case filed for legal action. None of this "he fell at my feet so I forgive him" rubbish!" Abdullah posted.
"We are carrying out detailed investigation and will support Zaira in every way required. We have zero tolerance for such behaviour," the airline had tweeted immediately after the video went viral on social media.
Earlier, Vistara chief strategy and commercial officer Sanjiv Kapoor in a statement said, "We are talking to our crew who were serving Wasim to understand the incident at greater length, and reaching out to fellow passengers as well."
"We apologise for what she experienced and we have zero tolerance for such behaviour," Kapoor said.
Condemning the incident, Shiv Sena spokesperson Neelam Gorhe said a criminal offence should be registered against the male passenger and he should be asked to apologise for the indecent behaviour.
"Those travelling by airlines usually work in good positions in companies. If the owners of such companies do not take suitable action against such employees their conduct will never change," Gorhe said.
"Ensuring safety and security of our customers is of paramount importance to us, and we stand firm against any kind of harassment or such behaviour towards any individual," the airline said in its latest statement.
Image: Zaira said she called out to the cabin crew for help, but it was of no use. Photograph: @ZairaWasimm_/Instagram