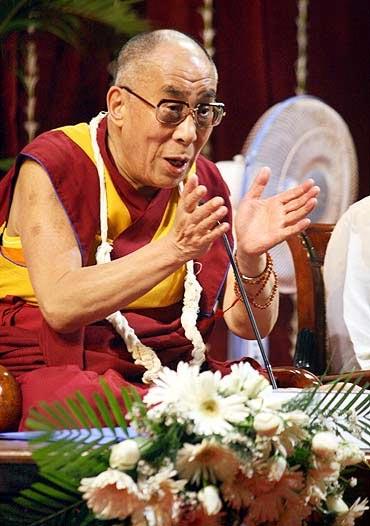 The much-anticipated visit of Tibetan spiritual leader the Dalai Lama to the ongoing Maha Kumbh has been finally called off despite security clearance given by the Uttar Pradesh government for his two-day visit.
Senior Superintendent of police Mohit Agrawal said, "We have received information that the Dalai Lama is pre-occupied until February 15 and, if at all, he chooses to visit the Maha Kumbh it would be only after that".
February 15 happens to be the date on which Basant Panchmi festival is falling this year when the last 'shahi snan' of 'naga' ascetics takes place.
Although officially the Kumbh will end on March 10, as per tradition most of the 'akharas' of 'sadhus' start packing up after Basant Panchmi itself with only some 'kalpavasi' pilgrims staying back till Magh Poornima which falls on February 25.
Earlier, the Dalai Lama was scheduled to arrive at a 'Lama Nagar' that has been built inside the camp of Vishwa Hindu Parishad at the Kumbh on February 4. But the visit was put off for want of security clearance in time.
However, the state government provided the clearance on February 3 and the Inspector General of police, Allahabad zone, Alok Sharma, said that the police would be able to make necessary security arrangements for his visit.
The organisers of his visit, the Mahabodhi Society of India, made a last-ditch effort to ensure his arrival at the Kumbh on Tuesday but this could not materialise.
© Copyright 2021 PTI. All rights reserved. Republication or redistribution of PTI content, including by framing or similar means, is expressly prohibited without the prior written consent.