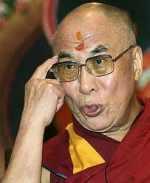 A day after Dalai Lama's proposed visit to Maha Kumbh in Allahabad was cancelled for want of security clearance, a Buddhist outfit claimed the Tibetan spiritual leader will arrive at the congregation on Tuesday.
The Dalai Lama will visit Kumbh following grant of necessary permission by the Ministry of External Affairs and the Uttar Pradesh government, the Maha Bodhi Society of India said.
"The Maha Bodhi Society of India and various other inter-faith and spiritual groups have been making requests for the permission," B K Modi, former president of the Maha Bodhi Society of India, told reporters in Allahabad.
Modi, who is also the chairman of the industrial group Spice Global, said, "It is unfortunate the necessary permission for Dalai Lama's travel to Kumbh could not come in time."
"However, all the permissions are in place and we expect His Holiness will be here with us at the Maha Kumbh tomorrow (Tuesday)," he said.
Modi said the Tibetan spiritual leader will inaugurate his 'Global Citizen Forum', which he described as a society comprising "technology innovators, academicians, cultural ambasssadors, social sector leaders and thinkers".
They would take part in programmes for human welfare and empowerment, he said.
"His Holiness has been residing in India for over 50 years now and he still has to obtain permission to travel within India. "I will appeal to the government to grant Indian citizenship to him," Modi said.
Vishwa Hindu Parishad leader Manoj Srivastava said, "We do not have any definite information about Dalai Lama's visit."
On Sunday, VHP leader Ashok Singhal had attacked the Centre and the UP government over cancellation of Dalai Lama's visit. He had alleged there was a conspiracy behind denial of security clearance to the Tibetan spiritual leader who was scheduled to inaugurate a 'Lama Nagar' in Allahabad.
Besides, the Buddhist leader was scheduled to take part on Monday in a meeting of religious leaders belonging to various sects organised by the VHP.