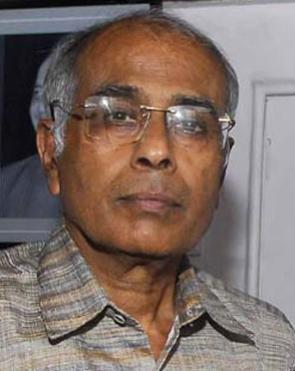 Two alleged firearm dealers, arrested in connection with the rationalist Narendra Dabholkar murder case, were on Tuesday remanded in police custody till January 28 by a local court in Pune.
Manish Nagori and Vikas Khandelwal, accused of involvement in criminal conspiracy part of the murder, were produced before Judicial Magistrate First Class A B Shaikh with a prosecution plea for 14-day custody for interrogation.
They were taken into custody by Pune police on Monday from a Thane jail where they were lodged in a separate case. The duo told the court they had nothing to do with the murder and their counsel claimed his clients were offered Rs 25 lakh by Maharashtra ATS to confess their involvement in the crime.
The remand plea was opposed by the defence counsel who contended the duo was being made "scapegoats" due to political pressure on police to crack the widely publicised case.
Public Prosecutor Mahadeo Paul submitted custodial interrogation of the accused was necessary to trace the motorbike used in committing the crime by unidentified gunmen, who shot dead Dabholkar on August 20, 2013 on a city bridge.
"We want to find out the motive behind this crime," he argued. The prosecution claimed Nagori and Khandelwal were engaged in illegal sale of firearms, and according to the ballistic report, one of the pistols recovered from them (7.65 caliber) matched with the bullets lodged in Dabholkar's body.
Refuting the prosecution contention, defence counsel B A Aloor told the court the accused, who were lodged in the Thane Jail in an extortion case, had already been interrogated by Maharashtra Anti-Terrorism Squad and the police for 52 days but they failed to establish their link with the sensational murder.
Both the accused were arrested by Thane police on the same day when the noted social activist was shot dead. Later, ATS sleuths, along with Pune police, had interrogated them to find out if they were involved in the crime but no arrests were made then.