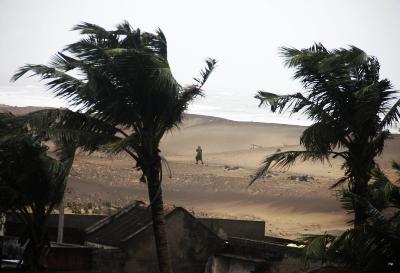 Fallout of cyclone Hudhud which caused havoc in Andhra Pradesh has brought unusual rains in Rajasthan causing the night temperature to dip by one to three degree in areas across the state, the MET department has said.
Squall accompanied by drizzles to light rains occurred in north of Rajasthan specially in Hanumangarh, Churu, Alwar, Bharatpur and Kota district since last night, the MeT official B N Vishnoi said.
Bundi recorded a maximum rainfall of 39 mm, while walled city Jaipur recorded 2 mm, he said adding, drizzles and rains were experienced at many places in the state.
MountAbu recorded the lowest temperature of 9° C, while Sriganganagar on plains recorded 15.9° C last night. Elsewhere the minimum temperatures varied between 18 and 22° Celsius in areas including Ajmer, Jaipur, Pilani, Kota, Churu, Chittorgarh, Udaipur, Jaisalmer, Bikaner, and Jodhpur.
HudHud residual effect will continue over the northern regions by Wednesday evening in which scattered rains would likely to occur, the official said. The day temperatures also fell by one to 3° C at most places due to availability of moisture content he said adding, sunny days would now depart.
For more Hudhud related stories, click HERE
HudHud will be followed by a fresh western disturbance approaching from Jammu and Kashmir by up coming weekend, he said, adding that WD would lead the onset of winter.
Image: A man walks as strong winds blow along a beach in Gopalpur in Ganjam district in Odisha. Photograph: Stringer/Reuters