The death toll in cyclone 'Gaja' has touched 33 and left a trail of destruction across six districts districts of Tamil Nadu with 30,000 electricity poles and over a lakh trees getting uprooted, chief minister K Palaniswami said on Saturday.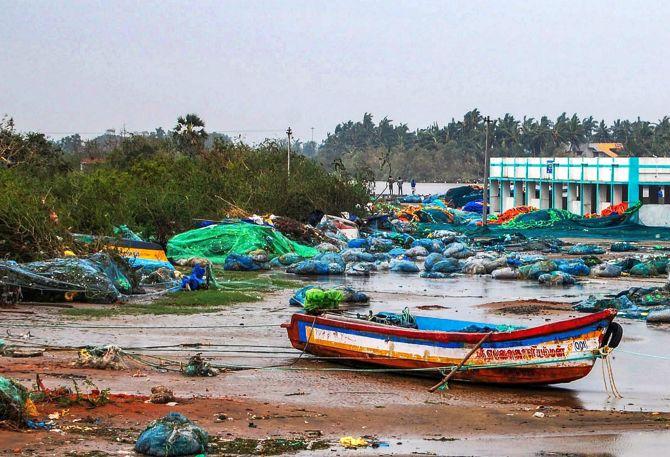 He maintained that the impact of cyclone was less as 82,000 people were evacuated to 471 relief centres well in advance. However, 20 men, 11 women and 2 boys died in cyclone related incidents, he said.
As of now, 1,77,500 people have been housed in over 351 camps, the chief minister said, adding food, and medical amenities were being provided to them by the government.
The chief minister, speaking to reporters at Vanavasi near Salem, said that cattle, including goats, and wild animals including deer, have perished.
"It has now been estimated that uprooted trees alone were 1,27,000. There is a possibility of the numbers going up," he said.
While 30,000 electricity poles have either got mangled or fallen down, 105 sub-stations (electricity distribution stations) have been affected, he said, adding 10,000 personnel have been rushed to the affected areas to repair them.
Ten out of 26 Combined Drinking Water Schemes in coastal districts have been set right and people were being provided drinking water. Over a lakh people had benefited by medical camp, to prevent epidemics, in affected regions, Palaniswami said, adding he would inspect the storm hit areas Sunday.
On complaints from people in cyclone hit districts that they did not get food, he said there was no such thing anywhere. Food was stocked in advance to make it available for people.
"District Collectors and ministers from the respective districts are camping in affected areas and carrying out relief operations on a war footing."
Milk was sought and it has been despatched, he said, adding five more ministers, including D Jayakumar, and R B Udaya Kumar, have been deputed to cyclone hit districts to oversee relief work.
The navy has also augmented the government's relief efforts, with one helicopter sortie flown from INS Parundu, the Indian air naval station at Uchipuli in Ramanathapuram district, to assess the damage in and around Ramanathpuram.
Two ships "Chetlat" and "Cheriam" were diverted to Karaikal to assist state authorities in relief work, a defence release said.
Three ships at Chennai and two at Visakhapatnam were on stand by to augment relief efforts at short notice, it said.
The navy has also positioned a Dornier detachment at Arrakkonam, about 78 from Chennai, to facilitate damage assessment and any other assistance that may be needed.
The main opposition party Dravida Munnetra kazhagam expressed grief over the loss of lives while PMK and a farmers' body demanded adequate compensation to ryots, whose crops had been destroyed.
DMK chief M K Stalin, in a tweet, claimed that 36 people have lost their lives in the cyclone and expressed his grief.
The leader of the opposition, who Saturday embarked on a tour of storm affected regions, said the cyclone has caused large-scale destruction in Cauvery delta districts like Tiruvarur.
He said the livelihood of the common people, including farmers and fishermen, had been severely hit.
Pattali Makkal Katchi chief S Ramadoss demanded that the government declare Vedaranyam (Nagapattinam district), Mannargudi (Tiruvarur), and Pattukottai (Thanjavur) as disaster struck regions and implement rehabilitation schemes.
He wanted Rs 50,000 compensation for coconut trees as per a scheme announced by the government for acquiring land for Salem-Chennai expressway.
Tamil Nadu Vivasayigal Sangam, a Communist Party of India-Marxist affiliated farmers' body, demanded a proper enumeration of losses to standing crops. A compensation of Rs 20,000 for a coconut tree, Rs 25,000 per acre for paddy, and Rs one lakh an acre for plantain were among its demands.
"Coconut trees over thousands of acres of farmland have been completely uprooted, causing irreparable damage to ryots. It will take many years to grow again these trees," it said.
Top actor Rajinikanth, extending his sympathies to the affected people, said "relief assistance" by his Rajini Makkal Mandram functionaries should continue.
The Met office, meanwhile, said the Northeast monsoon has been active over Tamil Nadu. Some regions experienced heavy rainfall, with Sivaganga recording 17 cm followed by the hill station of Kodaikanal (14 cm) between Friday and Saturday morning.
© Copyright 2021 PTI. All rights reserved. Republication or redistribution of PTI content, including by framing or similar means, is expressly prohibited without the prior written consent.