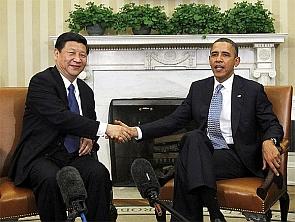 The meeting between United States President Barack Obama and his Chinese counterpart Xi Jinping later this week will be dominated by talks on cyber security, North Korea and Asia Pacific region along with bilateral relations, White House officials have said.
"We have a very broad agenda that we cover with the Chinese that touches upon issues that are directly relevant to the lives and interests of the American people, from our efforts to promote economic growth around the world to some of the leading security challenges that we face, like the situation in North Korea, to the ongoing necessity of cyber security," said a senior administration official.
Speaking ahead of the meeting scheduled to take place in Sunnylands California, a senior administration official said Obama and Xi would first meet on Friday afternoon and will have extensive meetings till the next day.
"We felt that having this type of wide-ranging, informal setting for discussions between the two leaders would allow them to cover the broadest possible agenda but also, again, to forge a working relationship that we will be relying on very much in the years to come, given the fact that the US-China relationship is as important as any bilateral relationship for shaping the trajectory of the global economy and global security in the 21st century," the official said.
The meeting is part of a wider effort of the Obama Administration to set terms of relationship with the new Chinese leadership. "A big part of that has been to work to shape the region and to influence China's behaviour and China's emergence as a major actor in a positive way," another senior administration official said.
"One line of effort has been for the president to strengthen America's alliances in the Asia-Pacific, and another is the work that he has done to build and develop institutions," he said, adding that a big part of the rebalancing of strategy has been to ensure high-level and direct communications with leaders, and particularly with the Chinese leadership.
The two leaders would meet in a smaller informal format that would allow for real conversation and some candor, which will be a little bit less scripted than the formal meetings during a state visit, the official said.
"The fact that the new Chinese leader agreed to an untested and unprecedented format for a meeting with an American president is, I think, encouraging," he said. "As always, the president will forthrightly and, I think, persuasively raise American human rights concerns. And it's an
opportunity for the two leaders also to talk about questions such as how our two militaries operate and will operate in the Asia-Pacific theatre," he said.
"On the economic side, we see this as an opportunity to get a better understanding of the kind of domestic policies and reforms that President Xi and his new prime minister have spoken about," the official said.

Image: Chinese President Xi Jinping with his US counterpart Barack Obama in the Oval Office of the White House in Washington, February 14, 2012 | Photograph: Reuters