The curtains will come down on the Congress' Bharat Jodo Yatra on Monday with a ceremony at the party headquarters in Srinagar and a rally at the Sher-e-Kashmir stadium where several Opposition leaders are also likely to be present.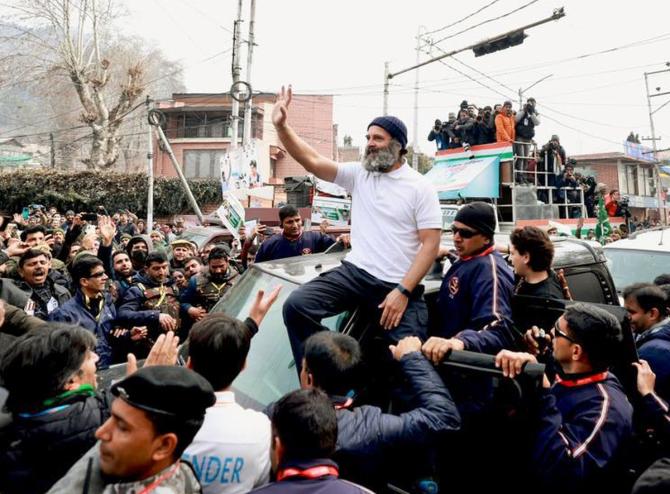 The padyatra concluded at the Lal Chowk area on Sunday with Rahul Gandhi unfurling the national flag but the official closing would take place on Monday in Srinagar, amid snowfall.
The yatra traversed 12 states and two Union territories in nearly five months after its launch on September 7 last year, clocking over 4,000 km.
During the course of the yatra, Rahul Gandhi addressed 12 public meetings, over 100 corner meetings, 13 press conferences.
He had over 275 planned walking interactions and more than 100 sitting interactions.
Congress president Mallikarjun Kharge will unfurl the national flag at the Jammu and Kashmir Pradesh Congress Committee headquarters and also unveil a memorial for the Bharat Jodo Yatra.
The rally would take place after that.
Kharge had extended invitations to the presidents of over 20 parties, including the Trinamool Congress, the Janata Dal-United, the Shiv Sena, the Telugu Desam Party, the National Conference, the Samajwadi Party, the Bahujan Samaj Party, the Communist Party of India, the Communist Party of India-Marxist, the Jharkhand Mukti Morcha, the Rashtriya Janata Dal, the People's Democratic Party, the Nationalist Congress Party, the Dravida Munnetra Kazhagam, the Rashtriya Lok Dal, the Indian Union Muslim League, the Revolutionary Socialist Party and the Janata Dal-Secular.
Some party leaders have expressed their inability to be present at the rally while some would send their representatives.
While parties such as the NC, the PDP, the CPI, the CPI-M, the Shiv Sena and the DMK are likely to have a presence at the rally, there is uncertainty over participation from parties such as the SP, the BSP and the TMC.
Gandhi on Sunday said at a press conference in Srinagar that the Bharat Jodo Yatra went from South to North but it has had a countrywide effect, and asserted that the march gave an alternative vision to the country.