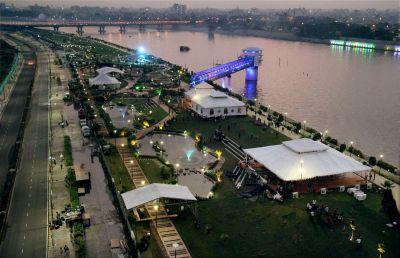 Despite the administration's best efforts, the maladies of small towns can't be wished away overnight, not even for the president of China.
At many places on Xi's route slums have been covered, but leaders of Asian nations have no reason to hide the stark realities, reports Sheela Bhatt/Rediff.com from Ahmedabad.
Ahmedabadis are awestruck to see the government machinery bending over backwards to welcome Chinese President Xi Jinping.
Ram Singh, an assistant in a local NGO, lives opposite Sabarmati ashram where in a few hours Prime Minister Narendra Modi will give a guided tour to President Xi. Singh has taken leave because of the heavy security around the place. More than 5000 security personnel are guarding the venues Xi will visit today.
On Tuesday Modi had strongly recommended that world leaders who visit India should also see its small states and towns. It's an excellent idea whose time has come as there is more real power in state capitals now than ever before.
Locals are overwhelmed to see the cleanliness drive undertaken on the route to be taken by Xi, with DDT sprayed everywhere as Ahmedabad is notorious for mosquitoes, like most small towns are. Vastrapur, the Sabarmati riverfront area, and Ashram road have been spruced up. The scores of speed-breakers on the route from the airport to the city centre have been removed so that Modi and Xi's cars can glide across.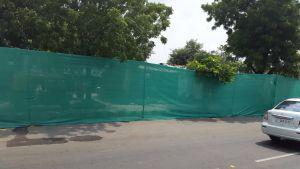 However, all the maladies of small towns can't be wished away overnight, not even for the president of China. At many palaces on Xi's route the slums have been covered, image, left. In fact, the leaders of Asian nations have no reason to hide the realities but in Ahmedabad, in many places, the slums are covered up. One would like to think that such a reality check should not have been avoided for two great nations.
Problems abound in both nations in their urban areas, towns and villages. In smaller places like Ahmedabad huge halls are not available as easily as in Delhi. Gujarat government officers says there was no space in a small hall in the Hyatt to accommodate journalists for the Modi-Xi a signing ceremony so the media has been left in the lurch.
Only a few weeks earlier Hyatt hotel was raided by the Ahmedabad municipal corporation as the tomato puree in its kitchen was outdated. Such are the petty problems of hosting great leaders in smaller places where there are not so many alternatives.
Also, since the SPG doesn't have much experience of small places, they go paranoid to see things working at a slow pace.
However, as is the case with Gujaratis, they like business-friendly people and leaders. Gujarat and China have a quite promising business relationship. From Saurashtra, cotton, groundnuts and chillies are exported. Morbi town has quite a warm relationship with China and many of its ceramic exporters' offices also show Beijing time. Gujaratis export goods worth Rs 5000 crore to China but the imports are much more, particularly of wall tiles and vitrified tiles.
Since the Modi-Xi relationship will have more emphasis on business than strategic, it makes sense to start Xi's tour from Gujarat. Ahmedabadis would not mind a few traffic restrictions so long as the China Development Bank brings in loans at lower rates.
Main image: The Sabarmati riverfront beautified for the visit by Chinese President Xi Jinping. Photograph: PTI Photo.