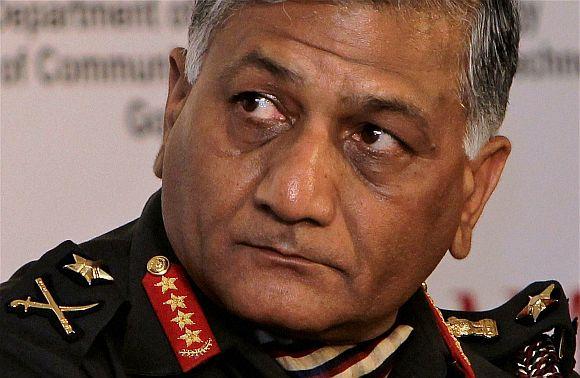 In this conversation with Rediff.com's Sheela Bhatt, former Army Chief V K Singh refutes the allegations made in the Indian Army's Secret Board of Officers Inquiry report, which accuses him of misusing of his position
"Why has the story against me has appeared, now? Let me know that first. You should find out who is behind this story? I apprehend that it can be even my successor (current Army Chief Bikram Singh). Since long, Lt Gen (retired) Tejinder Singh has been manipulating things," said former army chief V K Singh when rediff.com asked for his reaction to the story that appeared in Indian Express on Friday.
The story gave the details of the findings of the Secret Board of Officers Inquiry report into the functioning of the Technical Services Division. The inquiry was led by Lieutenant General Vinod Bhatia, the director general of military operations. It found, among many wrongdoings, that 'the secret fund was misused by theTSD. This was to destabilise the Omar Abdullah government in Jammu and Kashmir'. The story also said that it 'paid people, to try change the line of succession in the army top brass'. The TDS also conducted 'unauthorised' covert operations, the report has alleged.
The TDS was set up by General Singh when he was army chief.
General Singh told rediff.com, "This report was submitted to the ministry of defence in March 2013. It was then sent to the National Security Advisor for closure. Why has it been leaked now?" He dismissed the J&K angle, saying that it was concocted.
On Friday, Bharatiya Janata Party spokesperson Nirmala Sitharaman had said, "He is being hounded because he was seen seated beside Gujarat Chief Minister Narendra Modi at the Rewari rally."
General Singh insists Tejinder Singh has been acting behind the scenes. Tejinder Singh has filed a criminal defamation case against General Singh when the latter alleged that the Lt Gen had offered him a bribe of Rs 14 crore, who was then army chief.
A former army officer and a supporter of General Singh tried to defend him. While giving his version on the Kashmir angle of the controversy, in an-off-the-record conversation, he claimed, "It's public knowledge that General Singh's successor (Army Chief Bikram Singh) is close to Omar Abdullah. Much before he became army chief, he has been promising to remove the severe Armed Forces (Special Powers) Act if he was made the army chief." He says it is possible that, "The Kashmir angle has been inserted just to harass General Singh and please the Jammu and Kashmir chief minister."
General Singh said he is not worried about any inquiry, including an investigation by the Central Bureau of Investigation.