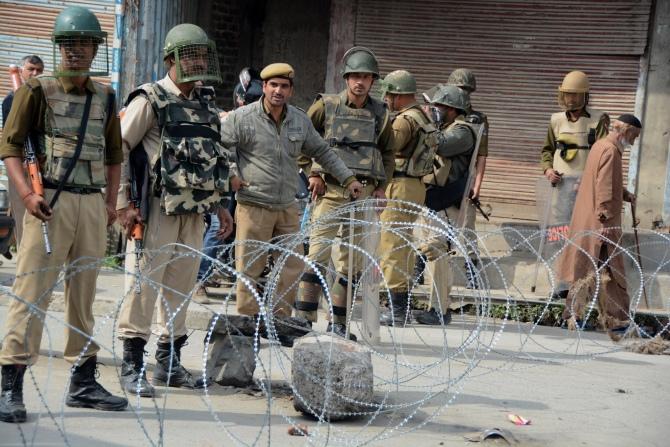 Security personnel stand guard during curfew at Khaniyar. All photographs: Umar Ganie
Curfew-like-restrictions were imposed in the old city of Srinagar and some uptown areas to foil protests and a sit-in at the historic Jamia mosque after the Friday prayers.
The call for the sit-in at the mosque was given by the moderate All Parties Hurriyat Conference chairman Umar Farooq.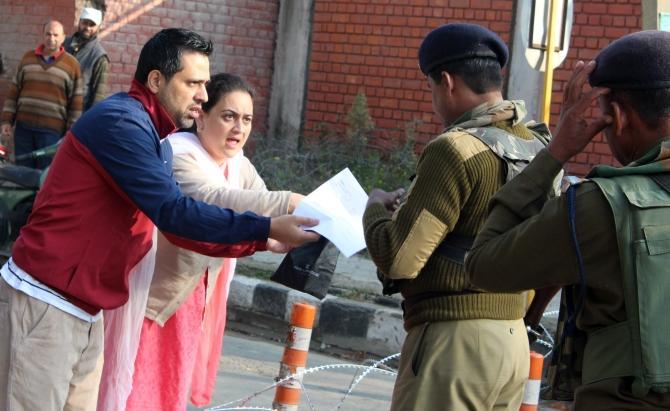 A couple shows hospital documents as they seek permission from security personnel to move towards a hospital during the curfew.
In a significant development, Farooq has invited the hard-line separatist leader, Syed Ali Shah Geelani and pro-independence Jammu and Kashmir Liberation Front chairman Mohammad Yasin Malik to join the sit-in at the mosque.
However, the authorities early Friday placed Farooq, Geelani and other separatist leaders under house arrest. Malik also continues to be under detention.
In a statement, Farooq said the sit-in has been called to protest against the 'recent killing of a trucker, human rights violations and attacks on minorities in India'.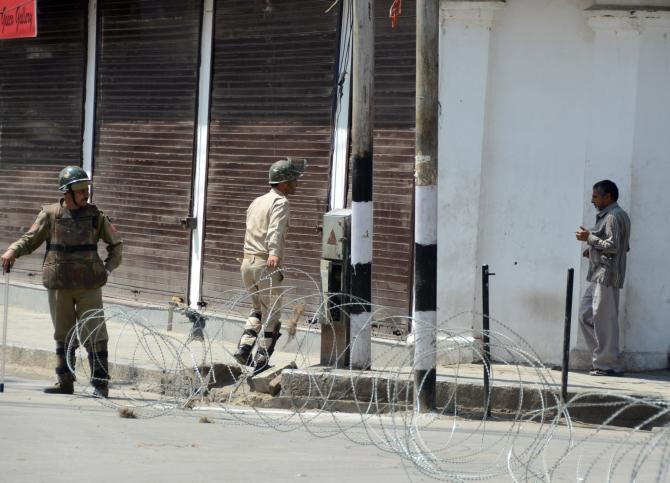 A man seeking permission from police personnel during curfew at Gow Kadal.
Heavy police and the Central Reserve Police Force stand deployed in the old city areas and in uptown Srinagar.
Security is also tight in the Anantnag district which has been in turmoil eve since the death of a 19-year-old trucker on Sunday last.
The trucker received critical burn injuries after a mob attacked his truck with a petrol bomb in Udhampur on the Jammu Srinagar National Highway.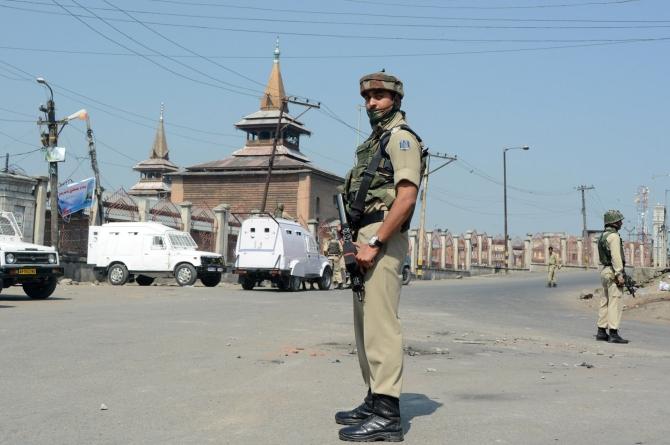 Security personnel stands guard outside the Jamia Masjid in Nowhatta Chowk.
Train services between south and north Kashmir has been suspended for security reasons. All school or college exams scheduled for Friday have been postponed.
Tension is high in the Bhaderwah town of Jammu, following alleged desecration of the Muslim Holy book. Authorities have beefed up security in the town.
Youth took to streets in the Bhaderwah town shouting slogans. A bandh is being observed in the mountainous town.