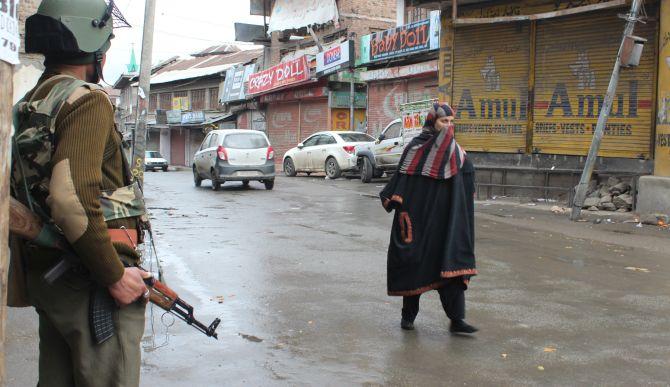 Curfew remained in force on Thursday in interior areas of Srinagar as a precautionary measure even as normal life remained affected in the Valley for the 97th day.
A police official said curfew remains in force in five police station areas of downtown Srinagar.
Curbs on the movement of people in the police station areas of Nowhatta, Khanyar, Rainawari, Safakadal and Maharaj Gunj have been imposed as a precautionary measure to maintain law and order.
The official said while there were no curbs on the movement of people anywhere else in Kashmir, restrictions on the assembly of people under Section 144 of Code of Criminal procedure were in force throughout the Valley.
He said security forces have been deployed in sensitive areas to maintain law and order as also to instill a sense of security among the people so that they can carry out their day-to-day activities without fear.
There was increased movement of private transport and auto-rickshaws in the civil lines areas of the city including around the commercial hub of Lal Chowk in Srinagar.
However, normal life elsewhere in the Valley remained affected for the 97th consecutive day in the aftermath of Hizbul Mujahideen commander Burhan Wani's killing in an encounter with security forces in south Kashmir on July 8.
The unrest, which has claimed 84 lives, including that of two cops, and left thousands of others injured in clashes between protestors and security forces, is in its fourth month as shops, business establishments, petrol pumps and educational institutions remained closed, while public transport continued to be off the roads.
The shops and other business establishments open during the periodic relaxation announced by the separatists on some days of the week.
Photograph: Unar Ganie/Rediff.com