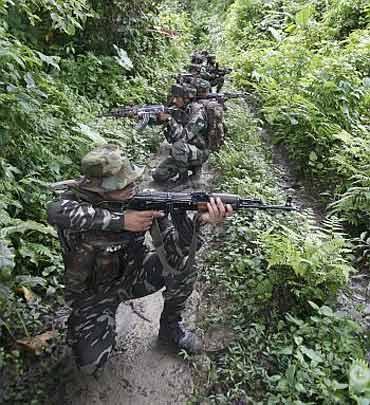 The Central Reserve Police Force is purchasing more than a dozen defence manufactured Unmanned Aerial Vehicles and a number of mine protected troop carriers to aid and guide ground patrols of the force conducting anti-Naxal operations.
The country's largest paramilitary, thick in action against the Maoists, has decided to make these big ticket purchases from indigenous defence establishments like the Defence Research and Development Organisation and the Ordnance Factory Board.
The decision to purchase from indigenous defence establishments has been made with a view to fast-track the purchases and get an early delivery of these sophisticated machines as compared to the timeline of foreign vendors and global purchases.
Sources said the CRPF will get almost 15 'Nishant' UAVs and more than three dozen OFB Kolkata-made counter-landmine vehicles which protect troops from hidden mines.
"Both the machines coming from the defence stable are aimed to get the troops a better operational preparedness in the Naxal terrain and also save our men from the deadly landmines planted clandestinely beneath the tracks in Naxal-hit areas," a senior official said.
The CRPF, which has deployed close to 85,000 personnel for anti-Naxal operations, at present is flying UAVs in Maoist zones in order to give its foot soldiers an advanced view of the jungle terrain and indicate possible movement of armed Maoist cadres with the help of the 'Netra' mini-UAVs.
The force now will use the bigger UAV 'Nishant' developed by the Aeronautical Development Establishment of the DRDO and used by the Indian Army.