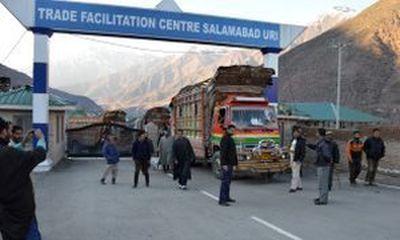 Trade across the Line of Control has been hit once again after police and customs officers recovered narcotics hidden in orange crates late on Friday night.
The narcotics hidden in 97 orange boxes were recovered during a check of the trucks coming from Muzaffarabad at the Salamabad trade facilitation centre near Uri in north Kashmir Baramulla district.
The authorities subsequently detained all the 22 trucks that had come from Muzaffarabad.
"We have detained a driver identified as Syed Anayat Shah after 307 packets weighing 12 kilogram containing powder of a narcotic substance were recovered from the truck. These packets were concealed in orange boxes," said a senior state government officer.
He said the packets will be examined by a team of forensic experts on Saturday to verify the exact nature of narcotics.
The officer said the truck was part of a fleet of 22 trucks that had come from Muzafarabad.
Last year trade was suspended for over a month following a drug haul from a POK truck leading to the arrest of the driver at Salamabad on January 17. The driver is undergoing trial.
The POK authorities on Friday detained in retaliation the entire fleet of 50 Kashmir trucks that had crossed over to deliver goods at the Chakoti trade facilitation centre near Muzafarabad.