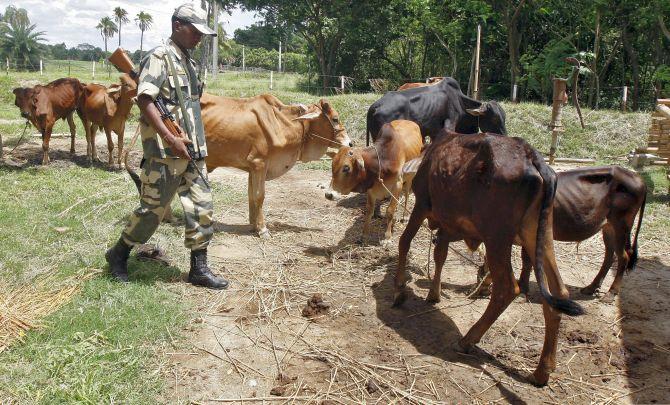 Instances of cross-border narcotics, arms and cattle smuggling showed a cumulative increase along with a steady rise in the number of arrests made in such cases along various Indian borders over three years, a data updated till 2017 said.
According to the data compiled by the Union home ministry about these criminal activities along the international borders with Pakistan, Bangladesh, Bhutan, Nepal and Myanmar, instances of cross-border smuggling of arms, drugs and cattle increased from a total of 19,537 in 2015 to 31,593 in 2017.
In 2016, as many as 23,198 such cases were registered.
India shares about 15,000-km-long land border with these countries along with China. These borders are primarily guarded by different frontier guarding forces working under the command of the home ministry.
The number of smugglers apprehended in such cross-border smuggling cases increased steadily between 2015 and 2017.
According to the data, as many as 1,501 smugglers were arrested in 2015 that went up to 1,893 in 2016 and to 2,299 during last year. A major chunk of these cases was reported from along the Indo-Bangladesh border.
The 4,000-km-long border with Bangladesh witnessed 18,132 smuggling cases in 2015 which increased to 21,771 in 2016. The number of these cases spiked to 29,693 last year, the data revealed.
However, the number of arrests of smugglers along the Indo-Bangladesh border decreased last year in comparison to 2015. As many as 656 smugglers were arrested in 2015, 751 in 2016 while 633 were held in 2017.
Among other international borders, the one with Nepal witnessed 1,158 cases of narcotics, arms and cattle smuggling in 2015. In 2016, the number of such cases was 1,173, and in 2017 it was 1,563.
In 2015, the number of cattle seized while being smuggled across the border were 1,63,180, while in 2016 it rose to 1,71,869. However last year, the number of such cattle seized was 1,30,806.
A senior official said the steady increase in these numbers, both cross-border smuggling cases and arrests, can be attributed to enhanced attempts by the smugglers as well the surveillance capabilities of the border guarding forces.
The over 3,000-km long India-China border did not report any of these instances, the data said.