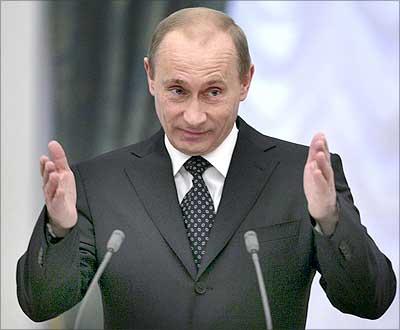 The visit to India by Sergey Aksyonov, Head of the Republic of Crimea, accompanying Russian President Vladimir Putin has raised the hackles in the West with the US saying it was 'troubled' by the news and an angry Ukrainian President decrying it.
"We are troubled by reports that the delegation accompanying Putin may have included Sergiy Aksyonov," US State Department spokesperson Jen Psaki told reporters in Washington.
Aksyonov, leader of Crimea, which in March this year had acceded to the Russian Federation from Ukraine, was on his first visit abroad seeking to woo Indian investments.
Crimea's accession to the Russian Federation had led to sanctions against both by western countries.
Psaki, however, noted that New Delhi was not aware of Aksyonov accompanying Putin on his visit to India.
"The Indian Ministry of External Affairs has said they were not officially aware of his visit or his participation in the delegation. We're seeking further clarification on that," she said.
"I don't think we have any reason to believe they (India) were aware. But that's all the information I have at this point," Psaki said.
Meanwhile in Sydney, an angry Ukrainian President Ukrainian President Petro Poroshenko criticised India over Aksyonov's visit.
Poroshenko, speaking at the Lowy Institute think tank, said India was giving more importance to 'money' than 'values' by hosting Aksyanov.
India's move was also not in conformity with "civilisation" against Russian "aggression" on his country.
"The Indian position doesn't help, it doesn't save Aksyanov. He is a criminal, it's very simple. He has a criminal background and no doubt he has a criminal future," he claimed.
Aksyonov had also signed a Memorandum of Understanding in New Delhi as he courted Indian investments in agriculture, food processing, tourism, pharmaceuticals and infrastructure for the breakaway republic.
On whether his visit with Putin was an attempt by Russia to send out a message to those countries opposing them, Aksyonov said, "The aim of this visit is purely pragmatic. We are looking for partners and this is for cooperation".
Russian officials said Aksyonov "not" part of the "official delegation", but was "accompanying" the president.
India has refrained from criticising Russia's actions in Crimea or the uprising in eastern Ukraine.