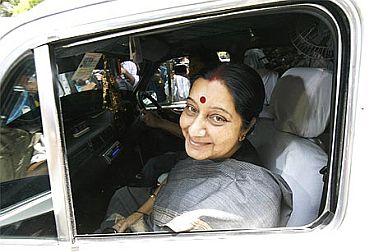 Indicating her reservations at some members of the all-party delegation meeting separatists, senior BJP leader Sushma Swaraj on Tuesday said this was not part of the team's "mandate" and suggested the decision was not a collective one.

"That was their own decision, not that of the delegation. If some want to go, how can we stop them? They went but our decision was not to go. So we didn't go," Sushma said.

Sushma made these remarks when asked by media persons for her response to discussions that three groups from the all-party team had with the separatist leaders after some members went out of their way visiting their homes on Monday.

Three teams of the delegation met Syed Ali Shah Geelani, Mirwaiz Umar Farooq, leaders of the hardline and moderate Hurriyat

groups respectively at their homes and JKLF chief Yasin Malik at his office in full media glare.

Sushma also said there was no question of division in the delegation on the issue of meeting the separatists.

"Some of the people in the delegation expressed the desire to meet them (separatists). Anyone can go individually. No one can stop them," the Leader of the Opposition in the Lok Sabha said.

She replied in the negative when asked whether there was a mandate to meet the separatists.

"No, no, it was not a mandate. It was not discussed in the delegation. Some of the members expressed their desire to go there. Naturally the delegation leader said you can go," she said.

The 42-member delegation, on the second day of its visit to Kashmir Valley, is headed by Union Home Minister P Chidambaram.