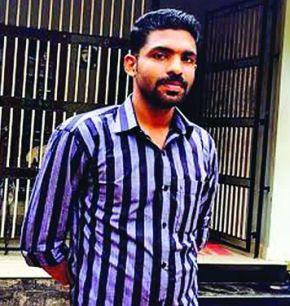 A Facebook post by the son of a Communist Party of India-Marxist leader has landed him in hot water. The Kadirur police has registered a case under the Information Technology Act against Jain Raj, son of the CPI-M's P Jayarajan for his post in which he expressed happiness over the killing of Rashtriya Swayamsevak Sangh leader E Manoj on Tuesday.
On September 3, Jain had posted in Malayalam, 'I have been waiting to hear this good news for a long time. Salutations, dear comrades. Feeling excited.' The post, put up around 2.30 pm on Tuesday, quickly received over 1,000 'likes'. The message was in response to the murder of Manoj, who was hacked to death on Monday.
Meanwhile, K Ananthakrishnan, the additional director general of police, who is also heading the investigating team in the murder case, said the Unlawful Activities (Prevention) Act will be used against the accused and that the police were in the process of investigating CPI-M workers B Vikraman, Nambidi Shiji and four others.
Ananthakrishnan, however, clarified that it was not clear whether the killing was due to political rivalry, a claim made by the RSS and Bharatiya Janata Party leaders.
In fact, the BJP and RSS have petitioned Chief Minister Oommen Chandy to order an investigation by the Central Bureau of Investigation into the murder.
BJP former national secretary and former state president PK Krishnadas said that not only the assailants but also the conspirators should be brought to book.
Demanding a CBI investigation, BJP state president V Muraleedharan said he was already worried about the investigations by the state police, who he alleged may be toeing the CPI-M line.
Furthermore, to protest against the incident, the BJP and RSS leadership did not take part in the all-party peace conference, which had been called by Kannur district collector K Balakiran, calling the meeting a 'farce'.
Image: Jain Raj, son of CPI-M leader P Jayarajan. Photograph: Jain Raj's Facebook account.