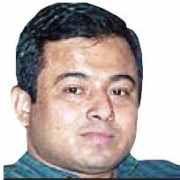 The Communist Party of India-Marxist on Saturday expelled young leader Prasenjit Bose, who resigned from the party attacking the leadership for supporting Pranab Mukherjee's Presidential bid, saying he had sought to "malign" its political line.
Bose, the convenor of party's research unit and a familiar face in TV debates, quit the party on Saturday and through an open letter, attacked the party for committing a "grave error" by supporting Mukherjee.
In a statement, CPI-M Polit Bureau said it rejected the letter of resignation submitted by Bose.
"It (Polit Bureau) rejects the contents of the letter which seeks to malign the political line of the party. The Polit Bureau expels Prasenjit Bose from the membership of the CPI(M) under Article VIII (2) of the Party Constitution," it said.
Bose, a PHD in Economics from Jawaharlal Nehru University, argued that the party Polit Bureau's decision to support Mukherjee was "against" the line taken by the Party Congress held earlier this year.
"I protest against the decision by the Polit Bureau to support the candidature of Pranab Mukherjee...I consider this to be a grave error which will harm the party and disturb Left unity," Bose said in the letter.
Bose also chose to attack the party leadership, saying it has committed "one mistake after another since 2007".
He mentioned the "coercive" land acquisition in Bengal, the Nandigram police firing and allowing the UPA government to approach the IAEA with the Indo-US nuclear deal as the mistakes committed by the party leadership.
In an apparent attack on party General Secretary Prakash Karat, he also said that giving a call for a non-Congress secular government in 2009 and then accepting them in a "cavalier manner in party conferences without fixing proper responsibility and conducting rectification thereon" was a mistake.
Image: Prasenjit Bose
© Copyright 2023 PTI. All rights reserved. Republication or redistribution of PTI content, including by framing or similar means, is expressly prohibited without the prior written consent.