One reason for the surge in cases is the spread of infection at large weddings.
Weddings turned out to be super spreaders.
Aneesh Phadnis reports.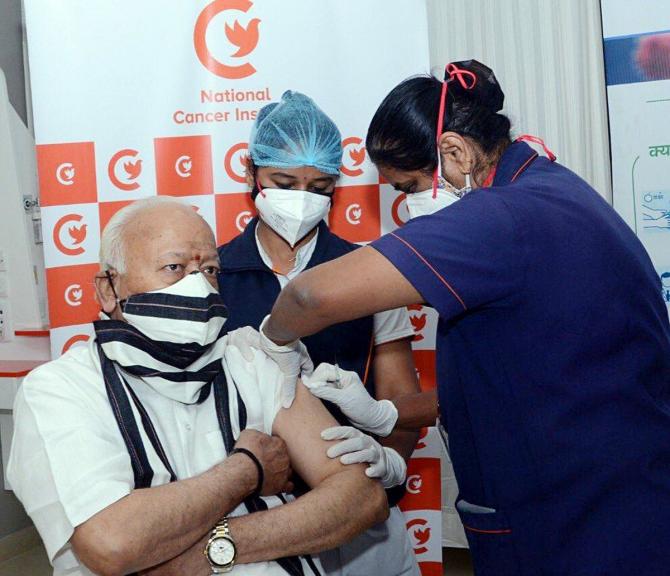 The second wave of COVID-19 cases in Nagpur has brought familiar challenges in its wake: Hospitals are stretched and businesses have been hit. But Dr Rajan Barokar sees another worrying trend each time he scans the daily admission list at Kingsway Hospitals, the largest private tertiary care hospital in Nagpur.
"Around 25 per cent of the 160 patients in our hospital are under 40. Some of them are in the intensive care unit, including a 17-year-old patient. This is worrisome. Last year, the proportion of hospitalised patients under 40 years was very low and none of them was in the ICU," says Barokar, who heads the hospital's critical care department.
The hospital started its COVID-19 facility last August with 70 beds. The number of beds has since been increased to 160, but this is still not sufficient to handle critical cases in Nagpur and those from adjoining districts of Maharashtra and Madhya Pradesh.
"For the past seven days, all our beds are occupied and there is a waiting list of 15-20 patients," says Barokar.
Infections are rising fast and entire families are contracting the virus in the second wave.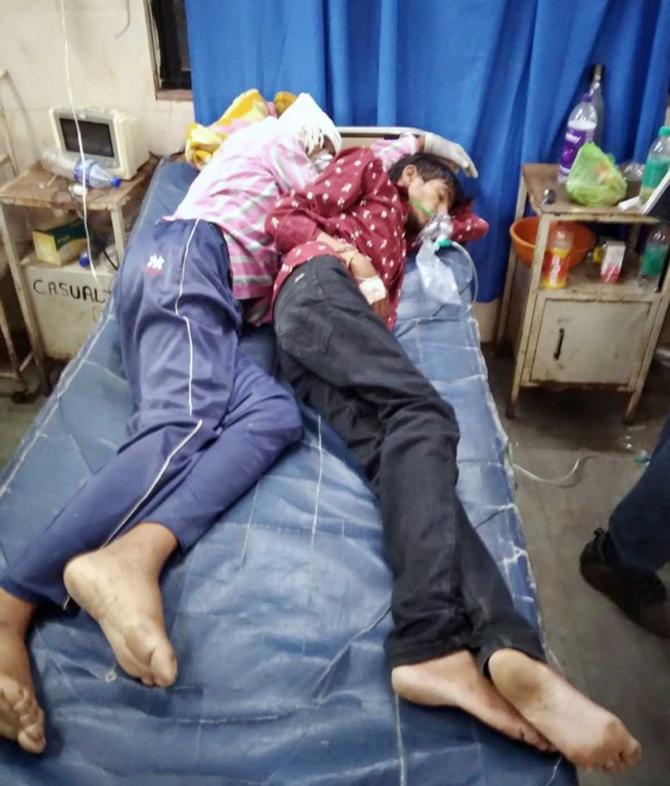 To stop the surge, the Nagpur Municipal Corporation had imposed a week-long lockdown from March 15, but was forced to relax it following public displeasure.
Ashwin Mehadia, president of the Nag Vidarbha Chambers of Commerce, said trade bodies were not taken into confidence before announcing the curbs. Pressure to ease the restrictions came from the unorganised sector, too.
Hawkers and auto-rickshaw owners planned a hunger strike in protest. Under pressure, the municipal corporation eased the restrictions on March 21.
Non-essential establishments and restaurants have opened again, albeit with restrictions on their timings.
Business activity has resumed in the markets in Itwari, an old congested locality in central Nagpur, which houses wholesale markets of grain, commodities and household items, and attracts buyers from the entire city.
Loading and unloading of goods has started again.
Sales representatives of FMCG firms have resumed their visits. And shop-goers, too, have returned, but in fewer numbers.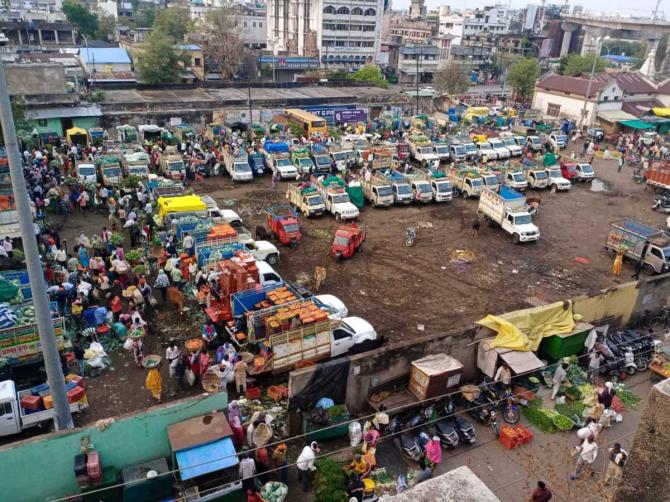 "Business in the grocery market in Itwari is down by 20-30 per cent since last year, as residents from distant localities started buying from their neighbourhood kirana stores. Cash flow has been impacted as well because bigger merchants have either stopped giving credit or reduced the credit period," says Chetan Jasore, a semi wholesaler of grains and edible oil.
Jayant Shah, who runs a jewellery store in Itwari, says business is down 20 per cent. However, he expects footfalls to pick up with the onset of the wedding season.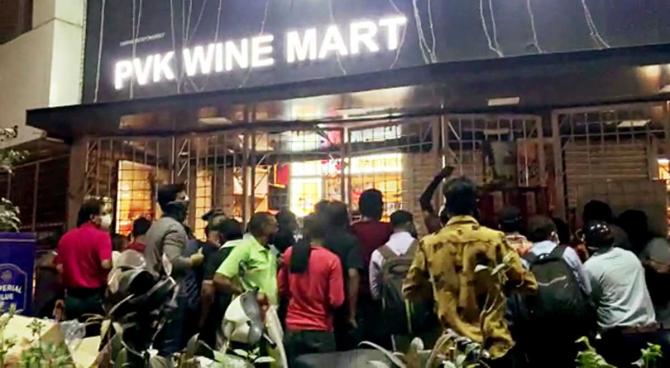 The Nag Vidarbha Chambers of Commerce has urged its members to observe SMS -- social distancing, masking up and using hand sanitiser -- when reopening their stores.
Jasore says he and his staff are following all the hygiene norms and even using their own plastic cups to drink tea delivered by a local vendor.
But on the road, discipline is in short supply. Congestion is common, and passers-by have their masks on their chins.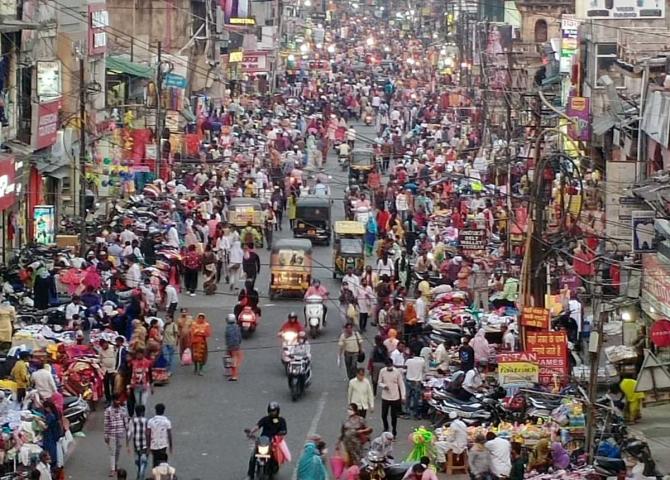 The number of cases had declined in Nagpur between November-January, but began to climb upwards from the end of February. Around the same time, neighbouring Amravati, too, saw a spike in infections, resulting in a lockdown in that district.
Apart from the local spread, another reason for the surge in cases is the spread of infection at large weddings.
Weddings held on the outskirts of Nagpur were attended by hundreds of guests and these turned out to be super spreaders.
"The surge in cases in Nagpur was waiting to happen. It was avoidable, but then people stopped following social distancing protocols," says Barokar.
"People have become careless and this is resulting in an increase in cases," says Dr Pinak Dande, who has started an OPD treatment for COVID-19 patients.
"We are treating 10-15 patients on an OPD basis," thereby reducing the burden on hospitals, he adds.
On its part, the Nagpur Municipal Corporation is increasing testing and is also using technology to control the pandemic.
This includes Facebook live sessions held by doctors to inform people about home isolation and vaccines. It is also working on a plan to use facial recognition technology to track Covid-19 patients.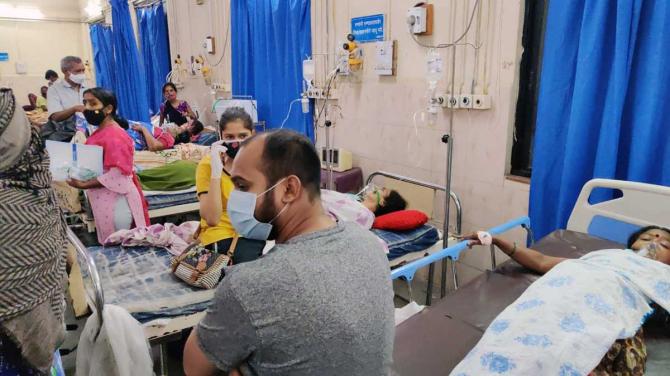 "We have increased daily tests to 12,000 from 3,000-4000 earlier, and are also planning to increase the daily vaccination target to 20,000 from 10,000-11,000 now," says Additional Municipal Commissioner Ram Joshi.
He denies that there is a shortage of beds patients in private and government hospitals.
Adding that more Covid care centres are being opened to isolate and treat patients with mild symptoms, he says, "We have already started three such centres with 750 beds."
The corporation has also formed teams for contact tracing of positive cases and declared buildings with over five infected persons as micro containment zones. But unlike last year, there are no barricades or police posts to prevent people from entering or leaving these buildings.
"We send teams and test all the residents living in the containment zone," says Joshi.
Feature Presentation: Ashish Narsale/Rediff.com