The spending on a typical RT-PCR test would take up 23 per cent of the monthly income of an average Indian, compared to 2 per cent in China.
This is one of the deepest cuts in the pocket of an individual, in comparison to 14 other countries, reports Abhishek Waghmare.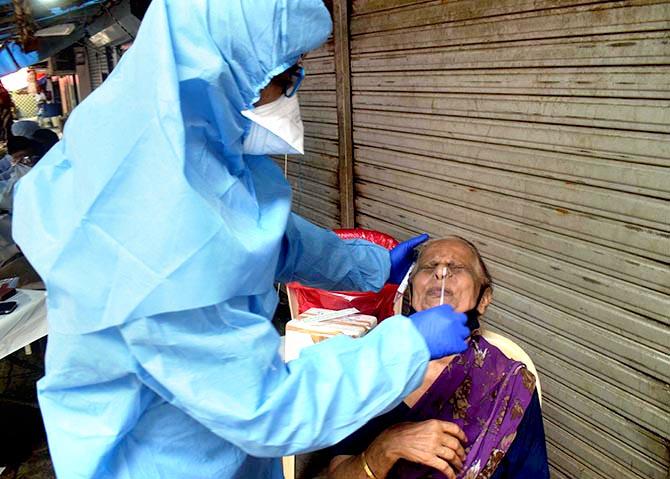 At a time when Covid-19 infections are growing fast, people are taking up, or are thinking of taking up, Covid-19 tests to ensure they are safe from the virus. This is exactly what Pravin Kamble thought, and ended up paying a private laboratory Rs 2,800 (about $40) for the RT-PCR, or the Reverse Transcription Polymerase Chain Reaction test, which detects the coronavirus.
A student in Pune, Kamble felt mildly feverish on June 15. A few days later, though he had started feeling better, he wanted to get himself tested to shed his worries and to ensure the safety of his parents, with whom he lives.
But the local public hospital denied him a test as his symptoms were mild. So on June 17 he opted for a private lab test, which cost him a packet.
"Had it been priced at Rs 1,000 or so, I would have got everyone in my house tested for safety. I am fortunate that my parents were not infected, but the reason I risked not getting them tested was that the test was too costly," says Kamble.
Falling in the range of Rs 2,800-3,000, even the middle class in India is finding it difficult to take up the Covid-19 test. How costly would it be for the poor?
Paying for a test would dent incomes
According to an analysis, the spending on a typical RT-PCR test would take up 23 per cent of the monthly income of an average Indian, compared to 2 per cent in China. This is one of the deepest cuts in the pocket of an individual, in comparison to 14 other countries.
In smaller towns, the situation could be worse: Some places in Madhya Pradesh charge close to Rs 4,000. The Indian Council of Medical Research had capped the price at Rs 4,500 per test, which was later removed.
The market exchange rate, where one US dollar is nearly equal to Rs 75, is used for the calculation here. The price in dollars is then juxtaposed with the per capita income in USD (at current prices) to arrive at the estimate of the price of test as a share of per capita income.
In Brazil, for example, a test would eat up about 8 per cent of the monthly individual income. In developed countries, it's less than 2 per cent. Interestingly, China sits shoulder-to-shoulder with advanced economies in this respect.
The current analysis considers these voluntary tests done in private labs. Government hospitals across the country are providing tests free of cost to seriously ill patients who need hospitalisation. Further, many countries offer a waiver of these charges if the person holds valid national/provincial/private health insurance.
Who has the cheapest test in purchasing power terms?
And the answer is "China", which offers the cheapest Covid-19 test at $29, followed by Russia at $39.
A test in India, on the other hand, costs four times as much as in China, if we are to believe the data presented on a Chinese governmental website.
For any currency, the purchasing power parity exchange rate with the US dollar gives a measure of how many units of the local currency are required to buy something that can be bought in the US for $1. For India, the purchasing power parity exchange rate is Rs 21, meaning that a grocery item worth $10 in the US would probably be available in superstores in India at Rs 210, and not Rs 750 (market exchange rate).
Thus, this comparison tells us how relatively the tests are priced in these countries, according to the degree of ease of buying a basket of essential goods.
Most developed countries offer it at below $100, while India stands at $142 per test in PPP terms. Poland, Mexico, and the United Kingdom charge the highest among the lot, more than twice the price in India, and more than 10 times that in China, where SARS-nCoV2 originated.
The burden on the individual greatly reduces in countries such as Germany, where health insurance (medical care) coverage is nearly 100 per cent. But in India, where only a third of the population is under insurance coverage -- private or government-supported -- the collective burden is higher even at a comparable price.
What impact could costly tests have?
There is, thus, a clear trend that relatively weak economies are struggling harder than others with testing. Pakistan and Bangladesh, where individual incomes are lower than in India, are charging more for these tests. The fast pick-up of rapid antigen tests, less accurate but nonetheless quicker, is helping make tests cheaper gradually.
Economists feel that tests should ideally be affordable, and they explain this using a simple term "externality". A positive externality is a situation where the impact of an event improves the condition for a bystander, or, say, when a benefit to a private person also incentivises the social good. A negative externality is the other way round.
Avinash Tripathi, who teaches economics at The Takshashila Institution, cites an example.
"Suppose a person washes her hands, uses mask, or decides to get herself tested for Covid-19. Here, she is not only saving herself, but also others, from potential infection. In economics, we call it a positive externality, and ideally, such behaviour should be subsidised, and not taxed," he says.
There is clamour from public policy experts across the globe to make tests affordable, or incentivise taking up tests for the larger public good, rather than keeping them costly. At a fourth of her monthly income, the price an average Indian pays for a Covid-19 test is clearly not an incentive.
A good analogy could be education: Subsidising education has had a great positive impact on bringing all children to school (the fact that learning outcomes still need to improve is a different challenge).
-- The writer thanks Kunal Junawane from Poland, Bilge Kotan from Turkey, Ahmad Noorani from Pakistan, Shriyash Bhadbhade from Germany, Illia Ponomarenko from Ukraine, and Khatia Shamanauri from Georgia, for helping by confirming the prices of tests in their respective countries.