China on Sunday welcomed international travellers and returning residents without the need to quarantine for the first time in three years, even as infections surge after it scrapped its stringent zero-COVID policy.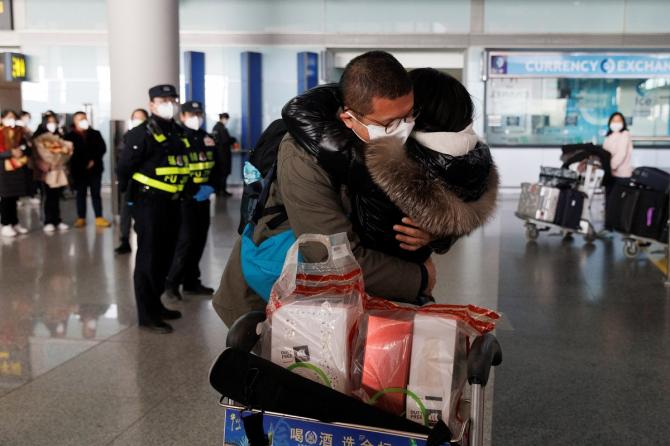 The first flights under China's new 'no quarantine' rules for international travellers landed at airports in Guangzhou and Shenzhen in southern Guangdong province early on Sunday morning, state-run CGTN TV reported.
Officials said 387 passengers were aboard two flights from Toronto and Singapore on the day the country ended its strict COVID-19 restrictions for travellers.
On Sunday, the Hong Kong Special Administrative Region resumed cross-border travel with the Chinese mainland.
Many other Chinese borders also saw cross-border travel.
At the Shanghai Pudong International Airport, a man surnamed Jiang, who was the first to complete the immigration procedures told reporters that "it is very convenient all the way from exit hatch to border inspection and clearance," the report said.
Last month, China announced it was lifting COVID-19 restrictions that mandated international arrivals undergo nucleic acid tests and quarantine.
Inbound travellers only need to take a PCR test within 48 hours before departure, and they no longer need to apply for a health code from Chinese diplomatic and consular missions.
The Chinese government on Saturday ordered the release of people detained over a host of coronavirus-related incidents.
The scrapping of the travel rules comes at a time China is grappling with a sudden spurt in coronavirus infections fuelled by the Omicron variants after the government relaxed its stringent zero-Covid policy last month in the wake of a wave of anti-government protests.
Officials argue that the Omicron variant is not as lethal as the Delta strain, which caused massive casualties all over the world.
Ahead of the complete relaxation of Covid rules, the Chinese government on Saturday ordered the release of the people detained for Covid-related cases.
A government notice said that any property that had been seized should be released, while quarantine and control measures at the state borders will also no longer be criminalised.
There was no direct mention of whether the order is applicable to scores of people held during last month's rare protests against the zero-Covid policy, some of which called for the end of Chinese President Xi Jinping's continuation in power.
The videos of protests in Shanghai posted on social media showed people openly shouting slogans such as 'Xi Jinping, step down' and 'Communist party, step down.'
Observers say last month's protests also mark the first such open dissent against the leadership of Xi, who in October last year was elected for an unprecedented third five-year term by the once-in-a-five-year-congress of the ruling Communist Party of China.
Hundreds of people have been arrested in the last three years for resisting the lockdowns of their apartments and dragging people out of their flats to take them to quarantine centres.
While the announcement of scrapping all quarantine rules was widely welcomed at home, the timing of the opening also fuelled concerns abroad as it comes ahead of the country's annual Spring Festival on January 22 during which millions of Chinese will travel to destinations all over the world.
The WHO said China is downplaying the severity of the virus outbreak in the country.
"We believe the current numbers being published from China under-represents the true impact of the disease in terms of hospital and ICU admissions and particularly in terms of deaths," Dr Michael Ryan, director of WHO emergencies, told a media briefing in Geneva on January 5.
Ryan's remarks came after Chinese health officials met their WHO counterparts and briefed them about the current run of the Omicron variants in the country.
It was the spring festival travels by the Chinese in 2020, especially from Wuhan where the coronavirus infections first broke out, that was largely blamed for the massive spread of Covid-19 in the world, causing unprecedented death and devastation.
The spring festival holiday will officially last about a week, but is unofficially expected to go on for about 40 days.
The travel-starved Chinese are already gearing up to travel in big numbers abroad, considering that they don't have to quarantine on return.
Previously, passengers coming from abroad had to mandatorily stay in over two weeks of quarantine in government accommodations, which was gradually reduced to five days with three days of home observation.
China's 40-day 'Chunyun' or Spring Festival travel rush, the world's largest human migration, which has begun is expected to see about 2.09 billion passenger trips made this year, up 99.5 per cent from the 2022 level.
The passenger volume has rapidly scaled up following the country's optimised epidemic response amid the release of pent-up demand for travel, China's ministry of transport said on Friday.
Though the official holiday lasts about a week from January 22, 'Chunyun' in 2023 will last 40 days from January 7 until February 15, it said.
ccording to official media, at least 30 known Omicron sub-variants have been detected in Shanghai in recent days.
Australia, Canada, India, Israel, Malaysia, Morocco, Qatar, South Korea, Taiwan, Japan, the US and several EU countries have asked travellers from China to show PCR tests taken 48 hours before, while Morocco even banned Chinese travellers from entering the country fearing the spread of COVID-19.
India has mandated COVID-19 negative test reports for travellers arriving from China, Hong Kong, Japan, South Korea, Singapore and Thailand.
If found positive, the travellers have to serve a period of quarantine.
China termed these restrictions against Chinese travellers as discriminatory.
"We firmly reject using COVID measures for political purposes and will take corresponding measures in response to varying situations via the principle of reciprocity," Chinese foreign ministry spokesperson Mao Ning told a media briefing earlier this week.