While there is a shortage of testing kits, manpower and capacities, India does not have other scalable testing options, report Vinay Umarji and Sohini Das.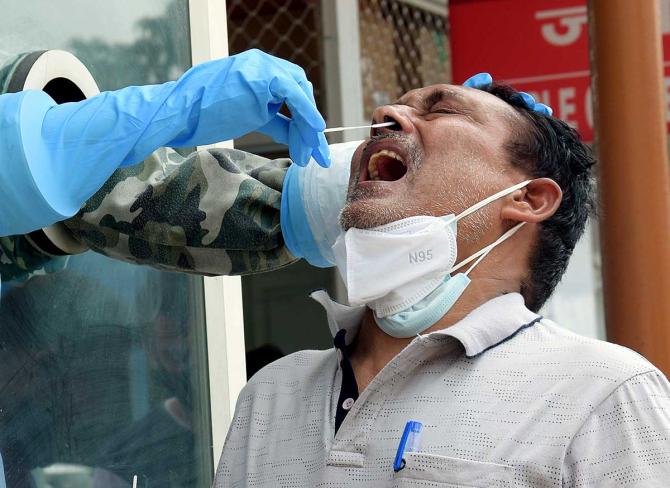 After a four-hour wait on Tuesday, Ramnik Shah (name changed) managed to get an RT-PCR test done at a private lab in Ahmedabad. However, he got his report only on Friday, leading to uncertainty over whether or not he had contracted COVID-19.
Shah is not alone. As the gigantic second wave of the pandemic rips through India, people across the country are facing delays in RT-PCR testing and in getting their reports on time.
While there is a shortage of testing kits, manpower and capacities, India does not have other scalable testing options.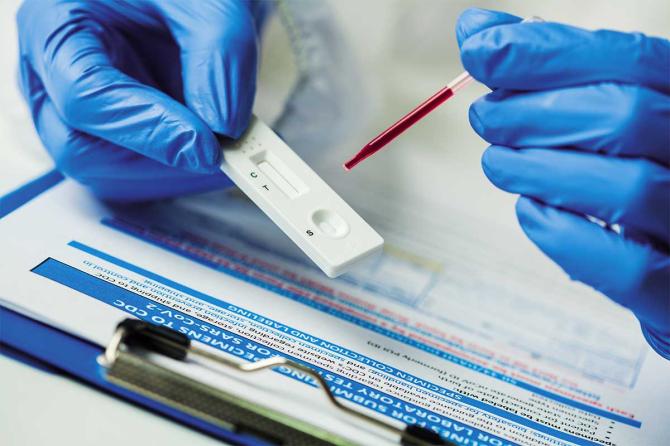 The much-touted 'Feluda' test, a quicker yet equally accurate alternative to RT-PCR, is yet to see the light of the day.
An acronym for FNCAS9 Editor-Limited Uniform Detection Assay, the Feluda test uses CRISPR-Cas technology for the detection of the SARS-CoV-2 virus by collecting nasopharyngeal swabs.
Last year, Apollo Hospitals had announced a partnership with Tata Medical and Diagnostics to launch the 'TataMD CHECK'.
Apollo, along with its subsidiary, Apollo Diagnostics, was to offer the Feluda test across its major centres in NCR, Kolkata, Mumbai, Hyderabad, Bangalore, Chennai, Ahmedabad and Pune, followed by other cities.
However, sources at Apollo Hospitals in Ahmedabad say that while they are ready to roll out the test, they are yet to get the go ahead from the Group office.
Abbott, too, had launched a 'Rapid Molecular Test' for Covid-19 last year, which provides results in just 15-20 minutes.
However, while some labs like Neuberg-Surpratech and Chennai-based Medall have been using the test in India, mainly at international airports, others like SRL, Metropolis and Thyrocare are not.
Sources in the diagnostics industry say that they feel that the Abbott test has limited usage.
"We found that it has possibilities of giving false negatives. Therefore, we do not use it now," said one lab owner.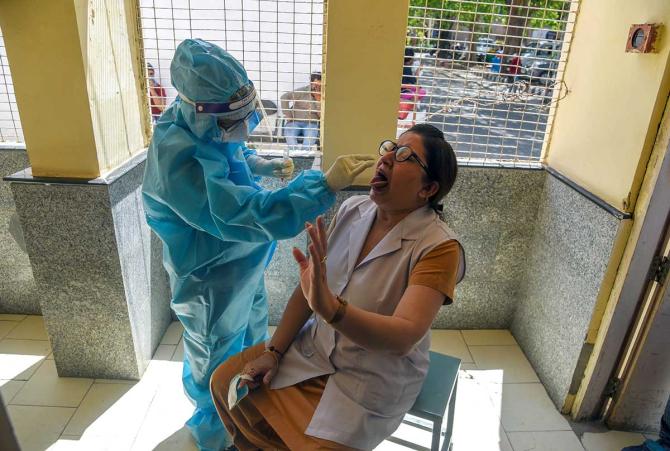 Besides, the Abbot test can examine only 17 samples in one batch. This limits its scalability.
The PCR machines, on the other hand, can test 92-400 samples at one go.
"This is a good point of care test as it gives results within minutes. So it is used at airports and for people who need immediate results, say, before an emergency surgery," says an industry insider.
"Unlike in a PCR machine where samples are analysed at multiple temperatures and chains which requires some time, the rapid molecular test analyses one sample at a time at a constant temperature, resulting in a quicker test result. However, RT-PCR still remains the gold standard," said Dr Ashwani Bansal, senior vice president, operations, Neuberg Diagnostics.
However, an equally accurate alternative to the RT-PCR test has now become imperative as labs struggle to cope with the huge rise in the number of Covid-19 cases.
However, according to indigenous kit manufacturers, the severely strained RT-PCR testing infrastructure has less to do with raw material shortage and more to do with manpower and the very nature of the testing method.
Indigenous kit maker MyLab says that it is making around 500,000-600,000 lakh kits every day and has a stock of 2 million kits. "We are dispatching to anywhere in India within 24 hours of orders being placed," said a company spokesperson.
Similarly, Ahmedabad-based CoSara Diagnostics, a joint venture between Synbiotics, a wholly-owned subsidiary of Ambalal Sarabhai Enterprise, and CoDiagnostics Inc USA, is currently supplying 350,000 kits per month.
The company says that the production can be doubled but the demand from the labs has been stagnant.
"We quickly ramped up our capacity to 350,000 kits per month and can easily double it. But the demand from the labs is not moving. The delays are not because of kit or PCR machine shortage, but because the labs are overwhelmed due to the lack of staff and inadequate PCR machines," said Mohal Sarabhai, CEO, CoSara Diagnostics.
The PCR machines are largely imported, and according to Sarabhai, there is no shortage of them in the international market.
The delays are due to the time taken from placing an import order to installing a PCR machine and training the manpower to operate it.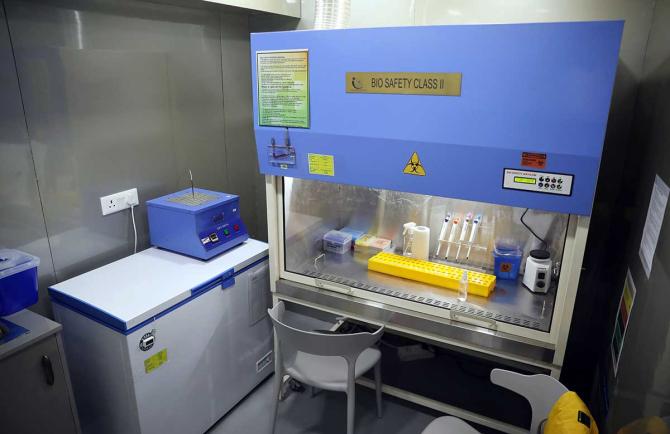 A Velumani, founder of Thyrocare, agrees that the current crisis is more due to a manpower crunch and capacity to process tests, rather than a shortage of kits.
Meanwhile, industry and academia are working to develop indigenous PCR machines.
Last year, researchers at the Indian Institute of Technology Kharagpur had developed a new Covid diagnostic method called 'Covirap' using a low-cost portable unit.
Approved by the Indian Council of Medical Research, it showed an accuracy level that was slightly lower than RT-PCR, but was also a fraction of its cost.
Currently in the mass manufacturing stage, the machine is expected to soon clear the regulatory hurdles and hit the market.
Feature Presentation: Ashish Narsale/Rediff.com