For vaccination, online registration is mandatory.
Thereafter, eligible beneficiaries will be informed on their registered mobile number about the nearest vaccination facility, and the date and time of vaccination.
Ruchika Chitravanshi reports.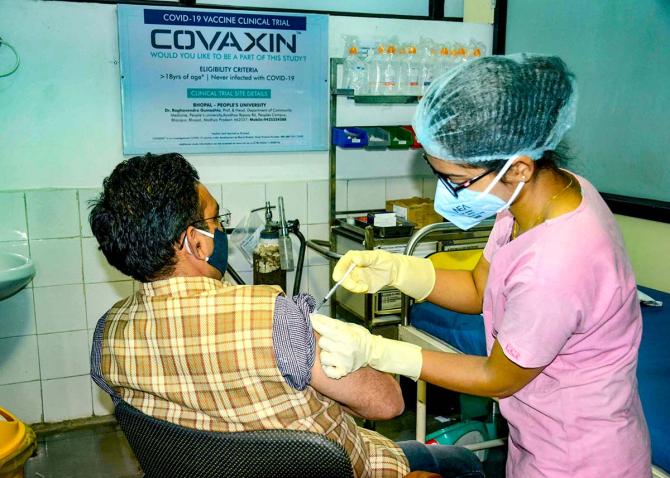 Recovered from COvID-19? You will still be eligible for the coronavirus vaccine. Also, getting vaccinated for the virus will not be mandatory and will instead be left to the individual's choice.
While making this clear through a detailed frequently-asked-questions document, the health ministry, however, advised people to get a complete schedule of the vaccine to develop a strong immune response irrespective of any past history of infection.
This is also important to limit the spread of the disease among close contacts, including family, friends and co-workers, the ministry said.
It also addressed issues such as can a person taking medicines for cancer, diabetes or hypertension take the vaccine.
'Persons with one or more of these comorbid conditions are considered to be in the high risk category. They need to get Covid -19 vaccination.'
A person who has or suspects s/he has COVID-19 will have to wait for 14 days after the symptoms are over to get vaccinated to avoid the risk of spreading the virus to others at the vaccination site, the health ministry said.
Two doses of the vaccine, 28 days apart, need to be taken to complete the vaccination schedule. Protective levels of antibodies generally develop two weeks after receiving the second dose, according to the ministry.
The government has also assured that a vaccine will be introduced only when the safety is proven.
'As is true for other vaccines, the common side effects in some individuals could be mild fever, pain, etc at the site of injection,' the health ministry said.
States have been asked to start making arrangements to deal with any COVID-19 vaccine-related side effects as one of the measures towards safe vaccine delivery among masses.
As a preventive measure, those getting the jab will be asked to rest at the vaccination centre for at least half an hour after receiving the vaccine.
The health ministry has advised individuals to inform the nearest health authorities, auxiliary nurses, midwives or ASHA workers in case they feel any discomfort or uneasiness.
In the initial phase, the vaccine will be provided to 30 million individuals including the priority group -- health care and front-line workers.
Vaccination of the 50-plus age group may also begin early depending on availability.
For vaccination, online registration is mandatory. Thereafter, eligible beneficiaries will be informed on their registered mobile number about the nearest vaccination facility, and the date and time of vaccination.
A government recognised photo identification will have to be produced at the time of registration.
After all doses of vaccine are administered, a QR code-based certificate will also be sent to the beneficiary's registered mobile number.
---
Serum Institute to seek nod for two full-dose regimen of Covishield
Serum Institute of India will seek approval for a two full-dose regimen from the Indian drug regulator after its partner, Oxford University, cited data from early trials and said following such a regimen showed a better immune response.
After phase 3 trials, Oxford, which is developing the COVID-19 vaccine Covishield with AstraZeneca, had said a full dose followed by a half-dose regimen showed 90 per cent efficacy, while a full two-dose regimen showed 62 per cent efficacy. However, it had said more work needed to be done to affirm that result.
Suresh Jadhav, executive director of the Pune-based firm, said on Friday Serum was seeking approval from the Drug Controller General of India for the two-full dose regimen.
Trials in India over 1,600 people was done with two-full doses and the data has been submitted to the regulator.
Earlier this month, the Subject Expert Committee, advising the regulator on vaccine approvals, had sought additional data from the firm.
Jadhav said that one half-dose, one full-dose regimen is not a planned activity.
"It happened because one analytical method used to determine the potency was changed...the product that was formulated had half the antigen. In India, we have tested with two full-doses," he said.
The latest details from the phase 1 and 2 trials, released on Thursday, did not refer to the half-dose/full-dose regime, which Oxford has said had been "unplanned" but approved by regulators.
Sources said if AstraZeneca and Serum wanted to have a one half-dose and one full-dose regimen in India, it would need to submit further clinical data.
In November, a Serum spokesperson had said: "The AstraZeneca-Oxford vaccine is safe and effective. Even the lowest efficacy results are at 60-70 per cent, making it a viable vaccine against the virus. That said, varied age groups with different dosage forms will result in slight variations and efficacy. We must be patient and not panic."
Reportage: Sohin Das/Samreen Ahmad