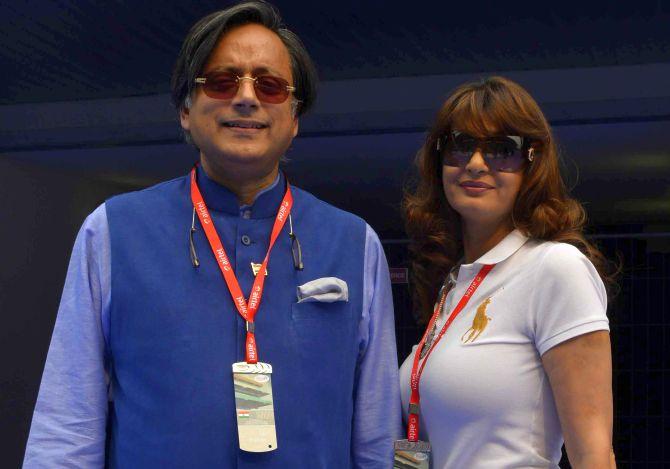 Congress leader Shashi Tharoor was on Tuesday summoned by a city court on July 7 as an accused in the Sunanda Pushkar death case after it took cognisance of the police chargesheet in which he was charged with abetting the suicide of his wife.
In a setback to Tharoor, Additional Chief Metropolitan Magistrate Samar Vishal while asking the Lok Sabha MP to appear before the court said there exists sufficient grounds to proceed against him for alleged offences of abetment of suicide and committing cruelty towards Pushkar.
Tharoor, 62, dubbed the charges as "preposterous and baseless" and the product of a malicious and vindictive campaign against him that he will "vigorously contest".
The Delhi Police on its part said it has "professionally" investigated the charges against the Lok Sabha MP from Thiruvananthapuram and will defend them in the court.
"I have heard the prosecutor. I have gone through and perused the charge sheet and the documents filed along with it. On the basis of the police report (chargesheet), I take cognisance of offence of abetment of suicide of late Sunanda Pushkar and committing cruelty upon her by Dr Shashi Tharoor," said judge Vishal.
"There exists sufficient grounds to proceed against Tharoor for commission of offences of Section 306 and 498 A of IPC. Issue summons to him for appearance for July 7," the judge added.
In a statement, Tharoor said he maintains steadfast conviction that ultimately the truth will prevail through the judicial system.
"I would like to reiterate my position that I find the charges preposterous and baseless, the product of a malicious and vindictive campaign against myself.
"I will continue to vigorously contest these charges and maintain steadfast conviction that ultimately the truth will prevail through the judicial system that we are privileged to have in our country," he added.
Pushkar, 51, was found dead in a luxury hotel room in the capital on the night of January 17, 2014.
The Delhi Police had on May 14 accused Tharoor of abetting Pushkar's suicide and told the court that he should be summoned as an accused in the four-and-half year-old case, claiming there was sufficient evidence against him.
In the nearly 3,000-page chargesheet, the police named Tharoor as the only accused while also alleging that he had subjected his wife to cruelty. It had also urged the court to summon Tharoor as an accused.
The couple's domestic servant, Narayan Singh, has been named one of the key witnesses in the case.
Tharoor has been charged under Sections 498 A (husband or his relative subjecting a woman to cruelty) and 306 (abetment of suicide) of the Indian Penal Code.
Under Section 498A, the maximum punishment is up to three years of imprisonment, while jail term up to 10 years is prescribed under Section 306.
Police said Pushkar had sent an email to Tharoor on January 8, nine days before her death, in which she said: "I have no desire to live...all I pray for is death."
Tharoor's lawyer and senior advocate Vikas Pahwa told reporters immediately after the court pronounced the order that no offence was made out against the Congress leader and the prosecution's case was "absurd and preposterous".
"We shall be asking for a copy of the charge sheet and the documents relied upon by the prosecution. After going through them, we shall decide our further course of action. Dr Tharoor will take all legal remedies available to him in law.
"Since no offences are made out and the prosecution case is absurd, preposterous and contrary to various judgments of the Supreme Court, we shall take appropriate steps to deal with it," Pahwa said.
On May 28, the court had reserved its order on whether to summon Tharoor as an accused in the case.
An FIR was registered by Delhi Police on January 1, 2015 against unknown persons under IPC section 302 (murder).
According to prosecution sources, the charge sheet mentions that Pushkar was allegedly subjected to mental as well as physical cruelty. Tharoor has not been arrested in the case.
On Tuesday, the court also heard Bharatiya Janata Party leader Subramanian Swamy's application seeking its nod to allow him to assist the prosecution in the case and a direction to the police to produce the report of a vigilance inquiry conducted earlier in the matter.
Opposing his application, Additional Public Prosecutor Atul Shrivastava said it was premature.
He also opposed Swamy's request to summon the vigilance inquiry report, saying it was not required.
"This case is sessions triable. This court being a magisterial court is not going to conduct the trial. Therefore, the application is premature. Taking report of the vigilance inquiry on record is not required since police has already done its work," Shrivastava said.
However, Swamy said there are a number of instances of tampering with evidence.
"Even the police team of that time tried to project it as a natural death and the FIR was not lodged for one year," he told the court.
The court has kept the application pending for next date of hearing -- July 7.
"An application of Subramanian Swamy is pending. Let the prosecution file a written reply of this application by the next date of hearing with advance copy to Swamy," it said.
Chronology in Sunanda Pushkar death case
Following is the chronology of events in the death case of Sunanda Pushkar in which the court summoned her husband and Congress leader Shashi Tharoor as an accused.

>> Jan 17, 2014: Pushkar found dead at Delhi's Leela Palace hotel, a day after she was involved in a Twitter spat with Pakistani journalist Mehr Tarar over the latter's alleged affair with Tharoor.

>> Jan 21: The Sub-Divisional Magistrate who was heading the inquest says Pushkar died of poisoning.

>> Jan 23: The probe into the death of Pushkar transferred to the Crime Branch of Delhi Police.

>> Jan 25: Case transferred back to Delhi Police.

>> Jan 1, 2015: Delhi police registers FIR against unknown persons under the section of 302 (murder).

>> Jan 15, 2016: Delhi Police receives AIIMS medical board's 'advice' on the FBI lab report on viscera samples of Pushkar to identify the cause of her death.
Her viscera samples were sent to the FBI lab in Washington DC in February 2015 to determine the kind of poison that killed her after an AIIMS medical board identified poisoning as the reason behind her death but did not mention any specific substance.

The FBI report virtually rules out the theory of 'polonium poisoning' having caused her death.
>> July 6, 2017: BJP leader Subramanian Swamy moves Delhi High Court for SIT probe into Sunanda Pushkar's death.

>> Oct 26: HC dismisses Swamy's plea saying his PIL was a textbook example of political interest litigation.
>> Jan 29, 2018: Swamy moves the Supreme Court
>> Feb 23: SC seeks reply of Delhi Police on Swamy's plea.
>> Apr 20: Delhi Police, in its affidavit filed in the apex court, says a draft final report has been prepared after conducting "thorough professional and scientific investigations" in the case.
>> May 14: Delhi Police files charge sheet in the case.
>> May 24: Case transferred to Additional Chief Metropolitan Magistrate's court, a special designated court to try politicians.

>> May 28: Court reserves order on whether to summon Tharoor as an accused in the case.

>> Jun 5: Court summons Tharoor as accused in Pushkar's death case, says sufficient grounds to proceed against him.