'If India got the leadership of G20 under PM Modi and if the summit is organized successfully and with aplomb, then PM Modi should get the credit'
'We have not changed the name of even a single city which previously did not have an old name. Our governments have taken well-thought out decisions. Every government has its statutory rights'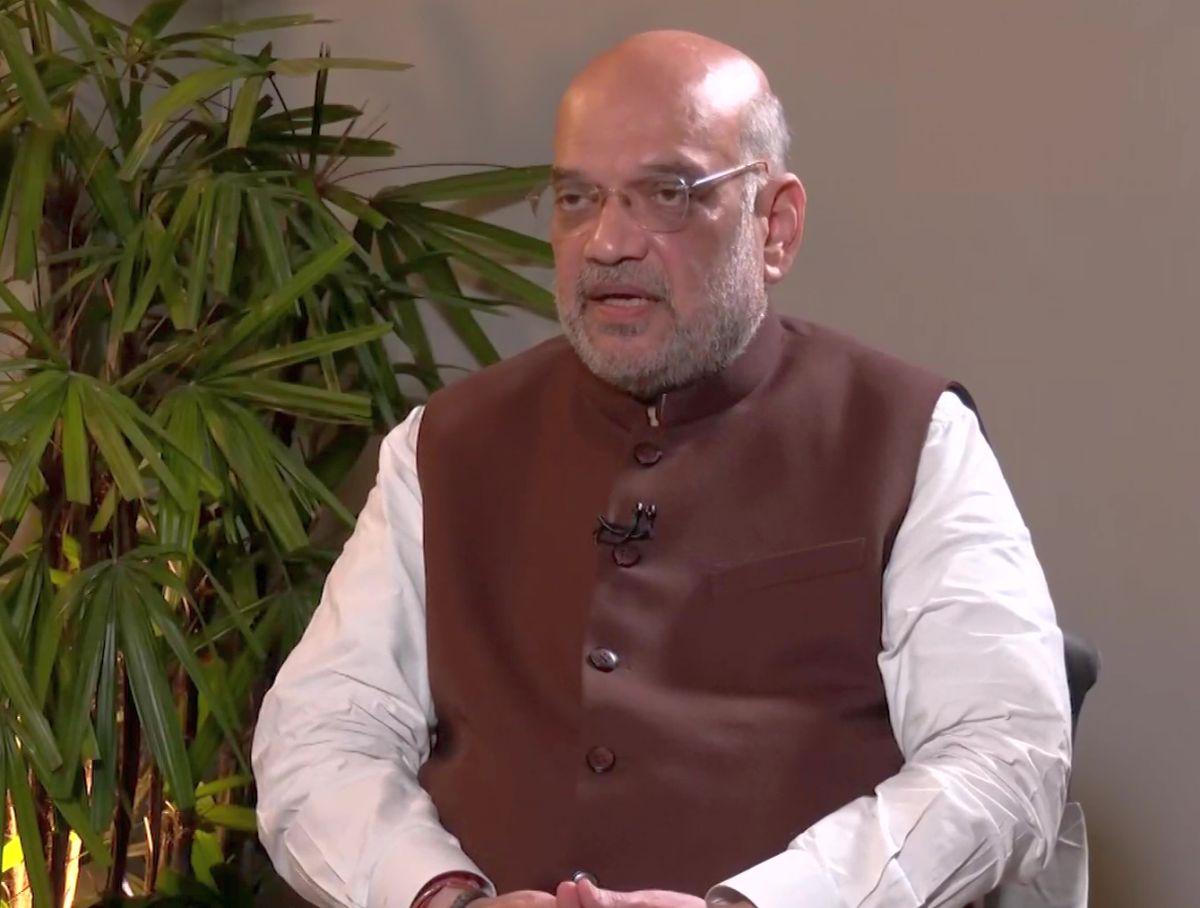 Noting that there is a positive change in the lives of people at the grassroots due to initiatives of the Centre, Union Home Minister Amit Shah has said that there is "no competition" for the Bharatiya Janata Party in 2024 Lok Sabha elections and the people of the country are wholeheartedly moving with Prime Minister Narendra Modi.
In an interview with ANI, Shah also said that the people of the country will decide about the principal opposition party to BJP in the 2024 polls and they have not given this label to any party.
Taking a swipe at Congress and its leader Rahul Gandhi, Shah said he might not have campaigned in poll-bound states but results in elections in Tripura, Nagaland and Meghalaya will show strength of the opposition party in states it once dominated.
He expressed confidence in the BJP performing well in states going to the polls this year including Karnataka, Madhya Pradesh, Rajasthan and Chhattisgarh.
Shah said India has made progress across all sectors and referred to the country being the fastest-growing major economy apart from the steps taken by the government to boost internal security and reduce import-dependence in defence.
He said progress of the country, making the country secure and making the economy the fastest growing economy in the world have been among the priorities of the government.
Shah said there is recognition of India's achievements in the world.
"During the small period of eight years, we have tried to raise the standard of living of 60 crore poor people in the country and we were also successful. There have been so many achievements. There are major changes in Railways, there is new policy in the space sector and we are preparing to be a leader in the sector, with new policy we are moving ahead in the drone sector," said Shah.
He said successful attempts have been made to make India a manufacturing hub.
Shah said efforts towards self-reliance in the defence sector and reducing India's reliance on other countries by 30 per cent in eight years is a big achievement.
"The Left-wing extremism is towards its end. There is control and domination of our agencies on terrorism in Jammu and Kashmir. In the Northeast, we have found solutions (to problems) and over 8,000 members of militant organisations have joined the mainstream."
Shah said the central government' schemes have effectively reached the grassroots.
"In Tripura, I went for a meal to a house that belonged to a poor family. They showed me the toilet, gas cylinder, electricity, tap water and Ayushman Bharat card...all this reached the poor family household," he said.
He said the woman of the house referred to a sack of rice and said they will be able to sell it as they are getting ration through the central government. "The house was plastered and there was a sense of pride," he added.
"So there is this change. I feel that in 2024 there is no competition and everyone in the country is moving ahead with PM Modi," Shah said.
Asked about the principal opposition in 2024 and if it was Congress led by Rahul Gandhi, he said it is to be "decided by the people of the country".
"Till now people have not given the label of principal opposition to any one party in Lok Sabha."
Asked about the likelihood of Rahul Gandhi emerging as the PM candidate after his Bharat Jodo Yatra against Prime Minister Narendra Modi, Shah said there is election in three states and it is to be seen what is the impact.
Tripura, Nagaland and Meghalaya will go for the assembly polls later this month.
Asked about Rahul Gandhi not campaigning so far in Tripura, which will go to the polls on February 16, Shah said coming to a state might be a question of time for the Congress MP but there should be a result for the party. "Let's see what the result comes".
He said the three states where elections are being held were in the past strong Congress states.
"We will see on the day of counting, before 12 PM, a full majority for the BJP," said Shah.
Nothing for BJP to hide and be afraid of: Shah on Adani-Hindenburg row
Asked about opposition's demand the Hindenburg-Adani row, has said that it will not be appropriate for him to comment as the Supreme Court has taken cognizance of the matter but there is nothing "for the BJP to hide or be afraid of".
The Hindenburg-Adani row has turned into a major political controversy with the Congress and other opposition parties making allegations of favouritism and crony capitalism against the government.
They raised the issue during the budget session of parliament demanding a joint parliamentary committee probe.
The opposition parties have also targeted Prime Minister Narendra Modi on the issue.
They have sought questions over the investment of LIC and some public sector banks in the Adani group.
The government has rejected the allegations with PSUs and regulatory bodies also issuing statements about their following the norms and acting to their mandates.
The Centre on Monday informed the Supreme Court that SEBI had agreed to constitute a committee to protect investor interests following Hindenburg's report on Adani Group.
Asked about Rahul Gandhi's recent speech in Lok Sabha, which was almost entirely concerned the Adani group, Shah said it is for the Congress leader or his script writers to decide what speech he wants to give.
"What speech he wants to give is for him or his speech writers to think," he said.
Reacting to Rahul Gandhi's "crony capitalism" allegation against BJP, Shah said. "There is no question. Nobody has been able to level such allegation against the BJP till date. During their (Congress) era, agencies be it CAG or CBI, they had registered cases taking cognizance of corruption. There were scams of Rs 12 lakh crore."
Amid Congress criticism of the government over some remarks of its leaders in Lok Sabha and Rajya Sabha having been removed from the proceedings, Shah said that this is not the first time when someone's comments made in Parliament have been expunged and the two Houses are a place to hold discussion under rules using parliamentary language.
The Home Minister also slammed the opposition sloganeering during the Prime Minister's reply in Rajya Sabha on the motion of thanks on the President's address and said people see what happens in Parliament.
He also referred to comments on social media platforms after PM Modi's speech in Rajya Sabha which saw constant disruptions.
"This is not the first time when someone's comments made in Parliament were expunged. The history of Parliament proceedings clearly shows this. Parliament is a place to hold discussion under rules, using parliamentary language," he said.
"The entire country listens to the Prime Minister. Go to the social media platforms, and read the comments in PM Modi's speech. Some parties take a political stand and do not want to listen to the Prime Minister's Address, the public is seeing this also," he said.
Amit Shah said people are mature and take these factors into account in their voting decisions.
Asked about the sharp differences in parliament and the need to have a dialogue, Shah said that the BJP-led government has no problems in sitting and having a discussion with other parties.
"We do not have a problem in sitting with anybody. But the initiative has to be taken by all," he said.
The Congress leaders have slammed the government over some remarks of party leaders Rahul Gandhi and Mallikarjun Kharge having been expunged.
Asked about the parties and governments being in election mode frequently due to timing of polls, Amit Shah said PM Modi has talked about holding one election right from the Panchayat level to the Parliament.
"I think the time has come to give this (one nation, one election) a thought," he said.
Asked about allegations of Congress and other opposition parties of BJP "capturing institutions", Shah said they should go to the court noting that courts are not under influence of BJP.
"Court humare kabze mein nahi hai," he said.
"Why don't they go to the court? Even at the time when Pegasus issue was raised, I had said go with proofs to the court...They only know how to create noise. Those who approached the court, the court took cognizance of Pegasus and also delivered its judgement. The investigation was also done," he added.
Asked about BJP spokespersons indicating that there is such "conspiracy" ahead of elections, he said it is for them to reply.
"Thousands of conspiracies cannot harm the truth. Truth shines bright like the sun. They have been doing it since 2002 against PM Narendra Modi. And every time, he has emerged stronger, truthfully and by gaining more popularity among people every time," he said when asked if there is a conspiracy in the wake of Hindenburg report and BBC documentary.
Shah denies allegations of erasing Mughal history by renaming cities
Reacting sharply to allegations of erasing history of Mughals and changing the names of the cities associated with them, Shah has said that the BJP state governments have taken "well-thought decisions" which are within their statutory rights.
Shah, however, said that the BJP does not want to remove anybody's contribution to history.
The Home Minister's remarks came in response to allegations that the BJP is attempting to rewrite the country's history in which the BJP-ruled states have renamed or are planning to rename cities whose names are associated with Mughal history.
"The contribution of no one should be removed, neither do we want to remove them. But if someone wants to establish the tradition of the country then no one should have any objection," he said.
"We have not changed the name of even a single city which previously did not have an old name. Our governments have taken well-thought out decisions. Every government has its statutory rights," Shah added.
Notably, Bharatiya Janata Party MP Sangam Lal Gupta recently urged Amit Shah to change the name of Uttar Pradesh's capital city of Lucknow to "Lakhanpur or Laxmanpur".
Stating that the city was earlier named as Lakhanpur and Laxmanpur in the Treta Yug, the BJP MP claimed that Nawab Asaf-ud-Daula had renamed it Lucknow.
Shah, when asked about the allegations of writing a "re-imagined history" of Jammu and Kashmir, and erasing former prime minister Jawaharlal Nehru's contributions, said that Article 370 was included in the Constitution by the government of the first prime minister of the country and this had caused great loss to India.
"Article 370 was implemented because of Nehru ji. Since 1950 it had been on our agenda that it should not have been implemented. It caused a great loss to the country. Now with the manner in which development work is going on in Jammu and Kashmir, the way terrorists and terror attacks are decreasing this is being proved. You can see data. There are many changes which are happening in Jammu and Kashmir," he said.
'Govt banned PFI rising above vote-bank politics'
Noting that the government has successfully banned Popular Front of India from rising above vote-bank politics, the home minister said that the organisation promoted "radicalism and religious bigotry" and tried to prepare "raw material for terrorism" and any delay in action would not have been in the national interest.
Shah also targeted Congress and said the party "tried to close cases" against PFI members which were stopped by the court.
"We have banned PFI successfully...PFI promoted radicalism and religious bigotry. They were in a way trying to prepare raw materials for terrorism. So many documents have been found which show that their activities were not good for the country's unity and integrity," Shah said.
Asked about his allegations that there was no difference between PFI and Congress, Shah said he had not said that Congress and PFI were one.
"I said that there were various kinds of cases against the PFI cadre. The Congress government tried to close the cases but the court stopped it. What is there to be upset about? You should not have done it and if you do, you will have to listen...We decided to ban it, rising above the vote bank politics," he stressed.
Answering a query, the Home Minister said there was a time when PFI was a problem of south Karnataka and Kerala.
"When we decided to ban it, the PFI had started stretching its activities to the other parts of the country and had spread itself to a certain extent. The agencies received information that it would not be good to delay the ban or give the benefit of the doubt. So we decided on it and put a strict ban on PFI. There has been no reaction in society from either side," Shah said.
The government had in September last year banned PFI and its associates for five years under the Unlawful Activities (Prevention) Act for "terror links".
'Natural Modi will get credit for successful G20 Summit'
Pointing out that every state is part of India's G20 Presidency, Home Minister Amit Shah said that it is natural that credit for a successful summit will go to Prime Minister Narendra Modi.
With BJP observing events in a grand manner and giving a strong push to its electoral efforts, Amit Shah also said the basic rule about marketing is that a product will run in the long term if it is good such a product should be projected in a grand manner.
Shah referred to India holding about 200 meetings in 32 different sectors in multiple locations in the country during its G20 Presidency.
"The way the Prime Minister has organized the event, the whole world is watching with surprise. Other counties (during their presidency) have not been able to take G20 series of meetings outside four-five cities but we have given a chance to every state and not a single state or union territory is left out in this big country. It is a big achievement and a lot of preparation goes into it," Shah said.
Shah was responding to a query about the G20 Summit being used for domestic purposes and the Prime Minister getting credit for its success.
"So, why not. If India got the leadership of G20 under PM Modi and if the summit is organized successfully and with aplomb, then PM Modi should get the credit. Should the opposition get it? Obviously, the credit will go to PM Modi," the home minister said.
He said the visitors will take home the message of India's diversity, its culture and variety in terms of food, dress and language.
Answering a query related to BJP organising events on a grand scale, Shah said the quality of the product has to be good for it to be successful in the long term.
"The basic rule about marketing is if your product is good then only your product will run in the long term. This is the basic rule. If the product is good then it should be projected in a grand manner (gaaje baaje ke saath)," he said. .
"Why every party worker of the BJP should not proudly present PM Modi's work in front of the entire country and the world? The initiatives taken to take the country ahead in the last 75 years and the success achieved, should be presented with pride in front of the country and the world. This is not only honouring the Prime Minister but the entire country," he said.
India assumed the year-long presidency of G20 on December 1 last year and will host the G20 summit in September this year.
'EC to take call on J-K elections, statehood after assembly polls'
Union Home Minister Amit Shah has said that the restoration of statehood to Jammu and Kashmir will come up after assembly polls and that a call on the timing of elections will be taken by the Election Commission.
Shah also said there has been improvement in the situation in Jammu and Kashmir and terrorism-related figures were at their lowest.
Shah said Article 370 pertaining to Jammu and Kashmir, which was abrogated by the BJP-led government in 2019, had harmed the country.
He said the way development is taking place in Jammu and Kashmir, terrorism is gradually ending.
"See all the figures, there is a lot of change in Jammu and Kashmir," he said.
Answering queries, Shah said the government has been effective in tacking Left Wing Extremism and has kept a close watch on the activities of Khalistan sympathisers.
The minister said he cannot comment on the timing of the polls in Jammu and Kashmir.
"I had clearly stated that statehood will be restored in Jammu and Kashmir after elections. Process of preparation of voters' list is nearing completion in the UT. Now, the Election Commission has to take a call on elections," he said.
Asked about his earlier statement mentioning the emergence of new leadership in Jammu and Kashmir, Shah said that new leadership will emerge from local bodies where polls had been held earlier.
"The panchs and sarpanchs who have been elected, new leadership will emerge from them...Since the time terrorism started in Jammu & Kashmir, the terrorism-related figures are at its lowest today. Crores of tourists and yatris are visiting Jammu and Kashmir now. This is a huge change," he said.
Shah said removing Article 370 has been on the agenda of BJP and Jan Sangh. He also referred India's first Prime Minister Jawaharlal Nehru in the context of Article 370.
"Since 1950, it was on our agenda to remove Art 370 from Jammu and Kashmir. Today, the way Jammu and Kashmir is witnessing development and decrease in terrorism shows that changes that are coming," he said.
Shah said those slamming the BJP should answer in whose tenure terrorism grew in Jammu and Kashmir.
"As far as elections are concerned, do they not remember the local body polls, these were held under our rule, these did not take place for 70 years. Three families were holding sway in Jammu and Kashmir and they are making noise...Farooq Abdullah had gone to England. In whose tenure, terrorism grew, who allowed it to grow, there should be an answer," he said. .
He said casualties of security forces in LWE (Left Wing Extremism)-related incidents has come down.
"In the last 9 years, Left Wing extremism almost eliminated from Bihar and Jharkhand and security vacuum filled in Chhattisgarh. For the first time in 20 years, the total casualties of locals and security personnel has gone below 100. This is a big achievement," he said.
Answering a question about the activities of separatists and Khalistan supporters outside the country and their efforts to create trouble, he said there is good coordination between security agencies.
"We have maintained a close watch on this, also discussed this issue with Punjab govt. There is good coordination between different agencies. I am confident that we will not let it flourish," he said.
Shah said the Armed Forces (Special Powers) Act has been revoked from over 60 per cent of the areas in the northeast.