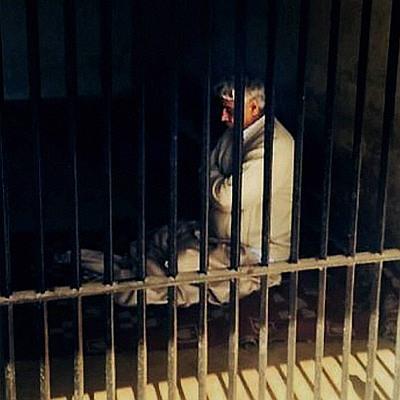 A court in Hisar on Tuesday extended the police remand of Satlok Ashram head Rampal by six days in connection with fresh cases slapped against him.
The self-styled godman was produced before Hisar Judicial Magistrate Sohan Lal Malik here this evening after completion of his five-day police remand in connection with the sedition case registered against him on November 19 at Barwala police station.
Police sought extension of his remand for seven days to gather more information from him about the ashram activities and recovery of other weapons, which may be hidden inside the sprawling 12-acre ashram complex.
However, the magistrate extended the police remand by six days.
Before producing Rampal before the court, police brought him to the civil hospital here for medical check-up, in which he was found to be doing well.
The 63-year-old preacher was arrested on November 19 from his ashram, where Haryana Police's Special Investigation Team has been carrying out a thorough search. During the past few days, police have recovered arms, ammunition, cash, and other valuables from the ashram.
He was produced before the Punjab and Haryana High Court a day after his arrest in connection with a contempt of court case against him and was later remanded in police custody for five days by Hisar Duty Magistrate Priyanka Jain on the night of November 20.
Rampal has been slapped with cases of sedition, murder, attempt to murder, rioting, illegal detention and others.
During the stand-off and subsequent violent clashes between the followers of Rampal and the police, six persons including five women and an infant had died, while over 200 people were injured including some policemen.
Meanwhile, police said three vehicles parked outside the Barwala police station were set on fire by some unidentified persons this afternoon. These vehicles were brought here from the outside of Satlok Ashram by police during the stand-off period. Fire tenders were pressed into service to bring the fire under control. Police said it was investigating the matter.