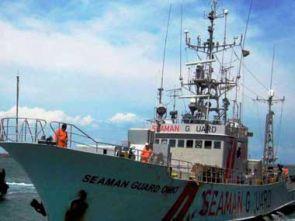 The American ship, detained by Coast Guard for carrying arms and ammunition off Tamil Nadu coast, may escape action if it is established that the vessel was cruising beyond Indian territorial waters, a top official said.
"You have to understand that our territorial waters extend up to 12 nautical miles. Anything that happens beyond that is not within the realm of our control," Deputy National Security Advisor Nehchal Sandhu told media persons on the sidelines of function.
"So, if there is a ship beyond that and doing whatever it is doing, then what can anybody do in terms of law? You cannot concoct law," he said.
The vessel, MV Seaman Guard Ohio, whose crew included eight Indians, was intercepted and detained by the Indian Coast Guard east of Tuticorin on Saturday.
An FIR has been registered against 10 crew members and 25 guards of the detained ship by the Tamil Nadu Marine Police for illegally carrying arms and ammunition.
Another case under the Essential Commodities Act has been registered against the crew for buying 1,500 litres of diesel illegally with the help of a local shipping agent.
Sandhu refused to see any "political connotations" in the ship carrying 31 assault rifles and around 5,000 rounds of ammunition, which were seized by the Coast Guard.
"I do not see any element having any political connotations... It is a straight matter of law. Let the investigators do the job," he said.
The Deputy NSA said an FIR has been registered and investigations are being carried out by the Q branch of the CID of Tamil Nadu Police.
"Whatever is permissible and appropriate under the law is going to happen. Let the investigators make a determination as to what crime has been perpetrated (by the ship's crew)," Sandhu said.
A former chief of Intelligence Bureau, he had earlier said piracy has increased in international waters and private maritime security companies have been engaged for civil maritime operations to check the menace.

"You have had piracy earlier in the Strait of Malacca and now in the Gulf. People who provide such security need a mother ship. My suspicion is that the boat in Tuticorin is a mother ship for one of these private security agencies," he had said.
A senior Marine Police official said the vessel, stated to be belonging to a US-based firm offering maritime security, was not authorised to enter Indian waters and its mandate was largely confined to regions in the Indian Ocean like the Gulf of Aden, a hotbed of piracy.
The police have intensified their probe to ascertain the motive the ship's presence in that area.

The ship has 10 crew members, comprising two Ukranians and eight Indians. The vessel also has 25 security guards (6 British, 14 Estonian, 1 Ukranian and 4 Indians).