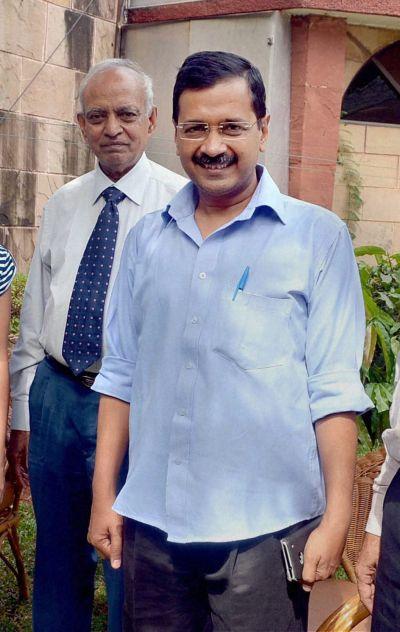 Chief Minister Arvind Kejriwal flew back to Delhi on Monday night after 12 days of naturopathy treatment in Bengaluru for chronic cough and diabetes, raring to resume work in the government and in Aam Aadmi Party which is grappling with growing internal rift.
The 46-year-old AAP leader was discharged from the Jindal Nature Cure Institute on Bangalore outskirts where he was admitted on March 5 and returned to Delhi at around 8 pm.
"Cough gone, sugar under control. Feeling fresh and fit. (I) am excited to return to resume work," Kejriwal tweeted before leaving for Delhi.
Kejriwal was undergoing treatment at the hospital when the AAP was rocked by internal turbulence after its founders Prashant Bhushan and Yogendra Yadav were ousted from the Political Affairs Committee.
Last week, an audio tape of purported conversation between Kejriwal and a former AAP legislator had surfaced in which the AAP leader was heard talking about splitting the Congress to form government in Delhi last year.
A section in the AAP expected Kejriwal to also address the problems being faced by the party besides focussing on the government.
In Bengaluru, the chief minister said he was in touch with Deputy Chief Minister Manish Sisodia on a regular basis and has certain schemes in mind to implement.
"In the last 12 days, I got the time to think on what changes which can be brought in Delhi, especially in education and ration scheme (PDS). I used to speak to Manish (Sisodia)," Kejriwal said.
When asked about internal rift in AAP, Kejriwal did not respond.
Chairman of Jindal Nature Cure Institute K R Raghunath said the AAP leader's cough and sugar levels were "quite under control". He, however, said Kejriwal was following a regimented style routine while under treatment but going back to the "old styles" would mean problems again.
"There has been some exaggerated report on Delhi chief minister's visit here; some people say that he has been cured of cough, some people say- a phenomenal improvement, but please note that naturopathy is not a magic, neither are we conducting a miracle in our institute," he said.
He said, "Like all systems of medication naturopathy has its limitations; yes we do a total detoxification, the byproduct of detoxification is getting the diseases cured."
Describing Kejriwal as a highly dedicated person, Raghunath said "without any hesitation he mixed with people without taking any VIP facility. We found he was enjoying the bland food."
"During the process of the treatment we have made sure that his total detoxification has been done," he added.
Kejriwal also congratulated the Jindal Institute doctors and its founder Dr Sitaram Jindal.
"Grateful 2 Jindal Institute, its docs, staff. Congratulations 2 Sitaram ji for setting up such a wonderful institute n running it so well," he tweeted.
Before his discharge, he said the stay at Jindal gave him enough time for him to think about bringing in changes, especially in education and public distribution system.
Kejriwal said he also plans to start mid-day scheme on the lines of International Society for Krishna Consciousness (ISKCON)'s Akshyapatra in Karnataka.
Kejriwal's father who suffered from constipation and his mother from diabetes and arthritis also underwent treatment along with him.
The AAP leader left the institute in a private car accompanied by a police escort.
Following the controversy over Kejriwal accepting exemption entitled to VVIPs from paying the toll tax when he landed in the city on March 5, AAP leaders' today ensured that their leader followed the norms by making prior arrangements for the same, party sources said.
Image: Chief Minister Arvind Kejriwal leaves Jindal Naturecure Institute after 10 days of treatment in Bengaluru on Monday. Photograph: PTI Photo