Maharashtra has reported 31 positive cases, Kerala 19, Uttar Pradesh 11, Delhi and Karnataka six each, Ladakh three, Jammu and Kashmir, Rajasthan and Telangana two each; and Tamil Nadu, Andhra Pradesh and Punjab one case each.
The total number of confirmed cases also includes 17 foreigners -- 16 Italian tourists and a Canadian, it said.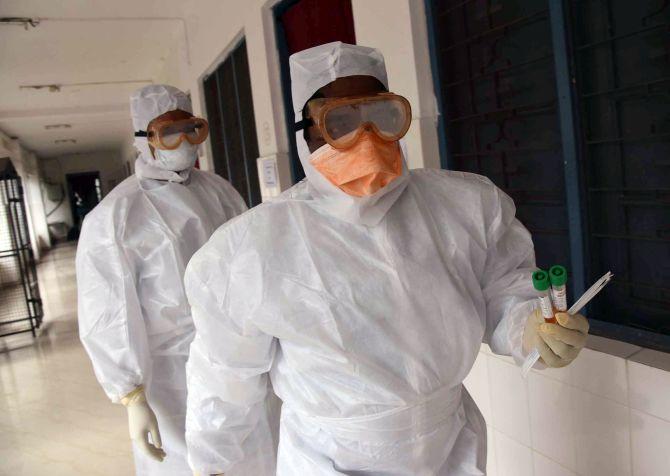 The number of coronavirus positive cases in the country has risen to 100 which includes the two deaths in Delhi and Karnataka, the Union Health Ministry said.
With new cases being detected in Pune, Mumbai, Nagpur and Yavatmal, the number of confirmed coronavirus cases in Maharashtra rose to 31 on Saturday.
Late Saturday night, state disease surveillance officer Dr Pradip Awate informed that five persons from Pimpri-Chinchwad area near Mumbai had tested positive for the virus.
Four of them had come in contact with a group which had returned from Dubai.
Some members of this group have alredy tested positive. Another person had visited Thailand recently, Dr Awate added.
It took the number of coronavirus patients in Pune area to 15 and that in Maharashtra to 31.
Telangana also reported a fresh case on Saturday, taking the total number of positive cases in the state to two.
A 24-year-old man from Jaipur also tested positive upon his return from Spain on Saturday, a senior government official said.
"The 24-year-old male who returned from Spain on March 14 has tested positive today. He flew to Delhi from Madrid and then from Delhi to Jaipur in an Air India flight," said Additional Chief Secretary, Medical and Health, Rohit Kumar Singh.
"We are getting the manifest of both the flights and have started extensive local contact tracing," he said.
Seven persons who tested positive, including five from Uttar Pradesh and one each from Rajasthan and Delhi, have been discharged after treatment, a senior health ministry official said.
Delhi has reported six positive cases and Uttar Pradesh 11 so far. Karnataka has six coronavirus patients and Ladakh three while Jammu and Kashmir and Rajasthan reported two cases each.
Besides, Tamil Nadu, Andhra Pradesh and Punjab have reported one case each.
Kerala has recorded 19 cases, including three patients who were discharged last month after they recovered from the contagious infection.
The total number of confirmed cases includes 17 foreigners -- 16 Italian tourists and a Canadian, the ministry said.
Malls, schools to be closed in Maharashtra
Maharashtra Health minister Rajesh Tope on Saturday evening announced that shopping malls across the state will remain closed till month-end.
Grocery stores which sell commodities of daily need will remain open, he said.
The state government also issued a directive that all schools and colleges in areas of municipal corporations, municipalities and nagar panchayats shall remain closed till March 31.
Tope also said that examinations of classes 1 to 9 will be postponed if they are being held currently, only Class 10 and 12 board exams will take place as per the schedule.
Four new patients of coronavirus were confirmed in Mumbai on Saturday, the Brihanmumbai Municipal Corporation (BMC) said.
Of the new patients confirmed in Mumbai, one is resident of the city while others are from Kamothe, Vashi and Kalyan, all peripheral towns.
All are admitted to Kasturba Hospital in Mumbai and their condition is stable, BMC deputy director, health, Daksha Shah said.
Earlier in the day, two persons who had recently returned from Dubai were confirmed to have contracted the coronavirus in Maharashtra's Yavatmal city.
Thus, so far across the state, ten coronavirus cases have been confirmed in Pune, eight in Mumbai, four in Nagpur, two in Yavatmal and one each in Thane and Ahmednagar.
Some of the persons who tested positive have history of traveling to the United States, Dubai, France, the Philippines and Qatar, a health department statement said.
A 71-year-old man, who had returned from Saudi Arabia and was suspected to have coronavirus infection, died during treatment in Buldhana district on Saturday afternoon. He was suffering from diabetes and high blood pressure.
Minister Tope said it was not yet confirmed if the deceased was infected by the coronavirus.
16 of the confirmed COVID-19 patients had returned from Dubai, four from USA, one each from France and the Philippines while four had no foreign travel history but had come in contact with other infected persons, he said.
Till now, 949 individuals have returned to Maharashtra from coronavirus-hit countries, a government statement said.
At present, 72 persons are under observation in isolation wards in Mumbai, 17 in Pune, 16 in Nagpur, nine in Yavatmal and three in Pimpri-Chinchwad.
The Mumbai-resident who was found to have the infection on Saturday is a close relative of another confirmed patient who was shifted to government hospital from a private hospital in the city.
Eight 'high-risk' contacts, who were isolated at the private hospital when one of the patients was confirmed to have the infection, have tested negative, deputy director Shah said.
A total of 55 samples were tested in Mumbai on Saturday, of which four samples were found positive.
Out of four who tested positive, three had travel history to foreign countries.
The BMC is setting up a laboratory at KEM Hospital in Parel in addition to the one at the Kasturba hospital for testing samples of suspected coronavirus patients, Shah said.
"There is no need to panic, but if you have returned from abroad and have symptoms, then immediately visit the Kasturba Hospital for tests," Shah said, adding that a traveller who does not have any symptoms too should isolate himself or herself at home for 14 days.
In Nagpur, four persons, quarantined at a government-run hospital for suspected coronavirus infection, returned home without permission.
However, they all later returned to hospital, and tested negative for the virus.
More states go into shutdown mode
Special Secretary in the health ministry, Sanjeeva Kumar said all essential facilities like community surveillance, quarantine, isolation wards, adequate Personal protective equipment, trained manpower, rapid response teams are being strengthened further in all states and Union Territories.
The government on Friday declared masks, including the N95 variety, and hand sanitisers as 'essential commodities' under the Essential Commodities Act in the wake of the coronavirus scare leading to shortages and black marketing of these items.
These items will remain under essential commodities segment till June-end, a move aimed at ensuring availability at reasonable prices and cracking down on hoarders and black marketeers.
"Under the Essential Commodities Act, states can ask manufacturers to enhance their production capacity of these items, to make the supply chain smooth," he said.
Kumar also said, "Under the Disaster Management Act, states and Union Territories can now draw funds from the State Disaster Response Fund, in addition to the funds from the state government and the National Health Mission. The Ministry of Home Affairs has issued detailed guidelines to states and UTs in this regard.
Also, 12,29,363 passengers have been screened from 11,406 flights at the 30 designated airports. Additionally, instructions to enforce quarantine for all incoming passengers according to the guidelines are being implemented, he said.
Even as the World Health Organisation (WHO) declared novel coronavirus a pandemic, the health ministry officials on Friday asked people not to panic, saying no community transmission of the virus has been observed and there has only been a few cases of local transmission so far.
The Centre as part of its measures to contain the spread of the disease has announced that people will be allowed to travel through 19 of 37 land border checkposts from Saturday midnight and services of Indo-Bangladesh cross-border passenger trains and buses will continue to remain suspended till April 15.
Only four Indo-Nepal border checkposts will remain operational, and for citizens of Bhutan and Nepal visa-free entry to the country will continue, Home Ministry Additional Secretary Anil Malik had said.
He also said the decision on closing the Kartarpur corridor is under consideration.
The government had on Wednesday suspended all visas, barring a few categories like diplomatic and employment. It also asked Indian nationals to avoid all non-essential travel abroad.
All international passengers returning to India should self-monitor their health and follow the required do's and dont's as detailed by the government.
The Jammu and Kashmir administration issued prohibitory orders in Kishtwar and Ramban districts, restricting assembly of more than five persons at any public place.
The Goa government also announced closure of casinos, swimming pools and pubs from Sunday midnight.
The Aligarh Muslim University (AMU) suspended all classes, including sessional tests, till March 22 as a precautionary measure.
All conferences, workshops, educational tours and sports programmes have been postponed till March 31 though examinations of the university and schools will be held according to schedule.
The Punjab government ordered a shutdown of cinema halls and banned public gatherings including cultural events till further notice to prevent the spread of coronavirus.
The last rites of the woman who died here were performed at the CNG crematorium at Nigambodh ghat here under supervision of medical authorities.
Doctors from the Ram Manohar Lohia (RML) hospital here and from MCD oversaw the funeral after the crematorium staff reached out to the authorities seeking directives on ensuring that the infection didn't spread from the body.
The health ministry said it has begun working on framing guidelines for handling the bodies of those who die of the disease.
Though it is unlikely that coronavirus infection could spread from handling of a body, the guidelines are being drafted to dispel any misconception and raise awareness regarding spread of the disease from a deceased, a health ministry official said.
Civil Aviation Minister Hardeep Singh Puri at an event in Hyderabad said domestic passenger traffic was down by 10 to 15 per cent owing to the killer virus.
The External Affairs Ministry announced that Prime Minister Narendra Modi will lead India at a video conference of all SAARC nations on Sunday at 5 PM to chalk out a joint strategy to fight coronavirus in the region.
On Friday, Modi proposed formulation of this joint strategy, a suggestion that was backed by all member states.
The prime minister took to Twitter to share guidelines on home quarantine issued by the health ministry.
'Some important information here. Do read,' he said while sharing the guidelines.
The health ministry said home quarantine is meant "to protect you and your loved ones".
The home ministry said funds earmarked under the State Disaster Response Fund (SDRF) can be utilised for procurement of essential equipment and measures taken to quarantine people.
It issued a two-page directive to all states specifying "list of items and norms of assistance for containment of COVID-19 virus in India, eligible from SDRF".
The US Embassy and Consulates in India cancelled all visa appointments from March 16 in the wake of coronavirus outbreak.
The Rashtriya Swayamsevak Sangh suspended a three-day annual meeting of its highest decision-making body scheduled to begin on Saturday in Bengaluru.
Infosys evacuated one of its satellite office buildings in Bengaluru after the Karnataka government advised IT and other professionals working in air-conditioned places to work from home for time being, for about a week, to prevent the spread of the virus.
West Bengal sealed its border with Bhutan, restricting movement of goods and travellers. The move came after Bhutan issued a notification to the administration of neighbouring Alipurduar district informing it about a halt in tourist and business activities in the wake of coronavirus outbreak.
In Kerala, an American couple who allegedly gave the slip to police after being admitted to a coronavirus isolation ward following complaints of fever and cough, was traced to Kochi airport and placed under observation.
They had come to Kochi from London via Doha on March 9, attended a Kathakali show in the port city, went for a houseboat ride the next day at Alapzuha, stayed at a Fort Kochi resort, before going to varkala near thiruvananthapuram and returned to Alapuzha, police said.
© Copyright 2021 PTI. All rights reserved. Republication or redistribution of PTI content, including by framing or similar means, is expressly prohibited without the prior written consent.