The second batch of 44 Indian pilgrims arrived from Iran on Friday, External Affairs Minister S Jaishankar said.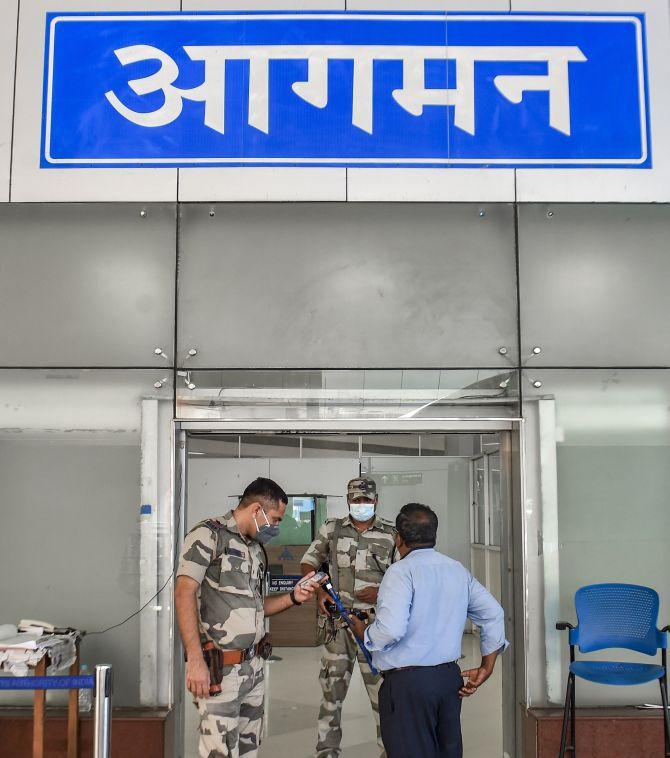 An Iran Air flight carrying Indian pilgrims stranded in coronavirus-hit Iran landed at the airport in Mumbai on Friday afternoon, an official said.
They were later taken to a Navy's quarantine facility in Ghatkopar, a suburb in northeast Mumbai, a Navy official said.
Earlier, the plan was to take them to an Army quarantine facility in Jaisalmer, Rajasthan.
Iran is one of the worst-affected countries by coronavirus outbreak and the government has been working on plans to bring back the Indians stranded there.
'Second batch of 44 Indian pilgrims has arrived today from #Iran. Our efforts to bring back the others continue. @India_in_Iran and our medical team - keep up the good work. Appreciate the support of Iranian authorities and their airlines,' Jaishankar said in a tweet.
The first batch of 58 Indian pilgrims were brought back from Iran on Tuesday.
'A special Iran Air flight, IR810, arrived from Tehran at CSMIA today at 12:07 hrs with 44 Indians evacuated from COVID-19 hit Iran.
'All passengers and crew underwent screening by the APHO at the isolation bay and were transferred directly from the aircraft to the Indian Naval facility in Ghatkopar to follow the mandatory 14-day quarantine period,' a statement by the Mumbai airport operator MIAL said.
Jaishankar on Thursday said there are more than 6,000 Indians in various provinces of Iran.
Coronavirus outbreak is a matter of 'great concern' and the government's initial focus is to bring back Indian pilgrims stranded in Iran, he had said.
Govt to send Air India flight to Milan on Saturday to bring back stranded Indians
The government will send an Air India flight to Milan on Saturday to bring back around 200-250 Indians stranded in the Italian city due to the coronavirus outbreak there, Minister of State for External Affairs V Muraleedharan said.
'GoI will send an Air India flight tomorrow afternoon to evacuate Indians stuck in Milan due to #Covid19. We expect to bring back around 200-250 passengers by this flight,' Muraleedharan said in a tweet on Friday.
A senior Civil Aviation official said the flight would take off around noon or 1 pm and it will land on Sunday morning at 7.45 am at the Delhi airport.
AI Express to advance flights to Saudi Arabia; stop services from Mar 15
Air India Express on Friday said it will advance three flights scheduled to fly from Kerala to Riyadh and Dammam, as Saudi Arabia has decided to suspend arrival of passengers from India and few other countries.
Further, the airline would withdraw all flights to Riyadh and Dammam from March 15 till further notice.
Against the backdrop of Saudi Arabia's latest decision, the carrier would advance its flight on Saturday from Kozhikode to Riyadh by one-and-a-half hours.
Besides, two flights that were to fly on March 15 would be operated on March 14.
These flights are scheduled from Kannur to Riyadh and from Kozhikode to Dammam, the airline said in a statement.
Air India Express said Saudi Arabia government has issued a circular suspending arrival of passengers from certain countries, including India, to the kingdom.
"A time limit of 72 hours is given to citizens of the kingdom and current residents holding valid iqama to return to the kingdom," it added.
Iqama is a type of resident permit in Saudi Arabia.
Holders of visiting, tourist and Umrah visas would not be permitted to enter the kingdom, the statement noted.
AI cancels flights to Italy, South Korea, Kuwait
Air India has cancelled flights to Italy, South Korea and Kuwait besides curtailing services to France, Germany, Spain, Israel and Sri Lanka till April 30, the airline said on Friday.
An airline spokesperson gave the details while providing an update on its international operations.
"Air India has only curtailed services to France, Germany, Spain, Israel and Sri Lanka till April 30," the spokesperson said.
Earlier, a senior official, who did not want to be named, said the carrier has decided to temporarily suspend services to Italy, France, Germany, Spain, Israel, South Korea and Sri Lanka due to the coronavirus outbreak.
DGCA asks international airlines to consider waiving ticket cancellation fees
Aviation watchdog Directorate General of Civil Aviation has asked international airlines to consider waiving ticket cancellation and reschedule charges or look at providing any other incentive, amid coronavirus outbreak.
'In light of hardship faced by passengers, airlines may like to consider and take an appropriate call, accordingly,' the DGCA said in a circular.
The circular, dated March 12, has been addressed to all scheduled international airlines operating to/from India.
'In the current scenario, it would be appropriate if airlines support their passenger in this tough time by waiving off cancellation/reschedule charges or by providing any other incentive,' it said.
A Lufthansa spokesperson said the group would be suspending some of its flights to Indian destinations 'from March 14 to/ including March 16'.
"In the meantime, Lufthansa Group has extended its waiver policy that already offers customers extensive re-booking options for existing and future bookings," the spokesperson said.
In a statement, a Vistara spokesperson said there is temporary capacity rationalisation in domestic as well as international network due to drop in demand.
'We have waived off cancellation charges for all domestic tickets booked on or before March 1, 2020 and for all international tickets booked on or before March 12, 2020,' the spokesperson said.
Air inside our Airbus aircraft cabin refreshed every 3 mins, says IndiGo
Amid coronavirus pandemic, country's largest airline IndiGo has said that air in its Airbus aircraft cabin is refreshed every three minutes and its crew is following personal protective measures as well.
In a message to customers, IndiGo CEO Ronojoy Dutta said the airline is using a disinfectant, used to sterilise surgical equipment in hospitals, to clean cabin and cockpit on all international flights. This is followed by a thorough fumigation.
'The air in our Airbus cabin refreshes itself every three minutes. So, the fresh air enters through the engines, passes through our High Efficiency Particulate Air (HEPA) filters, and is then circulated in the cabin.
'HEPA ensures hospital-level filtration in our aircraft. In addition to all of this, personal protective measures are equally important. So wash your hands frequently.
'Avoid touching your face. And when you venture out, stand a few feet apart from people,' he said.
According to him, crew members aboard international flights wear PPE (Personal Protective Equipment) and it is changed every eight hours.
'... because this disease is most easily transmitted through surfaces, each and every aircraft is cleansed with cleaning agents and disinfectants that are approved by the WHO and Airbus.
'Areas that are most often touched -- tray tables, arm rests, overhead nozzles, lavatories, galleys -- are paid particular attention to,' he said in the message.
© Copyright 2021 PTI. All rights reserved. Republication or redistribution of PTI content, including by framing or similar means, is expressly prohibited without the prior written consent.