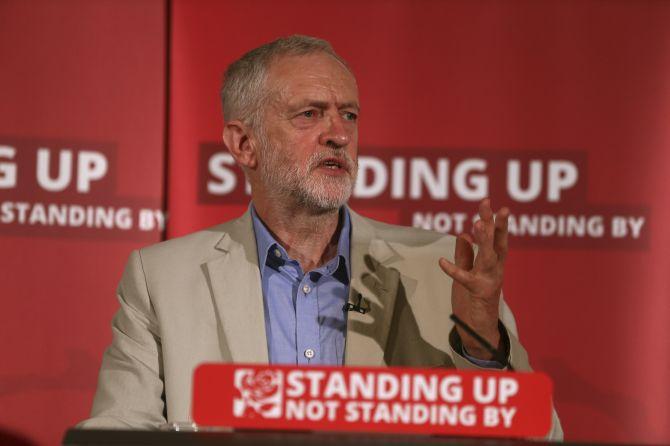 Jeremy Corbyn was on Saturday re-elected leader of Britain's opposition Labour party, comfortably defeating his challenger Owen Smith.
Corbyn won 61.8 per cent of the total vote, an even larger margin of victory than last year, and called for party unity and vowed to get Labour election ready.
"We have much more in common than divides us. As far as I am concerned let's wipe that slate clean. We are proud as a party that we are not afraid to discuss openly, to debate and disagree. That is essential for a party that wants to change things for the better and isn't prepared to accept things as they are," he said.
"Together arguing for the real change this country needs I have no doubt that this party can win the next general election," he added.
More than half a million party members, trade unionists and registered supporters voted in the contest.
In a result announced on the eve of Labour's party conference in Liverpool, Corbyn won 3,13,209 votes, compared with Smith's 1,93,229.
There has been speculation that a number of Labour MPs who resigned from Corbyn's shadow cabinet in June in rebellion against his leadership could return in an attempt to heal the divide over the party's future direction.
Corbyn was first elected Labour leader in September 2015, when he beat three other candidates and got 59.5 per cent of the vote. Turnout was higher this time around, with 77.6 per cent of the 640,500 eligible party members, trade union members and registered supporters confirmed as taking part.
The two-month campaign aroused strong passions on both sides and led to legal disputes over the rules and who was entitled to vote.
"Owen we've had an interesting summer of debates. The debates will no doubt continue because we are part of the same Labour family," Corbyn told his rival.
"It has been about our Labour family facing the future, looking at how we do things in the future. I will do everything I can to repay the trust and support," 67-year-old Corbyn said.
He concluded his re-election speech saying, "Labour is a party brimming full of ideas of talent and creativity and so is Britain. Unleashing that potential is the job of all of us. Let's work together for real change."
Photograph: Reuters
© Copyright 2022 PTI. All rights reserved. Republication or redistribution of PTI content, including by framing or similar means, is expressly prohibited without the prior written consent.