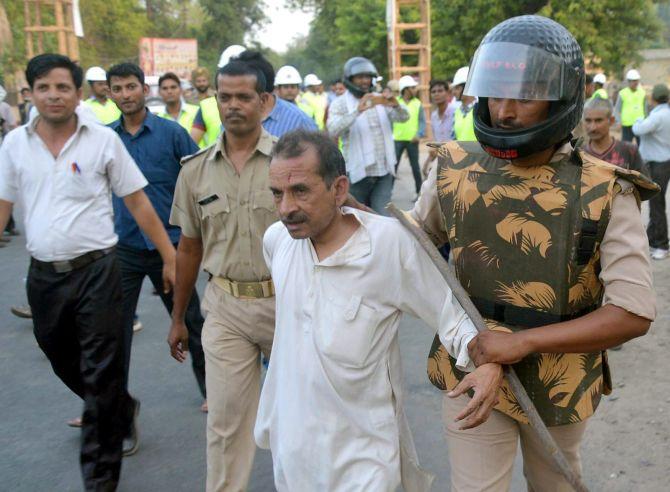 IMAGE: An encroacher being arrested by cops after the clashes in Mathura on Friday. Photograph: PTI Photo
Uttar Pradesh Chief Minister Akhilesh Yadav on Friday admitted that there were 'some lapses' on the part of administration and intelligence network that led to Mathura incident.
"There were some lapses. Police should have gone with full preparation and after holding talks, but there was no information that they would be having so much (arms and ammunition," Akhilesh told reporters on the sidelines of a programme in Barabanki near Lucknow.
He said the director general of police, the additional director general and the principal secretary (home) were camping there to restore normalcy.
Akhilesh said the so called satyagrahis were encroaching upon government land and several rounds of talks were held with them, but they did not vacate the place.
He said an inquiry was being conducted by Agra Divisional commissioner and warned that those found guilty would not be spared.
24 people, including the city superintendent of police and a station house officer, have been killed in the massive clash between police and encroachers that broke out in Mathura on Thursday when police were trying to evict illegal occupants, believed to be of Azad Bharat Vidhik Vaicharik Kranti Satyagrahi, from Jawahar Bagh on Allahabad high court orders
Uttar Pradesh Governor Ram Naik a detailed report about the Mathura incident from the chief minister.
Naik, who is in Mumbai, has sought a report from the CM, a Raj Bhawan spokesman said. The Governor said proper inquiry should be conducted, the accused arrested soon and strict legal action taken against them.
He also expressed heartfelt sympathies for the bereaved family members of SP (city) Mukul Dwivedi and SHO Santosh Kumar.
Meanwhile, Congress vice president Rahul Gandhi mounted an attack on the Akhilesh Yadav government, saying it is a stark reminder of the 'deteriorating' law and order situation in the state.
'Unabated violence is a stark reminder of the deteriorating law and order situation in Uttar Pradesh,' the Congress vice president tweeted.
He hoped that the government ensured that peace is restored and the guilty are punished.
'Deepest condolences to the family members of police officers and others killed in the violence in Mathura. Hope the Government ensures that peace in Mathura is restored immediately and the guilty are punished,' he said in another tweet.
© Copyright 2021 PTI. All rights reserved. Republication or redistribution of PTI content, including by framing or similar means, is expressly prohibited without the prior written consent.