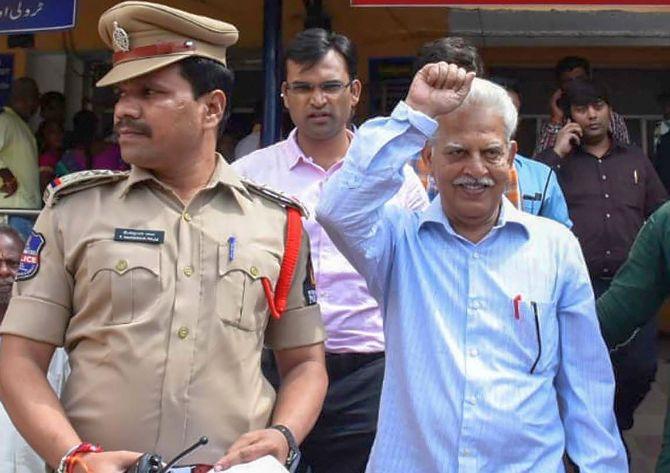 Police did not produce a warrant before searching their house and took away computer hard disks besides mobile phones, Hemalatha, wife of Telugu poet Varavara Rao who was arrested for alleged links with Maoists, alleged on Wednesday.
She said about 20 police personnel, including two women officials, arrived at their home on Tuesday.
"They did not produce any warrant. They seized computer hard disks and mobile phones. They also disconnected the intercom system that connects with other flats.
"He (Varavara Rao) was arrested several times earlier also and no case has been established against him... He wants to spread his ideology through the pen (writings), not the gun," Hemalatha said.
She said they initially refused to allow the police to enter their flat at Gandhi Nagar, but they let them in after a local police official informed that they did not need a search or arrest warrant under the sections Rao was booked.
The Telegu poet was arrested by a police team from Pune. The team also conducted searches at the residences of Rao's two daughters.
Hemalatha alleged that the police even seized and took away her grandson's computer hard disk.
Rights activist and senior member of Telangana Civil Liberties Committee G Haragopal flayed Rao's arrest.
Rao was imprisoned on various charges earlier also. His health is a cause of concern now as he has become old, the activist said.
The Maharashtra Police on Tuesday raided the homes of prominent Left-wing activists in several states and arrested five of them as part of a probe into the violence between Dalits and upper caste Peshwas at Koregaon-Bhima village near Pune after an event called Elgar Parishad, or conclave, on December 31 last year.
Rao is a founder member of 'Virasam' (revolutionary writerss association).