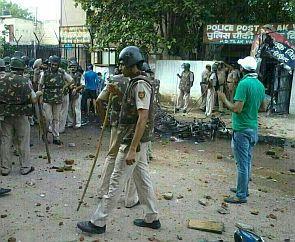 Nineteen people, including five policemen, were injured when a clash broke out between two groups over a motorcycle accident on Thursday in Tilak Vihar colony in West Delhi area, police said. The police had to use water canon and tear gas shells after an angry mob torched three police vehicles.
"It all started at 5.30 pm when a motorcycle rider knocked down a boy, who was flying a kite on the road. Both of them entered into a heated argument," said a police official.
Soon people joined in from both sides and a clash ensued.
When police reached the spot, the warring groups resorted to stone pelting and torched three police vehicles, he said.
"We used water canon and tear gas shells to control the mob. Nineteen people including five policemen have been injured in the clashes. They are being treated in a nearby hospital," said Additional Commissioner of Police (West) V Renganathan.
Some reports claimed that someone had opened fire and the bullets hit three persons who were among the 19 injured. Police, however, refuted these claims.
Situation in the area is tense but under control, said a police official. A large police contingent has been deployed in the area to prevent the tension from escalating.

Image: The clashes in the Tilak Vihar Colony broke out over a motorcycle accident

Photograph: luckysaluja/Twitter